Junior guard quietly leads team to success
March 11, 2019
Kelly Campbell can best be described in three words: selfless, driven and competitive.
That's what her coach and teammate say about her, as she doesn't necessarily like to talk about herself.
The junior point guard for DePaul's women's basketball team has been an asset since joining two years ago. Last year, she led the Big East conference in assists and was ranked second in the nation for her assist-turnover ratio and 18th for assists.
"She's a special player, a special person," head coach Doug Bruno said. "We don't achieve what we've been achieving without what Kelly Campbell has been bringing."
Campbell grew up in Wall, New Jersey, where she was the youngest of four sisters, all of whom went on to play sports, whether it is basketball or track, at their respective schools.
"I basically played basketball out of the womb," she said.
Outside of basketball, Campbell said she loves anything competitive, going to the beach and reading, cooking and listening to "pretty much any kind" of music.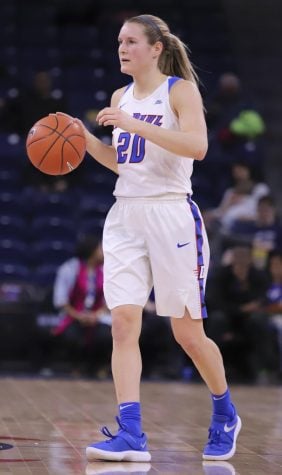 But it's that competitive drive that keeps her going both on and off the court.
"That's part of the fun of basketball – helping out your teammates," she said.
"Her assist-to-turnover ratio numbers speak to her willingness to help her teammates," Bruno said.
He said those numbers are probably the best ever for DePaul's team.
Off the court, Campbell also regularly participates in service projects. For example, she visited Guatemala in July 2017 with NPH International, where she was part of a group of nine student athletes who helped the nonprofit with manual labor, kitchen work and playing basketball with orphans. Closer to home, she works with the Seton Sandwich Kitchen about once a week.
Bruno describes Campbell as the "glue of the team," and her teammates agree that she's a strong leader.
"She started off timid as a freshman," he said. "She was shy about asserting herself."
Now, she's more confident, but she's been into serving her teammates from the moment she became a Blue Demon, according to Bruno.
Campbell's teammate and friend off the court, Dee Bekelja, said it's helpful to have that chemistry and that Campbell has pretty much the same personality both while playing and outside of basketball.
"She helps with whatever is needed, will help anyone who needs extra help," she said.
Campbell also gets her teammates to join her in the gym, where she practices shooting well beyond her required hours, according to Bruno.
Despite all her strengths, Campbell tends to be hard on herself because of how competitive she is.
"She tries to make every shot […] but you're going to be a great player if you make half your shots," Bruno said.
Last season, Campbell almost became the first Big East player to record back-to-back triple doubles after 11 points, 12 rebounds and 11 assists against Seton Hall, and 10 points, 12 rebounds and nine assists against St. John's. She was one assist short of the of becoming the first player to hold that record.
During her freshman season, she played in 34 games with 19 starts and led the team with 49 three-pointers. Back then, she tied for second on the team in assists.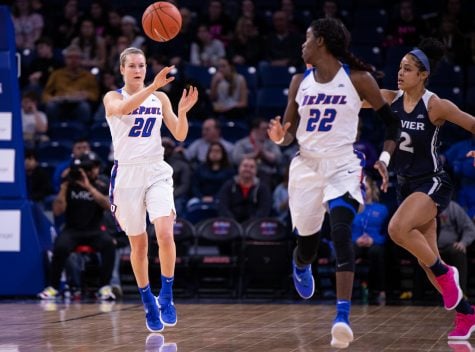 Campbell is among the finalists for the 2019 Nancy Lieberman Award, which is given out by the Naismith Memorial Basketball Hall of Fame and Women's Basketball Coaches Association and recognizes the top point guards in the nation.
"To be considered to this prestigious award, candidates exhibit the floor leadership, play-making and ball-handling skills of Class of 1996 Hall of Famer Nancy Lieberman," according to a press release from DePaul Athletics.
But Campbell doesn't list off her accomplishments herself, preferring to focus instead on the accomplishments of her team as a whole.
"She's definitely more comfortable with others having the spotlight," Bekelja said.
Campbell chose to come to DePaul because of the competitiveness of the team, as well as because of her love for Chicago – especially because of Lake Michigan being right next to the city, which lets her visit the beach in the summertime.
She's studying health sciences, and as of now she plans on a career related to sports nutrition.
Like her basketball career and her service work, no matter what Campbell's future has in store for her, she has one overall goal.
"I'm just trying to be the best that I can be," she said.
Campbell's will be vital next season as the Blue Demons seek to replace a talented senior class of Ashton Millender, Mart'e Grays, Tanita Allen and Rebekah Dahlman.