Men's basketball advances to CBI semifinals with victory over Longwood
DePaul survived some ups and downs Monday night to secure a spot in the Roman College Basketball Invite semifinals with a 97-89 victory over Longwood at McGrath-Phillips Arena.
It appeared for a few minutes in the second half DePaul was ready to pull away after they opened the half with a quick 7-0 run capped off by five straight points from senior guard Max Strus, that also included another highlight reel dunk. Longwood was not going quietly, however, as they slowly inched closer before tying the game with 4:58 remaining off a 3-pointer from Damarion Geter.
DePaul had an answer, however, as Strus immediately responded a 3-pointer on the next possession, one of five he had in the game, as the Blue Demons had just enough to pull away from the Lancers down the stretch.
"It was just time to buckle down," Strus said of DePaul being able to close the game out. "We knew what was at stake, you lose you go home. We took it upon ourselves to figure out what we were doing on defense and we couldn't stop them for a little bit there and we just kind of came together at the end and said 'you know it's time it's over with' so we want to win and keep advancing so we just came together and got stops."
Strus finished with 38 points and now has 71 points in DePaul's two games at McGrath-Phillips Arena. This was the fourth time in six games the senior guard has scored more than 30 points in a game, as he also became the fifth player in DePaul history to score more than 600 points in a season.
Despite the students being on spring break, it was once again an energized crowd that cheered on every made three by Strus and others. That was not lost on Strus or coach Leitao who also thanked the fans after the game.
"I love playing here, as you can tell," Strus said. "It's a shooters gym and the crowd has been great. I mean the fans have been awesome, we got some loyal supporters here so hopefully they keep coming out. I think we play on Wednesday now so hopefully they keep coming back and they are definitely helping us win these games."
Strus received help from sophomore forward Paul Reed, who finished with a career-high 23 points and 12 rebounds, as well as, sophomore forward Jaylen Butz who also had 10 points and eight rebounds.
Although DePaul didn't run one play designed for Reed, Leitao said his activity and ability to be in the right spot are among his biggest strengths and why he has continued to be so productive without requiring plays to be run for him.
"He had three offensive rebounds he usually gets four, five or six but he becomes a really important player for us because of that," Leitao said. "It allows Max, it allows Eli to kind of roam around and do what they have to do and he's certainly there to clean up all the stuff that we do. From foul line jumpers today or keeping the ball alive, or just being active and he's very, very unique in that way and as he continues to grow he will get better because we will go to him and call his number futuristically and as he still does that then as I keep telling him if he buys into all that then the sky can be the limit."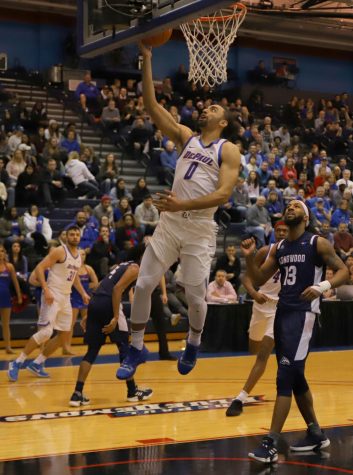 Leitao also credited the effort of Butz and Cain adding at this time of the year it is important to receive contributions from everyone.
Sometimes that includes receiving contributions from unlikely heroes, as well. It was junior guard Lyrik Shreiner's turned Monday night. Schreiner entered Monday averaging under two points per game and had scored just four points since Feb. 12 but with the Blue Demons hanging on to an 86-85 lead with under three minutes remaining, he found a hole on the left wing and drove to the basket for a 3-point play that allowed DePaul to pull away late.
"We just talked about it in the locker room," Leitao said. "You know [that is] a guy that hadn't had particularly late-game ability to play extended minutes and he was playing solid defense and then offensively moving the ball around and getting it to Eli and Max especially and when the floor was spread he saw that opening to get to the lane, he went with force which is what you got to do and then live with the result. He was strong enough and good enough to get it in and play through a foul."
Shreiner matched his season-high with nine points to go along with two assists.
DePaul returns to action Wednesday night in the semifinals of the CBI when they take on Coastal Carolina, who beat West Virginia 109-91 in Morgantown earlier Monday night.