Former DePaul star Billy Garrett Jr. joins the New York Knicks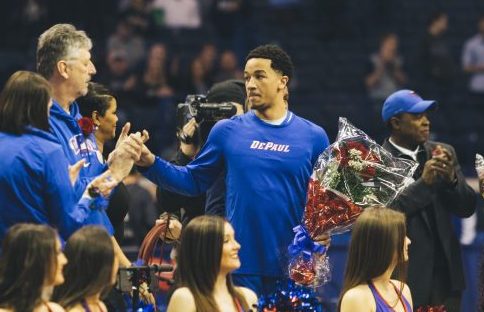 When Billy Garrett Jr. told his father he was getting called up to play for the New York Knicks, his namesake didn't fully believe him. 
"He said 'I got a callup' and I said 'a callup where?' And he was like 'I'm playing for the Knicks,'" said DePaul assistant coach Billy Garrett, recounting the once in a lifetime conversation with his son. "I didn't know if it was an April Fool's joke, so I didn't really buy into it. I wasn't going to get too excited. The next day, when I saw it on Twitter, I knew it was true."
Garrett Jr. signed a 10-day contract with the New York Knicks on Tuesday, April 2, and joined a rare breed of former DePaul men's basketball players to play on an NBA roster. The 2017 graduate will join Wilson Chandler, the last player drafted out of Lincoln Park onto an NBA team in 2007, as the only two former Blue Demons in the league. 2016 graduate Myke Henry signed a two-way contract with the Memphis Grizzlies last season, but now plays in the Israeli Premier League.   
In his NBA debut against the Magic, Garrett Jr. dropped four points, shooting 2-6 from the floor in 11 minutes of action. He then saw his workload increase to 25 minutes the following game against the Rockets, in which he posted 8 points.
"It felt great," Garrett Jr. said to the media after his debut "Once I got out there it just felt like a regular game. My adrenaline was running just coming into the arena and warming up and everything, but it's just basketball once you get out there.
"I put [my first shot] up and it kind of rimmed in a little bit and I kind of got nervous and everything froze for a second," he said. "Then it went in and I was like, 'you're here now.'"   
Garrett Jr. says he's taking the opportunity to prove his worth to the Knicks organization and show that he can play at the NBA level. But, as his father says, playing in the NBA is one thing, staying in the NBA is another.
"He knows he's got to keep working hard." Garrett Sr. said. "That's cliché, but right now he needs to take care of his business. He needs to be where his feet are and be in his moment right now and not worry about what's next other than you have this opportunity to realize your dreams. You want to stay in that moment."
Garrett Sr. said his son has met his goal of playing in the NBA and now wants to stay in the NBA.
Back at DePaul—the program he grew up watching his father coach and ultimately started four years for—the Blue Demons are beginning to show some signs of life, something Garrett Jr. never experienced. He walked onto campus with lofty expectations and the weight of a tortured fan base on his shoulders, and walked away with a little more than a school free-throw record. Having endured one of the most painful stretches in the history of DePaul men's basketball—battling sickle cell disease along the way—his college resume didn't catch the eye of NBA scouts.
Now is his chance to prove them wrong, and represent DePaul at the game's highest level.
"I'm very happy for Billy," senior DePaul guard Max Strus said. "Obviously, I was here his senior year when I was sitting out. Learned a lot from him. Hardest working kid I know. I'm extremely happy and proud for him and proud for this school. That's big news for DePaul. It's great for Billy and great for the school."
"There are a lot of people who are extremely happy for him and I'm right at the top of those people because I've seen what he's been through," DePaul Head Coach Dave Leitao said. "It's not easy and there's a reason why Max [Strus] is in the same boat as Billy. Going to DePaul and being responsible for turning this thing around and having to absorb a lot of nights where it didn't go our way and still come back tomorrow with the resiliency to come back individually and get us better collectively. And what it does it teaches a tremendous amount of character. That's what Max has and that's certainly what Billy has and that has allowed him to go through the ups and downs, the highs and lows he's been through since he's left us and ultimately reach a dream."
For now, the DePaul basketball community—fans, players and coaches alike—will wait eagerly for the next chapter of Billy Garrett Jr.'s career.
"He's in elite company," Garrett Sr. said of his son. "I guess it hadn't sunk in for me because I hadn't seen him play [in the NBA] yet. I don't know what number he is."