COMMENTARY: After four years, the time for DePaul to win is long overdue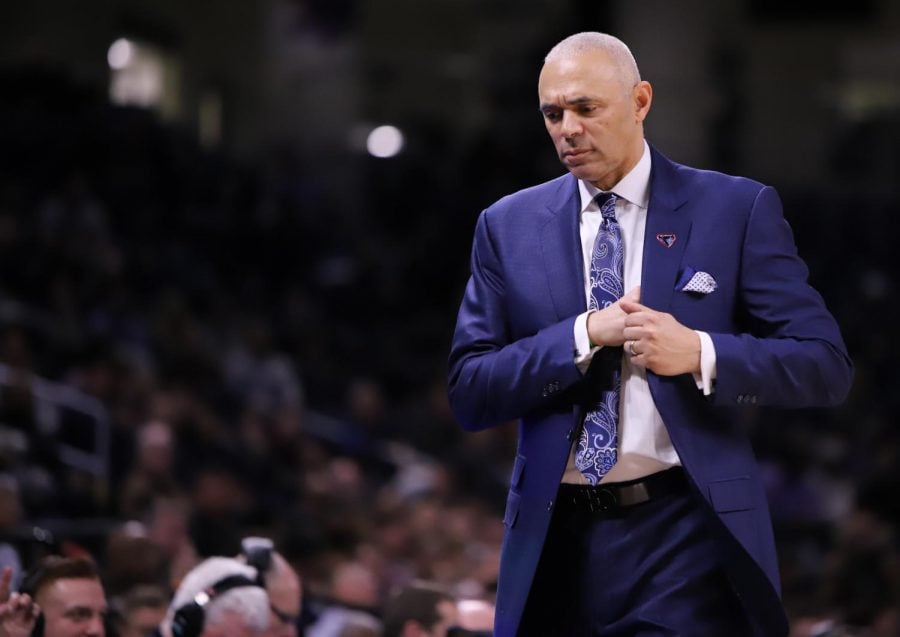 DePaul men's basketball has been irrelevant in Chicago, and certainly in the national landscape, for over a decade now. But after finishing with a winning record for the first time since the 2006-2007 season and making it to the CBI championship series, the Blue Demons believe they are ready to re-enter the spotlight.
Four seasons since head coach Dave Leitao came back to DePaul, the Blue Demons are still the laughingstock of the Big East. Another last place finish and getting bounced in the first round of the Big East Tournament once again is yet more evidence that Athletic Director Jean Lenti Ponsetto and Leitao have failed on their promise to bring the program back to prominence.
When Lenti Ponsetto brought Leitao back in 2015, she said that her expectation was to win immediately.
"We don't see that as a rebuilding project, but an opportunity to take the next step in the process," Lenti Ponsetto said in 2015. "Our expectation is to win now. We have talent here that needs to be re-engineered. It was clear to our search committee that Dave Leitao was our No. 1 choice."
Since Leitao has taken over, DePaul is 48-82 overall and 16-56 in the Big East, coupled with three last place finishes in the conference and no wins in the Big East Tournament. But, unlike successful and well-run programs, Lenti Ponsetto keeps backing her failing coach.
In an interview with The DePaulia last week, Lenti Ponsetto expressed that Leitao still doesn't have enough help to be clearly evaluated.
"I think [considering a coaching change] presumes DePaul has everything in place we need for any Division I program to be successful, and we do not yet," Lenti Ponsetto said last week. "Wintrust Arena was phase one, phase two really has to be a significant upgrade in the facilities we have here from a practice perspective. Our locker room, our weight room, training room, film room, academic advising space; we have room to grow significantly at DePaul."
Lenti Ponsetto also believes that the team took a step forward this past season and is moving in the right direction, even though they still finished 8-3 in their weak non-conference schedule, that if a team like Villanova or Marquette played those opponents they would have went either 10-1 or 11-0.
"To be [7-11] and to be in position to have won some other games was progress, but we don't feel like we have arrived we still have room to grow and room to get better," Lenti Ponsetto said. "It was a really good foundation laid this year for the team moving forward next year.
The progress that she is talking about is still minimal compared to where the team should be in year four since Leitao took control of the program again. Even with a winning record, improved conference record and being one game away from winning the CBI, the Blue Demons still did something they have been accustomed to doing, finishing last place in the Big East.   
Since the Big East realigned in 2013 to only 10 teams, the Blue Demons have finished in last place three times; since DePaul joined the conference in 2005, the Blue Demons have finished in last place nine times in 14 seasons.
The "progress" that Lenti Ponsetto is so proud of was still met with an embarrassing last place finish in the conference and getting routed by a mediocre St. John's team in the first round of the Big East Tournament.
The more embarrassing part of this conference season for the Blue Demons was that they went to the final day in the season with a chance to secure a first-round bye in the Big East Tournament, and maybe even more importantly, finish sixth in the conference, but squandered the opportunity.
Instead Leitao and his players wilted beneath the pressure, losing to Creighton 91-78 and allowing Bluejays guard Mitch Ballock to explode for 39 points on 12-for-14 shooting and 11-for-12 from the 3-point line. Their hopes and dreams of finishing sixth and making the NIT Tournament dissipated into the night's air.
The Blue Demons, once again, were left behind by their conference counterparts in postseason play, as the other nine teams made either the NCAA or NIT Tournament, DePaul was left having to pay to get into the CBI.
"I don't think it's a coaching problem and I don't think it's a talent problem, I think it's a depth problem," Lenti Ponsetto said last week.
Instead of properly evaluating Leitao by the performances on the court, Lenti Ponsetto chose to make more excuses for her coach on why he can't find ways to win more games in the conference.
Lenti Ponsetto should have focused that her program once again struggled to defend as DePaul finished 223rd in the nation last season in adjusted defensive efficiency per KenPom.com and surrendered 76.4 points per game, which was second-worst in the Big East. Leitao, who is supposed to be known for his defensive prowess, has failed to crack the top 100 in adjusted defensive efficiency three out of the four seasons.
"Playing defense is the most controllable asset in sports," Leito said when he got hired in 2015. "You don't need to jump out of a gym, shoot three-pointers or be super athletic to play defense. It's a mindset, and you can bring it every single night. That's why I love defense."
Everything that Lenti Ponsetto and Leitao talked about in 2015 has proven to be false. The program is not winning, which Lenti Ponsetto expressed back in 2015 as a goal for the team, and in a league filled with a bunch of men DePaul is the little boy that constantly gets pushed over.
If Leitao can't deliver next season, with four four-star recruits coming in, a top 30 recruiting class and having Gage, Paul Reed and Jaylen Butz back, Lenti Ponsetto should fire him. Another disappointing season that is filled with minimal or no improvement in the conference, should spell the end for Leitao and his time at DePaul.