Lightfoot promises she will govern for communities, not corporations
When she took the stage on Monday, May 20, Lori Lightfoot made history. 
Lightfoot was inaugurated as the 56th mayor of Chicago, but she is the first black woman and the first openly gay person to ever hold the job. 
At her inauguration, she spoke poetically of Chicago's lure, of its checkered past and what she hopes will be its bright future. She laid bare the problems that the city continues to face: a widening wealth gap, a struggling public school system and violence in the city's neighborhoods. 
She quoted Gwendolyn Brooks, the poet who wrote with brutal honesty about the city's racism, but also celebrations of the everyday folk who give Chicago its big-city blue-collar grit. 
"'We are each other's harvest,'" Lightfoot recited. "'We are each other's business; we are each other's magnitude and bond.'" 
"It was so moving," said Sandra Walker, a resident of the South Side's Back of the Yards neighborhood who voted for Lightfoot and attended her inauguration. "I never thought I'd see the day [when Chicago] would have a mayor who is so righteous, and so positive and honest about the future. […] The voters have done good."
She stood in front of the fresh class of aldermen at Wintrust Arena—  this was the first official meeting of the new City Council — and began to tell them that the first thing she is going to do is restrict their power. 
Lightfoot campaigned on ending the informal practice called "aldermanic prerogative," which gives aldermen unilateral veto power over permitting in their wards. Aldermanic prerogative has historically been the primary source of aldermen's power, but also the source of their corruption. 
"This does not mean our aldermen won't have power in their communities," Lightfoot said in her inauguration speech. "It does not mean that our aldermen won't be able to make sure the streetlights are working, or the parking signs are in the right place, or any of the thousands of good things they do for people every day. 
"It simply means ending their unilateral, unchecked control over on every single thing that goes on in their wards. Aldermen will have a voice, not a veto." 
Lightfoot traveled a long way from the small segregated steel town of Massillon, Ohio to get to the coveted and storied office in City Hall.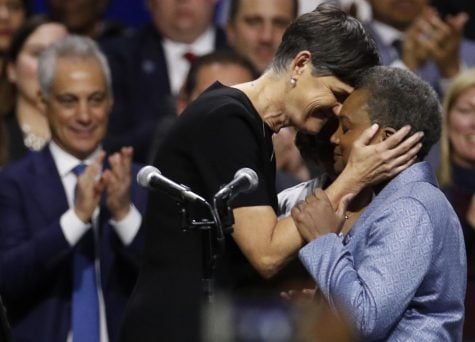 She choked up when she saw her 90-year-old mother, who travelled all the way from Massillon, where she still lives, in the crowd.
"Mom, most importantly, you and dad told me that I could be anything I wanted to be," she said in her inauguration. "That I could not be held back by my race, gender or family financial status. That I should hold my head high and not let anyone else dictate the course of my future."
Before she even left Wintrust and arrived in City Hall's storied fifth-floor mayoral office, she had already taken her first official actions. 
Perhaps symbolically, she had already had the "Wall of Mayors" moved into the hallway before her arrival, where the beaming portraits of old white men — with the exceptions of Harold Washington and Jane Byrne — can no longer leer at the mere mortals who have an appointment with the boss.  
She lined the walls of her new office with photography and artwork sourced from the city's neighborhoods. The images focus on people. Mainly, they capture moments of joy or moments of pain and sorrow. 
The images couldn't stand at a starker contrast to the images that Emanuel had hung, paintings celebrating Chicago's industrial heritage. Emanuel had been the mayor of business and finances. Lightfoot said she will be a mayor for the people.
Ian Teunissen, a DePaul senior who worked as an operations intern for Lightfoot's campaign, said the new mayor is shepherding in a new era of inclusivity in city government. 
"I think that this will be a turning point for young people and underrepresented communities across the city," Teunissen said. "I believe Mayor Lightfoot will work for and represent the people of these communities in ways that previous administrations never did." 
Then she signed her first executive order, the one that ended aldermanic prerogative. By her side were a small group of courageous aldermen — Lincoln Park Ald. Michele Smith was among them — who supported reducing their own power. 
But before she barely had a chance to settle into her new digs, she was already forced to confront her first crisis: the annual violence on Memorial Day weekend. The holiday weekend has always been one of the city's most violent of the year, due in part to it usually being one of the first weekends when a lot of people are out enjoying the weather. 
Lightfoot put an additional 1,200 officers on patrol and added a special mass transit detail just for the weekend. 
"As my mother would say, if people are acting a fool, there will be consequences," Lightfoot said at a press conference. 
As of publication time, 21 people have been shot and three have died, according to the Chicago Tribune.