DePaul College of Communication dean named interim provost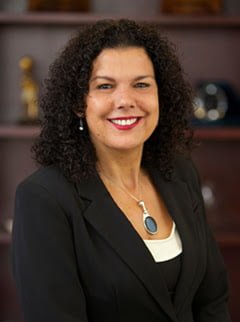 DePaul's Board of Trustees voted to appoint Salma Ghanem, a professor and dean of the College of Communication, interim provost as of July 1. President A. Gabriel Esteban made the announcement in an email to faculty Thursday.
Ghanem has been serving as acting provost since October 2018, when current provost Marten denBoer went on medical leave after revealing he has leukemia. denBoer announced last week that he would be stepping down June 30.
Ghanem has been dean of the College of Communication since August 2014. Her background also includes positions at the College of Communication and Fine Arts at Central Michigan University and the Department of Communication at the University of Texas Pan American, according to Esteban's announcement. She also has experience as a press and information officer for the Press Office of the Egyptian Mission to the United Nations and as a communication specialist at Scott and White Memorial Hospital in Texas.
Alexandra Murphy, a professor of communication who focuses on cultural and political issues within organizations, will continue to serve as acting dean of the College of Communication, Esteban said.
"It is indeed our good fortune to have talented leaders who can step up and take on extended responsibilities," Esteban wrote in his announcement.
Esteban said the university will conduct a nationwide search for a new provost in the summer or fall of 2021, and hopes to have a permanent provost by July 1, 2022.