History, respect defines rivalry between DePaul and Loyola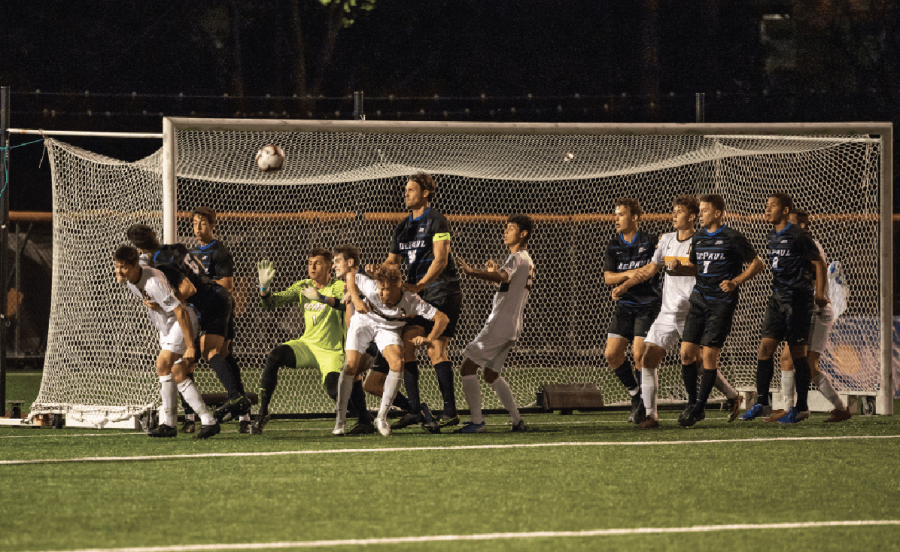 DePaul and Loyola-Chicago met 36 times coming into their matchup Friday night at Hoyne Field, with the Ramblers leading the all-time series 18-13-5. Even though the matchup has favored Loyola in recent seasons, winning four out of the last six meetings, the Blue Demons still treat this rivalry as one of their biggest games of the season.
In college athletics, there are several games a team circles on their calendars as "must-win" games and, for DePaul, a school that is located in the heart of Chicago, beating another school either in or around the area is virtually a "must-win."
"Always an exciting atmosphere, especially when you got 1,000 people in the crowd that it's always fun to play no matter if it's at Wish Field or away," sophomore forward Jack Richards said after the game. "Everyone knows what this rivalry means, both [are] in Chicago about 20 minutes away, so we are trying to get excited for it as much as possible. And [we] want to beat these guys."
While DePaul entered this matchup playing its best soccer of the early season, winning two straight games and not conceding any goals in them, recent form gets thrown out the window and the only thing that matters is the next 90 minutes to try and win the game.
On Friday night, that proved to be the case, with DePaul coming into the game in better form, but got outplayed by Loyola for most of the night. The Ramblers won the game 4-2 in front of a raucous crowd, moving the Blue Demons to 3-2 on the season.
"I'm pretty familiar with their players and I know it's a great team; I told the guys that they're fiercy, aggressive and we didn't respond to that in the first half and that's why we went down 1-0," senior defender Max de Bruijne said. "The second half we started the same, going two goals down, and then finally we started playing like ourselves for 15 minutes."
For the first 30 minutes of the game there wasn't much to separate both teams, something that is expected in a rivalry match. With less than 15 minutes to go in the first half, the Ramblers found the opening goal when they worked the ball into the box and a first-time shot by Justin Sukow beat DePaul goalie, Drew Nuelle.
The goal sent nearly 900 fans – most of them wearing Loyola shirts – out of their seats and into a frenzy, with those fans understanding how much this game means to both schools.
While players and fans from each side understand how important this rivalry is to DePaul and Loyola, head coach Mark Plotkin might have the best knowledge because he played in this rivalry when he was a player for the Blue Demons from 2006-2009.
"One of our goals at the beginning of the year was to try to be the best team in Chicago and we have an opportunity to play Loyola and UIC this year and we are 0-1, but have UIC on Tuesday," Plotkin said after the game. "But we know it's always going to be a tough battle because there's so much familiarity between the two teams – there's a lot of former teammates from the clubs. We have a bunch of young guys where this was one of their first versions and I'm proud of the fact that we fought back and that we didn't give in. We got two back to make it a game, it's just unfortunate that we couldn't get the third."
The first 30 minutes of the second half played out identical like the first half, both teams playing in the middle of the field and struggling to test the opposing goalie. But in the 76st and 77th minute, Loyola found a crack in DePaul's defense. The Ramblers would quickly grab two goals in a minute, giving them a 3-0 lead.
But, like Plotkin said, the Blue Demons responded with two goals in the 80th and 81st minute from de Bruijne and, for the four minutes, Loyola was on their heels trying to prevent DePaul from completing the comeback.
They did exactly that when they scored their fourth goal of the game in the 86th minute, putting the game away and giving the Ramblers their 19th victory in the all-time series.
"Started rough, didn't play well to our strengths and playing more to what they were wanting to do," Richards said. "After going down 3-0 and finding that energy, we put two away and we showed what we can do. We just gotta keep that going for the rest of the season and play full games like that."
For Richards and his team, losing to their biggest rival will undoubtedly sting for a little while, but they will have another chance to play a Chicago rival when they visit UIC on Tuesday night.