"Red Line rivalry" highlights soccer attendance issue
Under the lights at Loyola Soccer Park on Friday, Sept. 13, the DePaul men's soccer team awaited for the whistle to blow to start the game against Loyola-Chicago.
As the Blue Demons stood with anticipation to begin another edition of the "Red Line Rivalry," hundreds of fans in maroon and gold cheered in the stands in support of their Ramblers.
Throughout the night, Loyola gave their fans plenty to cheer about, scoring four goals and eventually winning the game 4-2.
According to Loyola's student newspaper, The Phoenix, 831 fans showed up to witness Loyola defeat DePaul 4-2.
The large turnout to Friday night's game can be attributed to a new tradition that has been implemented at Loyola. To start each new school year, the Ramblers begin with their annual "Hustle to Hoyne" game. This tradition was established in 2015 and it serves as a pre-game rally to get students and Ramblers fans excited for the soccer season.
The annual "Hustle to Hoyne" game is just one of the many strategies Loyola has utilized over the years to get more fans to attend games. The men's soccer team has hosted family weekends, collaborated with youth organizations and created events dedicated for alumni to attract people to watch the Ramblers.
Much like Loyola, DePaul has its own set of marketing strategies they like to utilize to create awareness about sporting events.
DePaul's Associate Athletics Director of Marketing Karen Loiacono said there has been a lot of testing to see what resonates well with students and two things seem to stand out.
"Swag and free food," Loiacono said.
A promotion that DePaul ran during halftime for the first three games for each sport this year was an opportunity for students to win $50 for Lou Malnati's, and there have also been times where students can win jerseys.
As for Loyola, their marketing team has focused on using unique giveaways to attract fans to games.
"We try to do more creative giveaways, something more interesting than a T-shirt," Loyola Assistant Director of Marketing and Ticket Operations Kayli Miller said. "This year we have done bucket hats and visors. Every year we do a beanie hat during the winter."
It hasn't just been the giveaways and events that has drawn fans to games but also the scheduling.
"Being able to play under the lights and play at night has been a huge advantage," said Loyola men's soccer head coach Neil Jones. "Students and fans probably prefer to get to see night games because that is when they are off from work."
Unfortunately for DePaul, the Blue Demons do not have lights at Wish Field, so they must come up with alternative ways to peak the fans' interest, and that has been a challenge regardless of the sporting event.
"People don't seem to be aware of anything that goes on around campus," said senior DePaul student Abbas Dahodwala. "I don't really think people care about athletics here that much."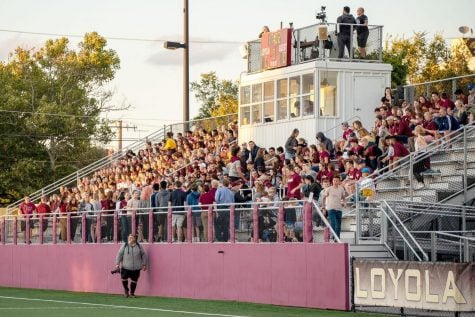 An important strategy the marketing team is doing this season as opposed to previous ones to create more attention to the events on campus is working more closely with certain departments and organizations.
"So, we are absolutely 100 percent more aligned in our collaboration with the Office of Student Involvement and more importantly the residence halls," Loiacono said. "Our primary population, our primary draw, is going to come from the residence halls. Those are the kids that are right here on campus, literally two halls border [Wish Field]."
For the students that don't live on campus there are still ways to stay updated with all the sporting events. The main tool is the D-Zone App, which according to DePaul's website, is an application that notifies students when a sporting event is happening.
The application allows students to earn points when they check in at events and those points can later be redeemed for prizes. A new feature about the D-Zone App this year includes acquiring more points if students stay for the entire duration of a game.
DePaul students are not the only ones that benefit from promotions. Associate Athletics Director for Ticket Sales and Operations Marty Murphy said that alumni and families in the surrounding area, such as Lincoln Park, could purchase a $30 men's soccer season pass, which gives the buyer access to 10 games for a better value.
"We have actually seen a nice little spike in men's soccer season tickets this year, a little bit more than year's past," Murphy said. "A lot of it is [because] we are getting are alumni involved. We are getting some of the guys that played soccer here to come back that are still living on or near campus to bring their families."
DePaul is trying to improve the participation and attendance of students and fans at their sporting events, but the ticketing and marketing departments can only do so much to improve the current situation.
The way DePaul's men's soccer team will attract more fans is if they can continue to win.
"Wins will come more frequently for those guys, for that team and the season to come and the years to come," Jones said. "That's like the biggest thing for attracting fans. Every fan wants to see a winner. They are doing a great job and wins will continue to come for those guys. I'm excited to see them do well."
"That's like the biggest thing for attracting fans. Every fan wants to see a winner. They are doing a great job and wins will continue to come for those guys. I'm excited to see them do well."