DePaul student tackles cancer, motherhood and full course load
September 23, 2019
Elizabeth 'Liz' Arendt has had a love for the city for as long as she can remember, making DePaul University the ideal college choice. That perfect college experience began to fade during her junior year, when she was diagnosed with Hodgkin's lymphoma – a form of cancer that affects the blood.
Arendt had a routine doctor's appointment in April 2018, not anticipating a cancer screening to occur. Her father had Hogkin's lymphoma at the age of 22, which he later died from. She decided to get tested – and the results came back positive. She was also 22.
She began treatment soon after, with high hopes because the cancer was stage one at the time. A couple months into chemotherapy, Arendt found out she was pregnant.
"I panicked," she said.
"So, I freaked out, and I had a decision to make, either terminate the pregnancy or stop treatment for a while, and that was a hard decision in itself. I decided to, which is crazy because they [doctors] told me I was a medical miracle, and I wasn't able to have kids ever in my life. So, I'm like OK, I guess I'm going to do this."
Arendt paused her treatment in July 2018, to have her son, Azrael. During this period, she felt "relatively normal." Her pregnancy did not harm her as much as she had anticipated, but because she stopped treatment, her cancer became progressively worse, going from stage one to stage three during that time.
Not many people agreed with her decision to stop chemo for her child, but a nurse at Rush University Medical Center thought differently – being with Arendt every step of the way.
"Well, I have been working with her through her treatment program," said Jennifer Patterson, an oncology nurse at Rush. "I was there when she had to make that hard choice between treatment and having her son. Many people called her an idiot, for lack of a better word, for choosing to go along with her pregnancy."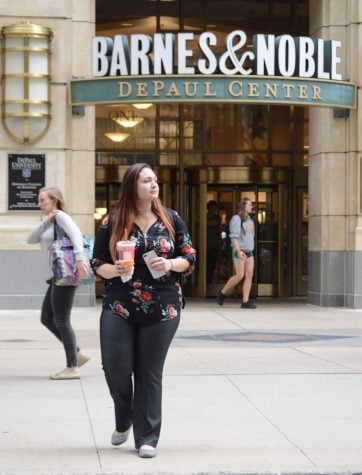 Arendt is from the North Side of Chicago, where she grew up in a family with six generations of DePaul alumni. After the birth of her son, she moved to Ravenswood, where she lives with Azrael.
Azrael's father is not currently around to support Arendt with him, but they are still in contact.
"He had to go away for personal reasons; he really wants to be there for his son and me, he just can't," Arendt said. "Yeah, he is just there for emotional support right now."
Calling Arendt a hardworking person would be an understatement. She instantly lights up a room when she walks in, with a smile five miles long and perfect micro-threaded eyebrows. Her laugh is infectious and she radiates positivity. Life hasn't dealt her the best cards, but she never folds.
"For me, I was extremely inspired how she was willing to give everything, perhaps her own life, to bring her son into the world," Patterson said. "She has always been upbeat, even going through painful procedures. I have also had the privilege to meet her healthy baby boy, whom she has to bring to treatments sometimes."
After the birth of her son, Arendt lived at Rush for six weeks, going straight into inpatient treatment. She ended up spending spring quarter entirely off-campus. With her treatment being three times a week, Arendt needed to figure out how to make being a full-time student and single mother work.
"Liz is very inspiring," said Andrea Bangura, assistant dean of students at DePaul. "She shows grit and resiliency every time we meet. I am proud of her and the dedication she is showing to complete her education at DePaul. Liz allows the Dean of Students Office to put our mission into action. She represents what we hope all students will do, which is to reach out when in need or when a crisis occurs and allow the Vincentian mission we all aspire to play out as we assist students."
Her determination did not shatter; getting a degree in network and security is still a goal. After talking with Bangura, whom Arendt said helped her a great deal, she was able to take her classes remotely during her stay at Rush, with her son by her side.
"[My son] was in the room with me and I was just going online, doing my classes," Arendt said. "I ended up passing— I don't even know how, but I passed."
Gregory Brewster, a professor at DePaul, helped out Arendt a lot after her son was born. Brewster knows what it is like to go through medical issues and did everything he could to help her succeed in his courses.
"She called me, you know, a couple of weeks into the quarter and said she wouldn't be able to come to class," Brewster said. "I waived the late penalties on everything she turned in to give her more time and flexibility. So, she did all the assignments."
Brewster said she did well in both of the classes she had taken with him.
On top of the astounding accomplishments she has made thus far, Arendt launched her own business "4 You Tech, LLC" this past July, where she serves as CEO.
"I help people go digital, that is my biggest thing," she said. Online marketing, IT support, taxation, web interactive design and accounting are all services provided to customers from her website. Arendt runs it entirely from home and she hopes to further her career and wants to use her DePaul degree to do so.
Arendt does not lean on anyone for financial support, which is one reason she was so determined to start her own company. She receives some help from the state, but this one-woman show is working hard to ensure her son, Azrael, is taken care of.
"The biggest problem is time; I don't have time for anything," she said. "Taking the time out of my business to go to school hurts, but I know I need it. If I started something, I'm going to finish it. So I am determined to graduate in the spring and, once I do that, I want to put all this focus into my company."
Time may play an essential role in Arendt's day, but it has not stopped her from reaching her goals. Starting the day at 5 a.m. with her son, she then heads to the gym, which is a small goal she strives to make. Besides cancer, Arendt also has lupus – an inflammatory disease caused when the immune system attacks its tissues.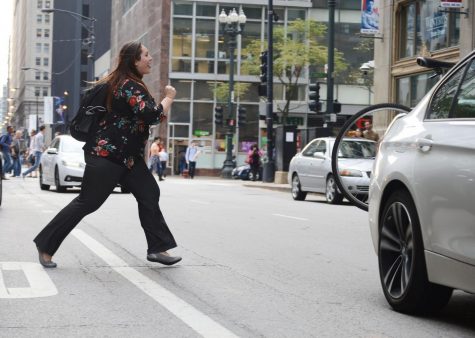 Working out is the only thing that helps with the symptoms of lupus. Reaching her goals every day helps keep her mindset positive and productive, and going to the gym is one of them.
Arendt is also trying to break the stigma of women and working, being told it is unprofessional to bring her son to work.
"No, it's not, he's a baby," she said. "I breastfeed, so he needs to be attached to me most of the time. Like we need to get out of this whole 19th-century thing. It's the 21st century: Women are independent, women work and we have babies."
Arendt is taking four classes this term: two online and two in the Loop. Before classes, she is attending her chemotherapy two times a week. Her son can go to daycare during the day paid for by the state, one of the services provided to college students with children.
She plans to stay in Chicago, as her love for the city grows. She is expanding her company after graduation in hopes of bringing in college students to gain hands-on experience. She works with smaller companies and says it will be easier to give new employees a chance to grow instead of working for larger corporations.
Later this month, she will go in for testing to see if her cancer is still at stage three or if it has gotten better or worse. Arendt has no regrets for stopping treatment; her son is her world and drives her to success. Nothing is going to hold her back.
"I never wanted people to feel sorry for me," Arendt said. "I don't want that, you know. I am a fighter, you know. I wake up every day for him [her son]. I try to stay positive."