Peter Ryckbosch to miss DePaul men's basketball season with ACL tear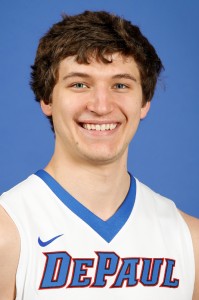 Junior forward Peter Ryckbosch will miss the 2014-2015 men's basketball season after tearing the anterior cruciate ligament in his right knee, the team announced.
Ryckbosch said he tore the ACL in his right knee during an open gym when he planted his foot and tried to twist, saying he felt a pop in his knee.
"I wasn't sure right away," Ryckbosch said. "I was hoping I had just twisted my knee or something like that. I wasn't sure how serious it was at the time."
Ryckbosch averaged 5.4 minutes and 1.3 points per game last season,
He said that he's not sure if he will apply for a medical redshirt waiver at the end of the season, which would allow this year to not count toward his playing eligibility.