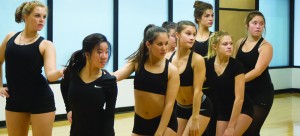 Ask anyone who was a serious dancer in high school, and they'll tell you they spent more time with their "dance friends" than their "school friends."
Competitive dance teams often foster a kind of bond sports teams rarely can. Perhaps it's that dance, for many as teens, is an outside of school activity. Maybe it's rehearsal four-to-five days per week with competitions on the weekends, maybe it's that dance has no season. But whatever the reason, competitive dancers form a bond that's unlike anything else, and they often lose it when they come to college.
For senior Alyssa McHugh, she missed that bond she had with her dance company in her hometown of Rockford. And of course, she missed competitive dance. So last spring, McHugh founded Ignite Dance Company, DePaul's first competitive dance company on campus.
"I missed competitions and the girls I knew missed competing, so I thought, 'Well, we might as well start something,' " McHugh said. "We all wanted to give it a try to compete one more time."
From becoming an official organization to auditioning more than 30 students to be a part of the team, IDC wasted no time becoming a full-fledged company. IDC has 10 members total, split across four individual teams: jazz, hip-hop, contemporary and lyrical.
McHugh choreographs for the jazz and hip-hop teams while Paige Drugas is the team captain and choreographer for contemporary, Ericka Latakas is captain and choreographer for lyrical.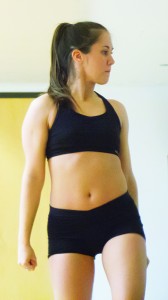 "(I'm excited) for choreographing," Drugas, sophomore, said. "I'm excited to see what's on my head on (the team), on the actual bodies."
"I really wanted to get more involved on campus and couldn't think of a better way to do it than with this group of girls that shares the same love for dance that I do," Latakas, junior, said.
Latakas will not only be competing with IDC, but she's also a member of the DePaul Dance Team.
"It's a lot, I have to bracket my time well, but it doesn't seem like work," Latakas said. "It's actually a needed break from doing my school work."
Latakas isn't the only IDC member with other DePaul dance-related experience. McHugh was one of the founding members of DePaul Dance Company, a group for less-serious dancers on campus.
"I just wanted to go more toward the competition style and more advanced style," McHugh said. "It's fine that DDC does all different levels, but for us we wanted to continue growing, it wasn't just a hobby for us … so we wanted to compete again and perform in that way."
IDC will be competing in only one competition this year, Starpower in Aurora, May 15-17.
Dance company competitions are different from those associated with dance teams. Fewer poms, more technique. Think "Dance Moms," sans screaming adults. Often a convention with choreographers and master classes are attached to the competitions as well.
But for IDC, becoming better, more advanced dancers is only a fraction of what it means to be an "Ignite Girl."
"Our motto is 'to embody confidence inside and out,' " McHugh said. "We're not just focusing on the passion for dance but the importance of health and fitness, mentally and physically, and how that can play into dance and other leadership roles. We're not just building improvement in dance, but in being a student and a woman."
IDC has partnered with Secret on its Mean Stinks campaign to fight bullying during October, National Bullying Prevention Month. The group is planning on making a video toward the anti-bullying movement, as well as tabling in the Student Center throughout the month.
For freshman Cindy Luu, she's excited to have found IDC so early in her college career.
"I'm most excited about becoming part of a team again," Luu said. "It's nice that it's not a lot of girls, because I get to know them on a deeper level now and it's not a overwhelming amount of people I have to meet right off the bat."
For McHugh, when she graduates this spring, she hopes IDC will give the girls on the team something special.
"I want people to be able to bond together and form a sisterhood, just because all of us that are coming from dance competition experience know what that's like," McHugh said. "It's a bummer if you come to college and you're still dancing and growing, but if that friendship isn't there it doesn't feel as special."