Latinx women discuss corporate life, entrepreneurship and how they got there
The Office of Multicultural Student Success hosted "Latinx Womyn in Leadership and Entrepreneurship" last Tuesday in the Coleman Entrepreneurship Office for students to listen to Latinx and Chicanx women share their journeys, struggles and how they made it in corporate America, non-profit sectors or as entrepreneurs.
Jacqueline Camacho-Ruiz, a pilot, entrepreneur, philanthropist, two-time cancer survivor, author and international speaker, opened the event, telling students that it is important for one to give themselves the power to succeed, especially when entering a field traditionally dominated by white men.
"I think the time [for Latinx women to be given a voice] is now," Camacho-Ruiz said. "The people are ready and the community is primed for our talents to be shared with the world. I am in the middle of this amazing international movement of women, with now 152, and I'm opening doors with The New York Times, Universal, Comcast, Telemundo, Forbes and Univision. They need to hear the stories and our talents."
Camacho-Ruiz talked about certain struggles she faced when becoming a small-airplane pilot. Students heard the story of her first time flying a plane, difficulties she faced with turbulence, among other things, and her powering through those nerves, "earning her wings" after landing the plane. She is one of the few Latina small airplane pilots in the U.S., received almost 20 awards for her business acumen and achievements around the world and the founder of The Fig Factor Foundation, focusing on unleashing the talent in young Latinas.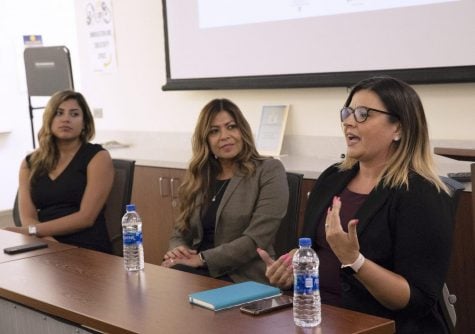 Following Camacho-Ruiz, a panel of three Latinx women speak to students about their experiences being in positions of leadership and answering several student questions. The panel consists of: Martha Arteaga, vice president of human resources at AMLI Residential; Patricia Ramirez, the senior sales manager at PNC; and Jackie Rodriguez, the chief of staff to the chief operating officer at Groupon.
During the discussion, panelists urged students that the time for individual branding starts now, not when starting a career, and continues on after graduation. Ramirez told students to network as much as they can, as that builds confidence when in a leadership role. Some panelists spoke about their experience with discrimination in the past for being Latinx women, and how they worked their way up to leadership positions and being respected in the corporate world. 
CORRECTION: A previous version of this story said that panelists "continue" to experience discrimination for their race and gender. The story has been edited to clarify that they were not referring to their experience with their current occupation.