Men's soccer rolls past Providence on alumni day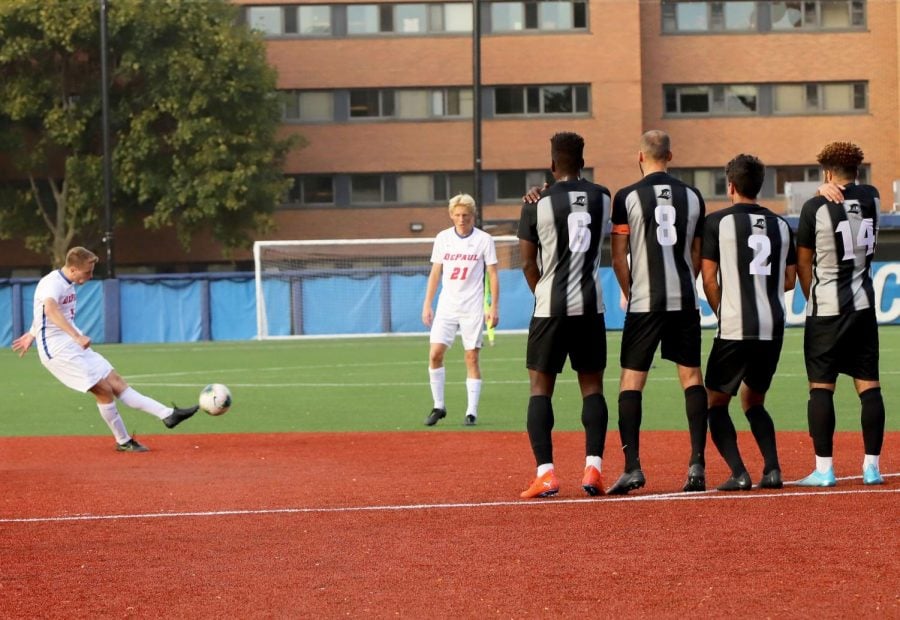 Sophomore forward Jake Fuderer scored on a free kick and sophomore Yousseff Ramadan put the game away with a goal of his own with two minutes to go to put the Blue Demons (5-5-3) ahead of Providence (8-5) in a Big East contest on Saturday at Wish Field. 
Coming into the game Saturday, DePaul hadn't seen a win in the previous four contests, while Providence entered on a two-game win streak.
The 2-0 victory came with the help of an energetic alumni-filled crowd,  with an estimated 649 people in attendance, the largest home crowd the team has seen this season. The Blue Demons notched their first Big East win of the season, improving their record to 1-1-3 in the conference where they now sit in fourth place. 
The Blue Demons and Friars battled throughout the first half as both teams saw about even possession. Sophomore midfielder Jacob Seeto's aggressive play earned him a yellow card 20 minutes into the first half. The game was intense throughout as both teams totaled 10 fouls by the end of regulation. The Blue Demons have averaged 8.9 fouls per game this season and Providence average 11.9 per game.
DePaul men's soccer alumni were recognized on the field after the scoreless first half. It was an event that attracted almost three times the amount of fans from a usual game,  which was a welcome sight for the alumni and players. It made the win even sweeter.
"Watching how fast and how big and strong they are, it's hard for me to realize that I used to do that," said Joe Sondag from the class of '09. "The boys are looking good and I think they'll get a result today."
The Blue Demons would go on to get a win after Fuderer's free-kick goal in the 66th minute. He lined up on the right side of the box following a foul and delivered a strike to the top corner. The goal was followed by a big celebration from fans and teammates. "It was very exciting. The celebration after a goal is something you'll remember forever," Fuderer said.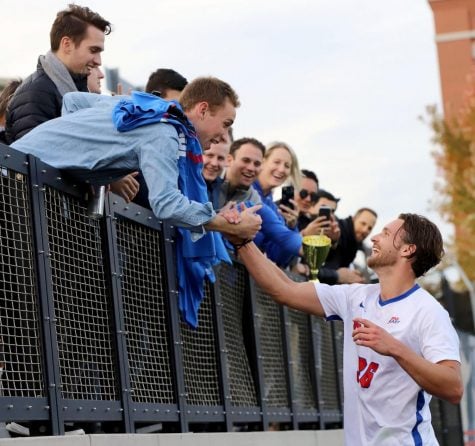 Fuderer's free kick gave DePaul the 1-0 lead which would be enough to hold off Providence's attempts at an equalizer. Up until the momentum-changing goal, "It was a very open game and both of us had chances," Fuderer said.
The scoring wasn't done yet. In the 88th minute, senior defender Max De Bruijne charged the ball down the field to assist sophomore midfielder Youssef Ramadan for a safety goal to put away Providence for good sure. It was his first goal of the season. 
"It was good to get a couple of goals, especially in front of the alumni. It was a great experience playing in front of them," said Ramadan. "The energy was great, they brought it and we just wanted to, you know, bring it back for them."
The alumni presence proved to be a key factor in DePaul's victory. Head coach Mark Plotkin attributed the team's second-half performance to the fans. 
"I saw a ton of old teammates and old guys I've coached, so it's just awesome to put on a performance like that in front of them and make them proud," Plotkin said. "It's really cool to have such a great following come back and see how much they support these guys, and they have every right to support these guys, they've been awesome."
Providence totaled 15 shots, eight of which were on goal. Eight of the shots came in the first half and the remaining seven came during the last 45 minutes of play, keeping redshirt junior goalkeeper Drew Nuelle and the rest of the defense busy as they worked to maintain the shutout.
DePaul only attempted two shots in the first half but would step it up in the second half. 
"I thought we really organized defensively and we always talk about when we have our moment in the attack, we have to make sure that we take care of it because obviously we're not putting up twenty shots a game, so when we get chances they have to be quality chances…" Plotkin said, "…and we put away two today."
Riding off of a win, DePaul will be in Omaha, Nebraska next Wednesday to face off against Creighton.