Chicago Teachers Union takes to the streets
The Chicago Teachers Union formed picket lines and peacefully walked the streets of Chicago on Thursday and Friday after failing to reach an agreement with Chicago Public Schools.
At 6:30 a.m. on Thursday, members of the union met outside of nearly every school within the Chicago public school district to form picket lines outside the buildings. At 1:30 p.m., those picket lines from each school marched toward the CPS headquarters located on Dearborn Avenue and Madison Street and then continued onward around the streets of Chicago.
Around 25,000 teachers walked out of their jobs as the nation's third-largest school district closed schools for Thursday and Friday, affecting approximately 300,000 students.
"The reason we're on strike is for two main reasons: justice and equity for our students," said Anthony Capetta, a math teacher at Jones High School and delegate of the CTU. "We're out here because Mayor Lightfoot refuses to improve the working conditions in our schools. We're asking for more social counselors, more nurses and higher pay for teachers."
In late September, the union voted to authorize a strike, receiving overwhelming support at 94 percent. There was slight hope that issues could be resolved before Thursday, but a deal was not reached.
The CTU has been negotiating with CPS for months and have gone without a contract since late June. The city has offered a 16 percent raise over the course of five years, something that Mayor Lori Lightfoot has called "historic," adding that they would be some of the highest paid teachers in the country.
Although both sides aren't far apart in terms of raises, they still differ on other issues. The union is asking for an increase in staff, specifically more nurses, librarians, social workers and counselors in every school. They're also calling for smaller class sizes, an issue that has affected many of the schools within the district that correlate to staff sizing.
The union has stated that they want these requests written in the next contract.
"It's just unacceptable that the board of education and that the mayor doesn't have enough respect for what we do to give a fair contract," said Greg Freeman, a member of the Service Employees International Union Local 73.
SEIU Local 73 announced that they tentatively reached a deal on Tuesday night with the Chicago Park District. They represent recreational leaders, special recreation workers, attendants, landscape laborers and others. The details of the agreement have not yet been disclosed.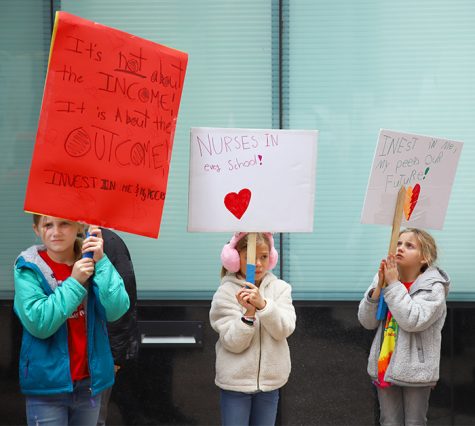 The deal affects about 2,500 park district workers; however, the deal does not affect the support staff that work for CPS. Around 7,500 union members that work as support staff for CPS joined forces with the CTU to march the streets. 
"We're fighting for better work conditions," said Kim Lieberman, a special education classroom assistant at South Loop Elementary. "The kids have no respect and we need more help."
Recently, Lightfoot has expressed frustration regarding the union's lack of seriousness and called for them to negotiate with "a sense of urgency." She added that a deal could be made soon but does not want the strike to be ongoing for a prolonged period of time.
"Mayor Lightfoot ran on a platform of investing in neighborhood schools – the money is there, they should fund our schools appropriately," Capetta, CPS math teacher, said. "Our union has been fighting for the schools that our students deserve for the past decade, and people haven't listened. If it takes a strike to get people to understand what we're fighting for and what we want our schools to look like, that's what we're going to do."
A big question that remains is the length of the strike, which, if a deal is not reached soon, can have consequences for the families of the children who aren't attending school.
The last strike took place in 2012 and lasted for a total of seven days. Another strike was authorized in 2016, but a deal was reached before teachers walked out.
Negotiations will continue while the strike is happening but it's unclear when both sides will be able to reach a deal.