Former DePaul men's basketball star lands two-way contract with Bulls
A native of Chicago's south suburbs, Max Strus only played for two seasons at DePaul, spending his first chained to the bench by NCAA regulations after transferring from Division II Lewis University. But in just two short years, Strus laid the foundation to become one of the program's most compelling success stories in recent memory.
Just days after signing a partially guaranteed contract with the Boston Celtics, the team waived Strus back onto the open market where he wasted no time putting ink to paper on a two-way contract with his hometown Chicago Bulls on Oct. 22, where he will see playing time in both the G-League and the NBA.
"I think everybody at DePaul, and I think around Chicagoland, especially the south suburbs where he grew up, is probably really excited about the fact that he's coming home," Athletics Director Jean Lenti Ponsetto said. "It's exciting for his family and his high school friends and certainly all of his DePaul fans and friends for him to be playing for either the Windy City Bulls or the Bulls, and to be able to continue to watch him play is terrific for everybody and especially for him to have that support system around him too."       
Over the past two DePaul men's basketball campaigns, Strus was a key figure in the Blue Demons return to relevance in college basketball — the team's "Superman," as sophomore point guard Devin Gage put it after Strus poured in a then-career-high 34 points against UIC last December. Playing for a program which has failed to cultivate much national attention in recent years, Strus' hometown story fills a vacuum of DePaul men's basketball players to make the jump to the game's highest level directly out of college.
Establishing a bridge between a college program and the NBA is a major selling point for the elite talent that drives the success of any NCAA program. Because Strus made a name for himself across the nation with highlight reel dunks and what, at times, seemed like weekly 30-point performances (he joins Mark Aguirre, George Mikan and Tom Kleinschmidt as the only DePaul players with five or more 30-point games) the DePaul brand started to reach a much broader audience. A broader audience means better recruits — recruits like DePaul's highly touted incoming freshman forward Romeo Weems.
"When I would come up for a visit I always see Max in the gym, getting shots up, rarely missing," Weems said. "On my visit we played a game together and we got the chance to talk a little bit … Max and Eli [Cain] were my like my big brothers."
Strus' journey from an under-recruited Division II player to a Big East conference star to now being on an NBA payroll is particularly compelling to high school recruits, including those entering college with much more fanfare than Strus had.     
"Max didn't start off in Division I … he comes from a Division II school, so he had to be a really hard-working player to go to the NBA," Weems said. "He couldn't have done that by himself and that was a big part of my recruitment because they flipped this Division II player — he was a great player, don't get me wrong — but they flipped this Division II player into an NBA prospect, and he's in the NBA making money now so I look at him as motivation for myself. And I feel like I've got a step ahead of him because I've gotten more exposure."       
Most recently, 2016 graduate Myke Henry and 2017 graduate Billy Garrett Jr. briefly found their way onto an NBA floor, but they both did it the hard way, fighting for spots on G-League rosters before earning playing time in a handful of regular season NBA games with the Memphis Grizzlies and the New York Knicks, respectively. The last Blue Demon draft pick came in 2007 when former Dave Leitao recruit Wilson Chandler was selected in the first round by the New York Knicks, making him the only former DePaul player to have a full-time spot on an NBA roster since 2000 draft pick Quentin Richardson retired in 2013.
Lenti Ponsetto said DePaul had received a lot of "positive distinction" as a result of producing an NBA talent like Chandler, but as the veteran pro is playing out the back-half of his NBA career, the connection between DePaul men's basketball program and the NBA is growing thin. Of the three DePaul players in the G-League, Strus seems to have the best chance to make a splash on one of the NBA's most storied franchises.  And that's not a surprise to the people who played a role in his development.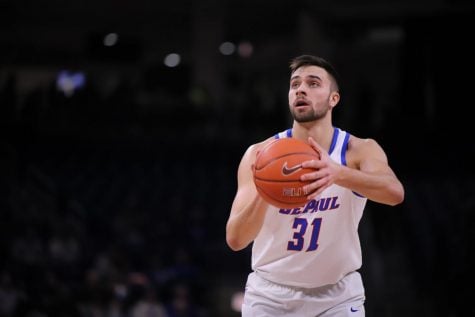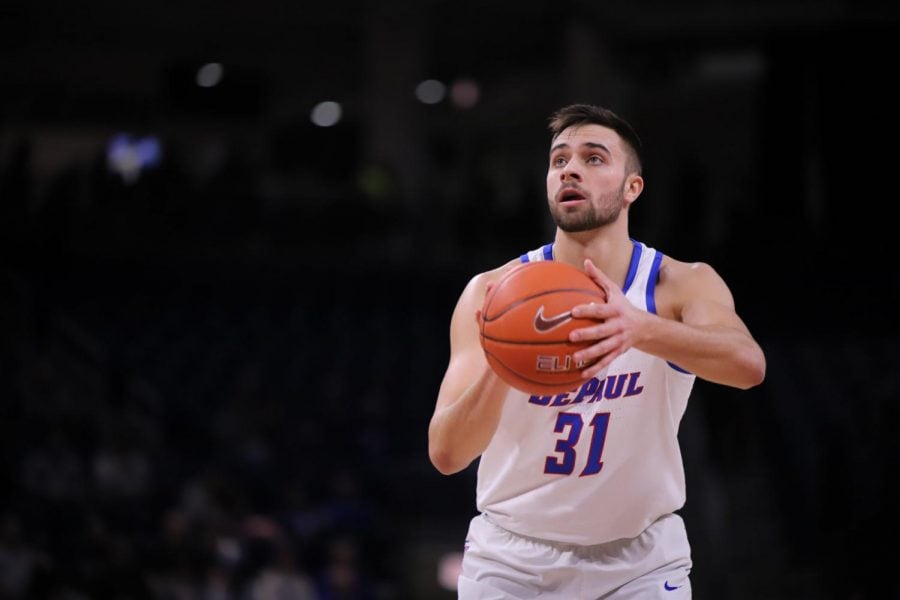 Even before he arrived on the Division I scene, his Division II coach at Lewis didn't see any limits to Strus's potential. Scott Trost, who coached Strus and his older brother Marty on the men's basketball team at Lewis, said Strus had a clear vision of what he needed to do to improve his chances of making a career on the basketball court.
"Max works extremely hard, so I would never put anything past Max," Trost said. "I think that's one of his greatest strengths — people have been doubting Max for a long time and I think he uses that as motivation."
After his sophomore season that featured a trip to the Division II NCAA tournament for the 2015-16 Lewis squad, Strus asked his hometown program to let him transfer in with the hope that a Big East, ACC or Big 10 program would give him more exposure. And he found a perfect fit in Lincoln Park.
"When we knew he was leaving [Lewis] we obviously went after him really hard," Head Coach Dave Leitao said. "In the recruiting process, he said one of the reasons he was leaving Lewis was because he wanted an opportunity to play basketball after college. We brought him back to the office after a week or so and said 'you got to realign your goals because, not only do you have an opportunity to play basketball after college, you can play at the highest level.' His personality, his work ethic, his drive really stated that, so the fact that it is in the process of becoming true is really a testament to how much focus he's had and how hard he has worked."
Trost only coached Strus as an underclassman where his leadership role was overshadowed by upperclassmen, but said he played an invaluable role in leading by example and putting his team first, which he also demonstrated at DePaul.
"First one in the gym, last one to leave — always trying to get some extra work in, going to class, being on time. You never had to worry about Max," Trost said. "He always did the right thing on and off the court… He was a leader, but I think he led more by example than as a vocal leader when he was [at Lewis] as a freshman and sophomore … The team is the most important thing to him. He wants to do everything he can to help the team win and he was happy if the team won and he scored six points and he was happy if the team won and he scored 52 points.
As an upperclassman at DePaul, Strus was "the guy," and the whole team looked to him as a leader in his play and his off-court support of his teammates. In press conferences after close losses, Strus was often critical of his own performance despite that fact that he usually provided the bulk of the team's offensive production.   
"He showed me what it takes," junior forward Paul Reed said of his former teammate. "He was always in the gym before me and he was the best on our team. He showed us the way to do it." 
Reed said he hopes to see Strus at DePaul games this season and is excited to go out and support him whenever he has games in Chicago.