DePaul men's soccer can't capitalize, falls to Xavier 1-0 at Wish Field
On a rainy, dreary day at Wish Field, DePaul (5-7-3) suffered a blow to their postseason hopes by falling 1-0 to Xavier (6-6-1).  The only goal of the day was scored in the second half by Xavier's Karsen Henderlong following a mistake by DePaul's Max de Bruijne.
The Blue Demons came into this match following a shutout defeat at the hands of Creighton. At home, they had an opportunity to not only get back into the win column but jump a few places in the Big East standings. Unfortunately for Coach Plotkin and his team, that was not the case.
The first half was a tight competition, with neither side allowing the other's offense to get into a rhythm and create opportunities. It was the same story the last time these two teams met when DePaul notched a 1-0 win.
Come the second half, however, Xavier came out firing. They won possession and forced the game to be played on DePaul's side of the field. But the Blue Demon's defense hung tough with goalkeeper Drew Nuelle making several difficult saves to keep the game scoreless.
But in the 62nd minute, a mistake by senior defenseman Max de Briujne gifted the Musketeers the only goal of the game.
A small lapse in concentration was all the opponent needed as De Bruijne was caught unaware of the opposing player who stole the ball and was left one-on-one with Nuelle. This time, the DePaul keeper couldn't keep the shot out.
Xavier kept attacking, looking for a second goal  to seal the game, but DePaul continued fighting despite being down a goal. Their best chance in the game late in the second half when Youseff Ramadan's curled shot from just outside the area hit the crossbar.
Postgame, De Bruijne made no excuses for the goal.
"It was my personal error, which, on Senior Day sucks a lot," he said. "I'm happy with how everyone fought today. I'm just kind of disappointed in myself."
The conditions on the field were not the best nor conducive to attractive soccer, but both teams had to play in wet turf with the rain showering down on them.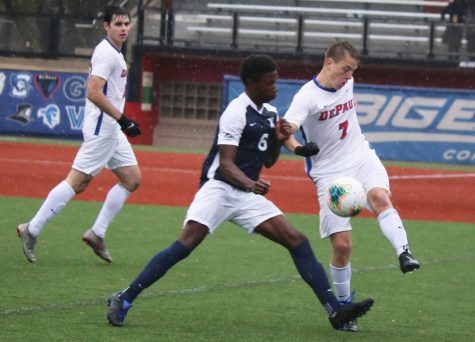 "Well, we actually really like it. It speeds the game up and we like to move the ball so we were actually happy that the field was wet," Coach Mark Plotkin said. "I think we moved around pretty well and created enough chances. We just didn't put anything away."
Despite the mishap on defense, Coach Plotkin was not going to single out the loss on a defense that has played well all season.
"For sure. But our backline's been fantastic all year long," he said. "They're humans. They're going to make mistakes. We had enough chances on the attacking end that we could have put a couple away so, I mean, I'm proud of our guys. We continue to battle and play and I wish we could have put one or two away so our defense didn't have to feel that kind of pressure all the time but it's a team game and we'll be back and ready for the next one."
As Coach Plotkin said, the team fought and battled to try to come back.     
"I think it's tough for all of us," senior defender Sasa Labovic said. "I wouldn't say we're disappointed with the way we played. We fought in rough conditions tonight, cold and wet. It was a difficult game for us but we stick together as a team. We win and lose as a team and we just move on to the next one. We're not out of the tournament so we're focusing on St. John's now with the number two in the country and just focus on beating them."
As De Bruijne mentioned, it was Senior Day so he, alongside Labovic, Joshua Bowser, Zach El-Shafei, and Kyle Smith were recognized prior to the start of the game. After the game, De Bruijne spoke a bit about his time at DePaul.
"I've had a great time here," he said. "Not only here at DePaul but in Chicago. It's been a blessing and I'm gonna go back home to Amsterdam in a month, which is pretty quick. I would have never changed any of it. It's kind of emotional night right now, it sucks it's got to end this way but we've got two more games to go so we gotta make that work."
DePaul has two more games to go as they try to make the Big East playoffs. The team travels to New York to take on St. John's before finishing out the regular season at home against Marquette.