DePaul defeats Marquette 4-0, secures Big East Tournament berth
After record setting snow on Halloween in Chicago, Wish Field was ready to be played on almost 24 hours later. DePaul was originally scheduled to play Marquette on Halloween but due to inclement weather, specifically 30 mph winds and four inches of snow, the game was rescheduled for Friday, November 1.
The women's soccer team played their final regular season game against rival Marquette and scored two goals in the first half and two in the second. DePaul shut out Marquette 4-0 to clinch their eighth consecutive playoff berth in the Big East tournament which starts Sunday. 
It was a cold day again with temperatures in the low 40s, but it didn't take long for the DePaul women's soccer team to get warmed up. Within the first minute of action, DePaul had a scoring opportunity after junior forward Jade Ericksen-Russo received a beautiful cross but couldn't get a good touch on it. From there it was all DePaul and in the 22 minute they got their first goal after junior forward Morgan Turner scored her ninth goal of the year.
In the 33 minute, DePaul was rewarded a penalty kick after junior midfielder Mikaela Hoard drew the foul in the box. Normally, Turner would take the penalty kick, but she was subbed out at the 25 min mark so instead redshirt junior midfielder Avery Hay took the kick and would score for her first goal of the season.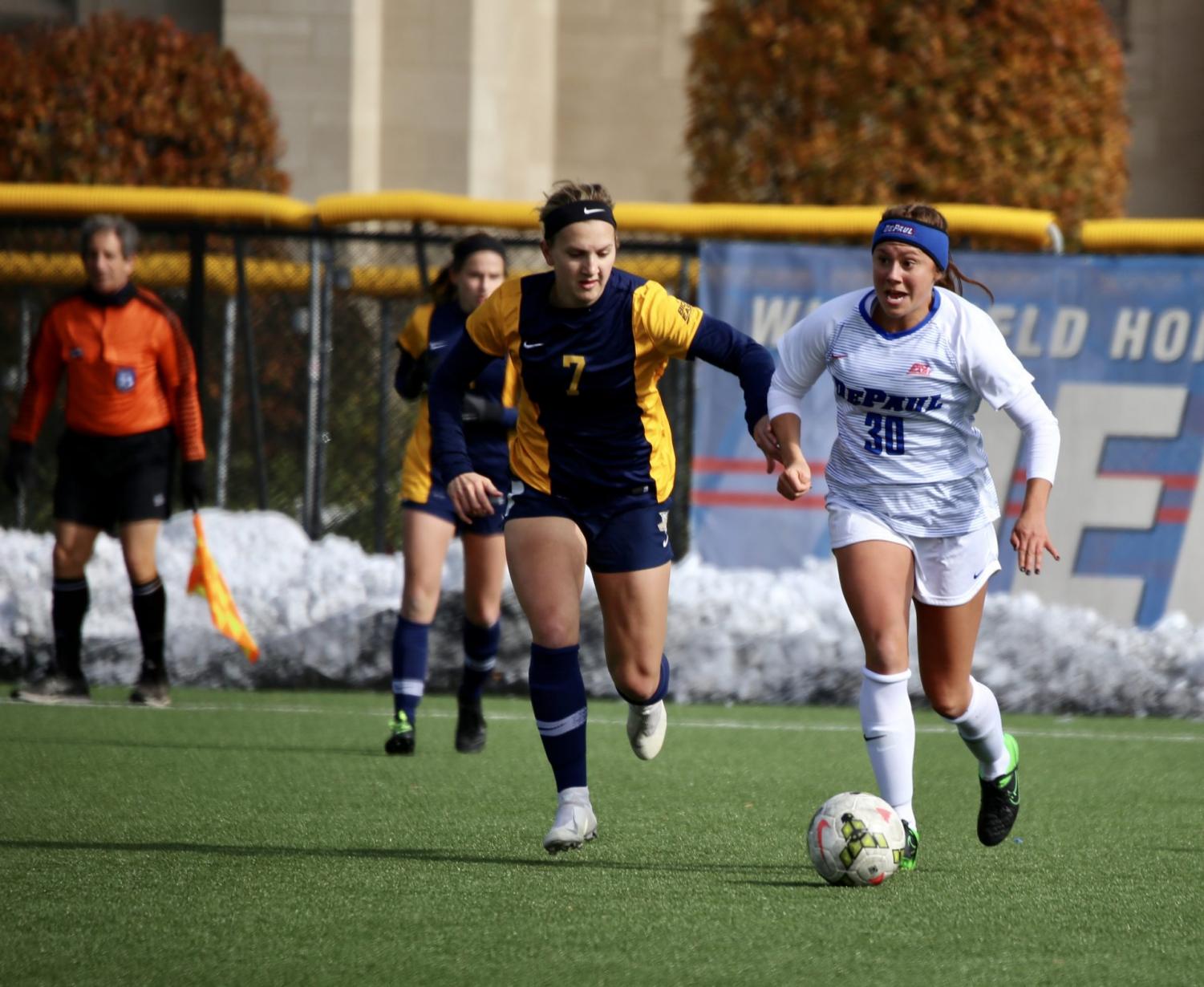 "I knew that if Morgan wasn't on the field, I would be the one taking the PK," Hay said. "I was aware that this keeper was very good at saving PK's and I always go to the left and I knew I needed to hit it hard, I hit it a little bit high than I initially planned but it worked out." At the end of the first half DePaul led 2-0.
In the second half, DePaul did not take their foot off the peddle and continued to play stellar defense and relentlessly attack Marquette's defense. Turner would come back in for the second half and eventually scored her tenth goal of the season and the second of the game in the 65 minute. In the final seconds of the game, Ericksen-Russo broke away from a Marquette defender and scored in the 90 minute for her fourth goal of the year.
With this 4-0 win, DePaul finishes the season with an overall record of 8-7-3 and places fifth in the Big East conference. DePaul will play in the quarterfinals at Villanova Sunday, November 3 at noon for the Big East tournament. With this win, DePaul also secures their eight consecutive playoff berth under head coach Erin Chastain. 
"You set all sorts of goals at the beginning of the season and one of our goals is always to be playing for a Big East championship and you have to make the tournament to do that," Chastain said. "For me as a coach I'm just super proud of the group because I think it's getting harder and harder to get points in our conference with all the parodies. The fact that we are able to get the points we need to get to qualify and put ourselves in a position to extend our season is really awesome."
Chastain also praised DePaul's defense today saying they played well and didn't give them any clean looks really. "That group has really come together as the season has gone on," Chastain said. "You can tell they're more comfortable with each other, working together as a unit and they're super tough. They set the tone for us today and it was nice to get some production out of our attackers so that we could rotate some players and make sure that we're ready to go on Sunday."
Turner agreed with her head coach and says the shutout wins are the most meaningful. "Our defense this whole year has been awesome and I think every player really stepped up today and we've had a lot of shutouts in the Big East as well and I think that says a lot about our defense and our goalkeeping," Turner said 
Turner also said she's extremely proud of the group and DePaul for making their eighth consecutive playoff berth. 
"It means so much because we've been working so hard this year and I have so much belief in how much potential we have and I think we're so deserving of making the tournament and so I'm really excited for it and to see how far we'll go," Turner said.