What DePaul fans should be thankful for
It's Thanksgiving and before you devour a plate of carbs and fall asleep watching Mitch Trubisky throw for 150 yards on 40 attempts you should take the time to reflect on what you're thankful for this holiday season.
If you're a Blue Demon fan, there is plenty of it, including, but not limited to: Doug Bruno's continued success, the Paul Reed and Jaylen Butz frontcourt duo and the arrival of Charlie Moore. All this has brought the men's and women's basketball programs to a combined 13-1 record after the first three weeks of the season.
Watching both teams this year has been a delight. The lady Blue Demons, who were the preseason No. 19 in the polls, have only faltered once to top five Oregon State on the road and won the Maggie Dixon Classic by beating No. 19 Miami.
The men's team has put the whole country on notice with their best start in over 30 years (aka no DePaul undergrad was even close to being born the last time they were this good). Dave Leitao, in his eighth year at DePaul, is looking like the coach he can be and the Blue Demons are very, very, very talented. 
An 18-point deficit at halftime against Central Michigan started to strike Blue Demon faithful in an all-too-familiar place. Yet this team isn't built like teams in the past, they are different. This is your grandfather's DePaul. 
This start to the season for both teams has to have DePaul fans as happy as Bill Walton after a pregame "walk" on the beach. 
Yet I'm here to point out a few specifics that Blue Demons fans need to be especially thankful for when giving grace at the table.
Doug Bruno and his selflessness
When I asked the DePaul women's basketball head coach what it meant to be close to 700 wins (he reached his 699th on Tuesday night with a win over UW-Milwaukee) he was quite reluctant to accept that as a real storyline.
You see, every game Bruno coaches is its own thing, none of it is connected. Maybe, he was on the sideline for singular wins 699 times throughout his 35 years at the helm, he'll be the first to tell you that he doesn't have any career points in those games.
"I haven't won a game," Bruno said. "You know my assistant coaches are really good and they are really committed and they work really hard."
Yet part of what makes any successful coach just that is a one game at a time philosophy as well as a great deal of selflessness.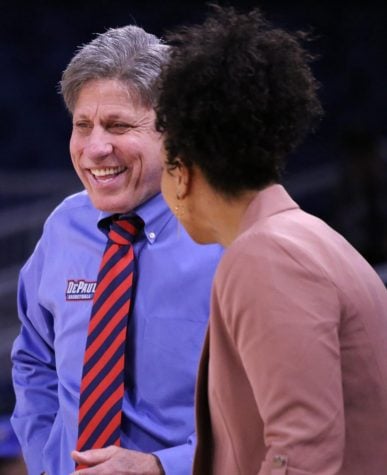 Both of those traits define Bruno and the women's basketball program for the past few decades. Every team they have next on their schedule is the best team in the country. From after they won on Saturday against Miami until the buzzer sounded at the end of the fourth quarter on Tuesday, that team was UW-Milwaukee.
For now, the best team in the country is Northwestern until Sunday, and then it will be Green Bay and so on so forth.
"Northwestern is the best team in America, UW-Milwaukee was the best team in America and that's just the way I approach it, always have always will," Bruno said.
So when Bruno reaches 700, he won't be making a big deal out of it. Even though he'll join only Geno Auriemma and Harry Perretta as the only active coaches at that mark, all eyes will be set on whoever the next opponent is. 
Besides, it's the media's job to do the hyping up, right?
Jaylen Butz's defense
Anyone who has seen a Blue Demons game this year knows about Paul Reed and Charlie Moore. The two have accounted for a bulk of the scoring offense in big games. But it is the play of Jaylen Butz down low, locking up the opposing team's big, that has held the team together when things got rocky.
Butz was tasked with guarding Luka Garza in the game against Iowa. Against Butz, Garza had his season-low in rebounds, points, field goal percentage, and blocks while having season highs in turnovers, and missed shots.
Garza wasn't the only victim of Butz though, he also focused in on Cornell's Jimmy Boeheim (yes, son of that Boeheim), who shot 16.7 percent from three and only managed two rebounds in all his depleted efforts.
Nik Popovic, Boston College's hero big, got the worst of it all, his quick fouls and poor shooting ended with him not scoring until the last few minutes of the game. 
And then on Tuesday night, Butz gobbled up 11 boards and 15 points while putting Central Michigan leading scorer David DiLeo in the doghouse with a dreadful 0-for-8 from beyond the arc. 
"[Jaylen Butz] has guarded all of them and they have all had off nights, no coincidence," Leitao said.
Butz is the boogeyman for opposing team's bigs. He will be key in slowing down the competition. 
Thank Tom Izzo for not closing the deal on Romeo Weems
Romeo Weems is a two-time Big East freshman of the week this season, and former Michigan Mr. Basketball coming to Chicago was out of left field. Michigan State head coach Tom Izzo practically stalked Weems, visiting him five times from January 2017 to April 2018 before the 6'7" forward committed to DePaul in May of 2018.
However he got here doesn't matter anymore, what matters is that he is here and it's beautiful. Weems has stepped into a starting role averaging 9.1 points and 5.7 rebounds including a 17 and 10 performance against Boston College on Nov. 23 that got him the accolades.
The freshman can score from multiple places on the court, has the hustle and basketball IQ that a lot of 18 or 19-year-olds lack coming into the division 1 game. 
Weems coming to DePaul has been a blessing for Blue Demons fans as the four-star recruit, if he keeps up his play, will find himself on more than just an end of the season list, it could be an NBA mock draft board. 
Now, Weems still has a lot to learn, and the season is very young. Although he has only had seven games to prove his worth, there will be a whole lot more throughout the year.