Preview: DePaul aims to get off to a fast start against Minnesota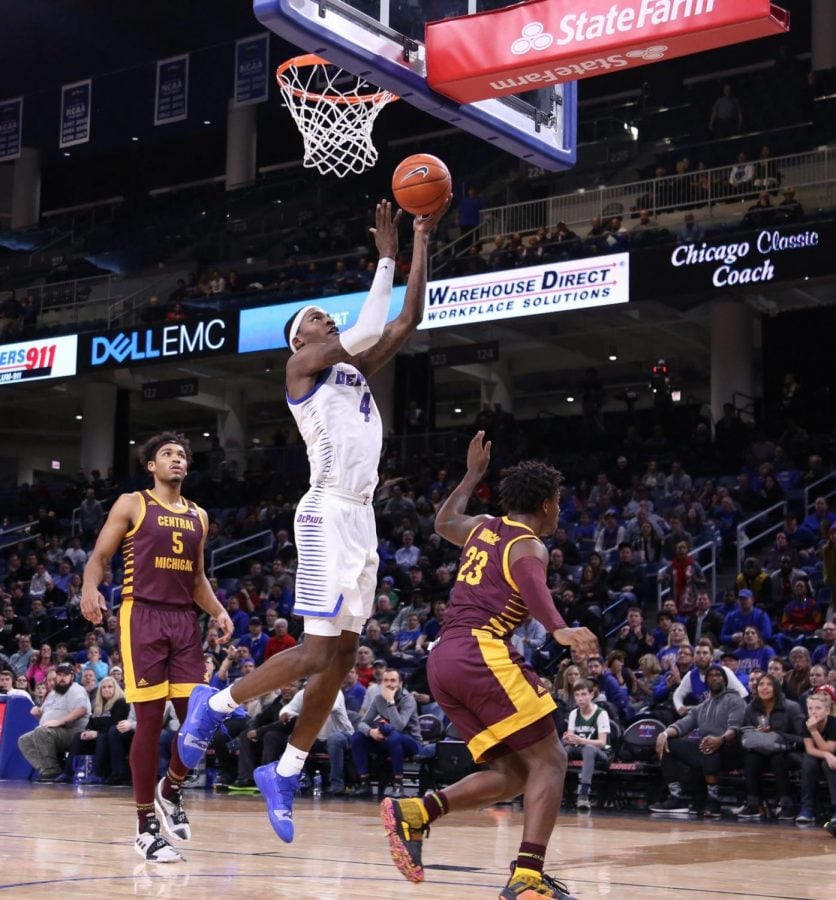 Coming off an 18-point comeback win in their last game against Central Michigan, DePaul (7-0) heads on the road for the third time this season to face another Big Ten opponent: Minnesota.
The Blue Demons were heading for their first loss of the season when they trailed Central Michigan 50-32 at halftime on Tuesday, but an inspired DePaul team came out an entirely different team in the second half — outscoring the Chippewas 56-25 and winning 88-75 at Wintrust Arena.
Whatever head coach Dave Leitao said at halftime worked to perfection because his team, who came out flat and uninspired in the first half, flipped the script in the final 20 minutes to stay unbeaten. Senior guard Jalen Coleman-Lands was the spark behind the run, scoring 18 points in the second half on 5-of-8 shooting from the 3-point line. 
But the main difference between the first and second half was the play of the Blue Demons' defense. In the first half, Central Michigan shot 48.6 percent from the field and knocked down five 3-pointers. That would decrease significantly in the second half, with DePaul holding the visitors to 25.8 percent shooting and only giving up two 3-point makes. 
Junior forward Paul Reed was once again unstoppable on both ends of the floor, scoring 23 points, grabbing 11 rebounds and blocking four shots. It has only been seven games this season, but Reed is quickly becoming one of the most dominant forces in all of college basketball. For the season, he is averaging 15.9 points and 10.6 rebounds per game. 
Reed's next challenge comes against the Minnesota Gophers, who stand at 3-3 and are riding a two-game winning streak entering Friday's game. The Gophers won their first game of the season, but then hit a roadblock by losing their next three games to Oklahoma, Butler and Utah.  
Here are three things to watch for:
First half start
DePaul can ill afford to get off to another slow start against Minnesota. The Blue Demons dug themselves a deep hole on Tuesday against Central Michigan, but managed to climb out of it in the second half because their defense and perimeter shooting improved. On Friday, DePaul needs to come out with that same energy they finished Tuesday's game with and look to impose their will from the start. 
That will begin on the defensive end, where the Blue Demons are holding teams to only 63.1 points per game, which will then allow Leitao's team to get out in transition and create easy scoring opportunities. 
Jalen Coleman-Lands' shooting
It is no secret that Coleman-Lands is DePaul's best 3-point shooter, but it is also no secret that he is very inconsistent. In the first three games of the season, Coleman-Lands scored a combined eight points and then erupted for 17 points against Iowa. He then followed that up by scoring 18 points in the next two games against Cornell and Boston College, but only went 2-of-12 from the 3-point line in those games.
His five 3-pointers against Central Michigan was exactly what DePaul needed in their comeback, but that type of performance needs to come on a regular basis. Minnesota has held opponents to only 27 percent shooting from behind the arc, so Coleman-Lands will have his hands full against a feisty defense — but that won't be an excuse if the Illinois transfer struggles to make an impact on the offensive end. 
Paul Reed vs Daniel Oturu
At this point if Reed is not being considered one of the best big men in the Big East then shame on those people. The six-foot-nine forward has recorded six double-doubles this season, including a 25-point performance on Nov. 11 against the Hawkeyes. Opposing defenses have tried to throw different looks at the junior, but instead they have been left looking foolish trying to guard him and then get past on offense. 
But the Gophers might have an equal for Reed with sophomore forward Daniel Oturu. The six-foot-10 forward is averaging 16.7 points and 10.8 rebounds per game in six games this season. This will be the most fascinating matchup all game long because both players haven't had another player who's given them trouble on the other end. But the winner of this game will need another star-studded performance from their big man, and who better to do it then Reed or Oturu?
Where to watch?
TV: FS1
Radio: 560 AM
Williams Arena at 2 p.m.
Odds:
DePaul +4  (4-3 ATS in 2019)