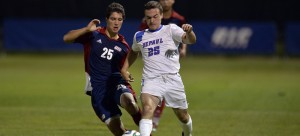 For most incoming freshmen involved with college sports, experience playing against top-ranked teams isn't acquired until after enduring several seasons. Hans Wustling and Caleb Pothast however, both freshmen on the men's soccer team, have demonstrated potential to help take the team to new heights. 
Wustling, originally from Hamburg, Germany, got his first kicks on the soccer field at age 3 by just learning to walk the ball in his free time. A couple of years later at age 5, Wustling began to play club soccer, which eventually led to him playing in the highest division in Germany. He was also named most valuable player at an international tournament in Belarus in 2009.
Throughout high school, Wustling led his team to several victories including first place at the World Championship of Schools Tournament in 2011. Then, at a soccer showcase hosted by a German sports organization, American coaches expressed interest in having Wustling play for their respective teams. The offers began rolling in.
"I kept in contact with all of them to see what school would be the best fit for me," Wustling said. "In the end, I chose DePaul because I like the atmosphere here and it's in the city."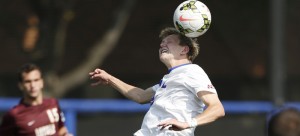 Playing as a midfield and forward, Wustling's skill in this position helped contribute to the team's success, DePaul head coach Craig Blazer said.
"He is a great left-back which is hard to find," Blazer said. "His relationship to soccer has instilled a lot of pride in him."
Adjusting from life in Germany to a fast-paced environment like Chicago could be hard for most transplants, but Wustling admits to not being affected by the move. Though he's been through the emotional part of being away from home, he's found comfort through the camaraderie and support system his team has built.
"I haven't begun to feel homesick yet because my team here feels like a family," Wustling said. "They're always there to help me with whatever I need."
Growing up in Lake Zurich around two older brothers that dedicated their lives to soccer,  Pothast developed his competitive spirit as a child, watching them play from the sidelines. By playing at the age 4 Pothast's drive to outshine his brothers landed him a spot on their recreation team.
"I started playing at a very young age for American soccer," Pothast said. "When you have two older brothers who are very good at playing, you're going to try your hardest to be just like them."
Though his older brothers' achievements were his original inspiration to get on the field, Pothast is careful not to let that interfere with his own success. Because both  his older brothers went to Marquette University, they were very adamant on persuading their younger brother to continue the tradition. Pothast resisted and decided to make his mark at DePaul instead.
"My brothers were really standout players there," Pothast said. "Sometimes I do get left in their shadows, but I don't want to just be the next Pothast. I came to DePaul because it would be the best way to show who I really am."
Between traveling for games and attending daily practices, Wustling and Pothast have made their coursework a main priority.
"It hasn't really been a challenge for me," Wustling said. "In Germany, I used to have school in the morning until 4 p.m. Then, we would practice and have study hours so we could get our homework done."
Pothast, who was a four-year honor roll student at Lake Zurich High School, said academics is the main reason he was allowed to play on the team. He plans on pursuing marketing as well.
"It's tough having practice every morning, then going to class after and trying to stay focused," Pothast said. "The upperclassmen really help us out with being on top of everything when it comes to classes. We are student athletes; student comes first."
Blazer said that Wustling and Pothast have both contributed to the team in their own unique ways.
"At the end of it all, we look for guys who just enjoy coming out and playing soccer  everyday,
Blazer said. "Both of these guys have skills and technique that you just can't teach."