Mentality, athleticism marks the biggest factor in DePaul's defensive improvement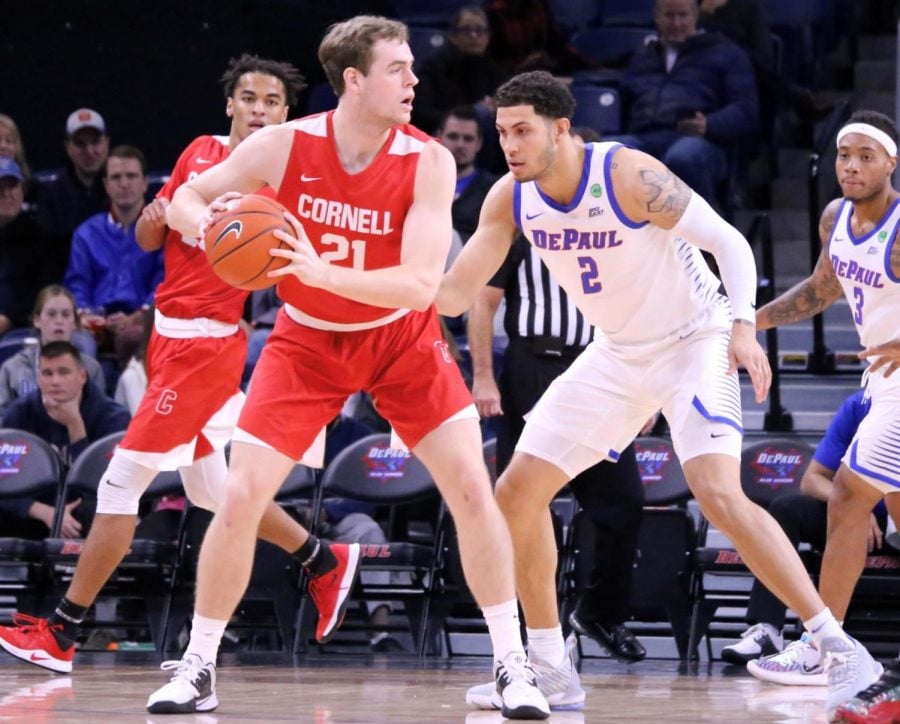 This DePaul team just looks different. 
In years past, the DePaul men's basketball teams has largely been a bottom feeder in the Big East. Just two seasons ago they only won a single conference game at Wintrust Arena to the tune of an abysmal 4-14 showing in the Big East. 
Now, after three road wins against power conference opponents and all-conference play from Charlie Moore and Paul Reed, the Blue Demons are about to play one of their most anticipated games in their new arena against Texas Tech on Wednesday. 
The biggest difference from past seasons has been the improvement of their defense. A stifling assortment of size and savvy, head coach Dave Leitao has his squad suffocating opponents and limiting other teams to 63.8 points per game on just 35 percent shooting.
Last season, for example, the Blue Demons gave up 76.8 points per game while teams hit at a 45 percent clip.
So what's the biggest change in just one year? Athleticism and mentality might be the answer. 
This year's starting lineup looks different than last year with two new additions including Charlie Moore at point guard. The Kansas transfer is running the offense with a whole new mojo, dishing assists and stepping back from three giving opponents fits on both ends of the floor. 
The other big addition is freshman Romeo Weems. The Michigan Mr. Basketball winner has excelled in his starting role, earning two Big East freshman of the week nods. His length and his disciplined defense have been a big threat on the perimeter as well as inside. Weems is averaging 1.6 steals a game along with six rebounds.
As well as previous Big East Most Improved player Paul Reed taking a giant step forward into being the cornerstone of the defense along with fellow forward Jaylen Butz. Both Butz and Reed have stepped into bigger roles this season on both ends of the floor. Butz has been the primary defender against opposing big's like Iowa's Luka Garza and Boston College's Nik Popovic, both were held to season lows at different stats.
Rounding off the starters, Jalen Coleman-Lands has returned from a hand injury that sidelined him for 25 games last season. His ability to chase guards off the perimeter into the waiting hands of Butz and Reed has been key.
"With defense, it's a collective effort," Coleman-Lands said. "So from us the guards running people off the line forcing them down, trusting the bigs. It's really a heavy trust aspect to it."
But having athletic players doesn't automatically warrant a good defense. That is found within the players and the coaching staff themselves.
"We made a decision, a strict one, to be a defensive-minded group more than anything else," Leitao said. "[The players] adopted that as much as the coaches demanded it." 
This mentality has carried the team into their 8-0 start. The Blue Demons are not winning games due to shootouts, instead, it's due to their ability to out will teams on the defensive end. In the game against Minnesota last Friday, Reed had eight blocks, including one on the game-tying 3-point attempt. Reed is averaging 3.5 blocks a game which is good for first place in the Big East.
DePaul is averaging 6.3 blocks per game, the 12th highest mark in the country. 
Reed is averaging a double-double and has six of them in eight games, good for first place in the entire country. Quickly, Reed is becoming one of the best players in the Big East, soon enough the rest of the country will be on notice.
Butz and Reed are the duo that will help carry the Blue Demons to defensive greatness, but they are about to have their hands full with a team that has an identity that is all too familiar to Leitao. 
Leitao recalls a game around this time but in the first year of his second stint with DePaul in 2015. His DePaul team was hosting Arkansas-Little Rock at McGrath-Phillips Arena. That Little Rock team came in and held the Blue Demons to just 44 points in a double-digit loss. That's the lowest amount of points they have scored in a home game since the shot clock era began in 1985.
The mastermind behind that team? Chris Beard, head coach of national-runner up Texas Tech who are coming to Wintrust tomorrow night.
It can be a tale of revenge for Leitao, who is taking the best DePaul team the 2010s have seen into second gear. Or, it can be a showing of the past that hasn't been the kindest to the D-men. 
Tech is coming in off of a year where they had the best defense in the country. Even with the departure of first-round draft pick Jarret Culver, they are sitting at 17th in adjusted defense according to KenPom.com.
"It's different the way [Texas Tech] plays defense than a lot of other people," Leitao said. "The pace and the veracity they play at is a little unmatched."
The defense for DePaul needs to force turnovers and get out in transition for the team to have success against Texas Tech and in conference play. That is where Moore shines the most. He can play at multiple speeds and finish in transition or find the open man for a lob. It's another part of the game where athleticism shines.
Moore played 19 minutes off the bench against Tech last season as a member of Kansas at the beating end of a 29 point defeat. So he is rightfully concerned with the defense of Texas Tech. 
"They're aggressive, they attack you and try to force you to turn the ball over," Moore said.
Yet this year, as a starter, Moore will be expected to play a bulk of the minutes in a game that is expected to be as tight as they come. 
"I just have to play my game, be patient, and let things come to me," Moore said.
This is one of the most anticipated games in recent DePaul basketball memory. It feels like a huge matchup in the eyes of fans and players alike. There are plenty of storylines to look at in terms of Leitao vs Beard, Moore's point guard prowess, and Butz and Reed's continued dominance down low. 
Yet things are business as usual for the new-look Blue Demons, it's an on-going process as the team prepares for Big East play, where they'll get a chance to prove everyone wrong again.
"Win, lose, or draw, we're going to have to wake up on Thursday and have to continue on," Leitao said.