DePaul not getting ahead of themselves as Texas Tech comes to Chicago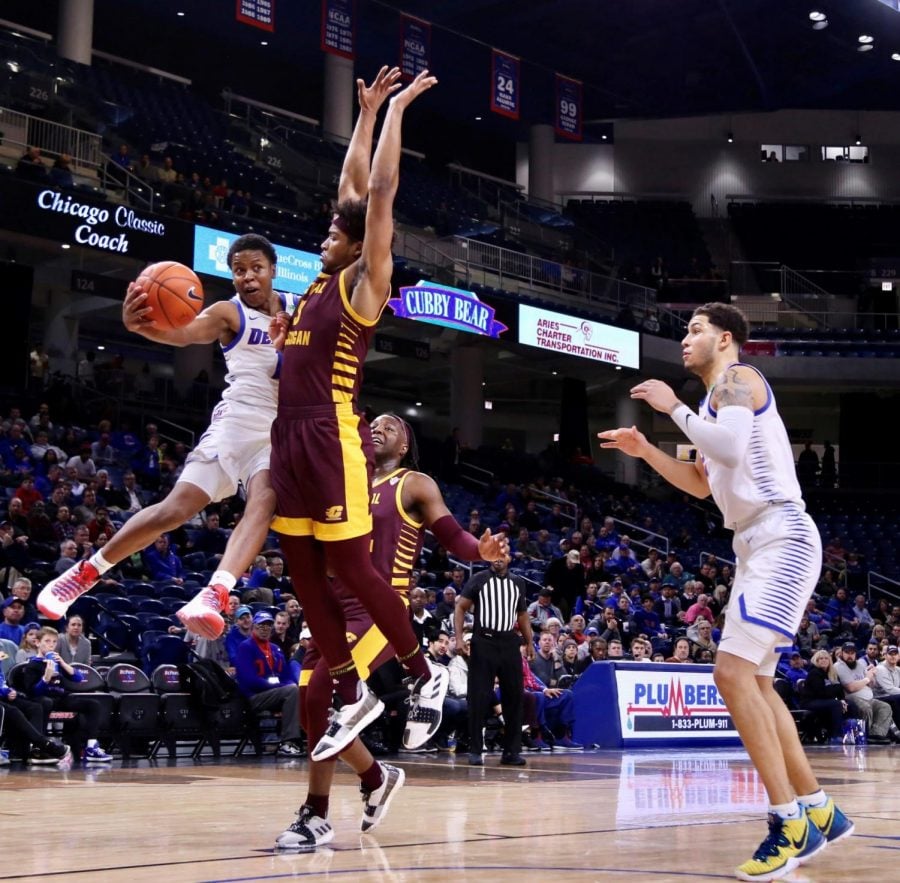 DePaul is off to its best start since the 1986-87 season, winning their first eight games to begin the 2019-2020 season and are heading into a crucial game against Texas Tech on Wednesday at Wintrust Arena.
Despite their hot start and the attention they are receiving from fans and the media, the Blue Demons are making sure not to get ahead of themselves knowing they still have a lot of basketball to play and still have a ton to prove. 
The team, as they get ready to take on the national runners-up Texas Tech in 24 hours, understand that while the start to the season has been close to perfect, but in order to reach their ultimate goal, they need to stay in the moment. 
"Yesterday, if you ask [the players] how the practice was it wasn't good and I was on everyone's case," head coach Dave Leitao said. "I think that's how I know how to keep myself grounded by staying in the moment. The moment is we gotta get better, it's early December and everyone across the country knows that champions are not made in December, they are formulated, but not made. So, we got to continue to grow so that we can be a better team."
An 8-0 start for DePaul has allowed for fans of the program to once again get behind their team, to start believing that this might be the season the Blue Demons finally reach the NCAA Tournament again. A feat the program hasn't accomplished since the 2003-04 season. 
But before the program can go celebrating an NCAA Tournament appearance, there is still a long season ahead of them that is filled with quality opponents — including Wednesday's opponent, Texas Tech. The Red Raiders come into Wintrust Arena riding a two-game losing and falling out of the AP Top 25 Poll. 
While Texas Tech have fallen out of the Top 25, they still present DePaul with their toughest challenge of the season to this point and one that will show if the Blue Demons can compete with an elite program. 
"It's massive," senior guard Jalen Coleman-Lands said. "I feel like for us reminding each other that this is another stepping stone and milestone for us to grow as a team. It's a true test for who we want to be and strive to be."
For a program that hasn't had many meaningful games in the last decade because of their inability to build momentum during the course of a season, Wednesday's game will test the Blue Demons if they are ready to enter the national spotlight. But, as Leitao is preaching to his players, it's one game in a long season, a game that won't define them.
"[It's] just another game," junior guard Charlie Moore said. "We know [Texas Tech] is good, they went to the national championship last year. We just try to attack it like every game, execute, do what we do defensively, just play our game."
Unlike last season where DePaul failed to really test themselves against quality opponents on the road, they have went to Iowa, Boston College and Minnesota to begin this season and won all three games. Now, with Texas Tech coming to Chicago, the team has an established identity that they can use to their advantage against the Red Raiders. 
"It's really no mentality," Moore said. "I think it's something instilled in us by now. Whether we are away or at home, we just want to do what we do, don't let anyone dictate our game, run around defensively, get out in transition and just try and get easy baskets. I think it's no mentality, it's just what we do now."
Winning their first eight games of the season has given DePaul major confidence as they head into an important stretch in their nonconference schedule, beginning this week against Texas Tech and Buffalo. With conference play slowly approaching, the team is looking to build on their strong start before they open Big East play on Dec. 30 against Seton Hall. 
"We play 13 non Big East games and this is one of them," Leitao said. "This is an important one because it's at home, it's an important one because Texas Tech has a pretty high RPI, it's an important one because they just played in the national championship game last year. Win, lose or draw, we are going to wake up on Thursday and have to continue on. We got four more games after this before we face Seton Hall. 
"So, what our goal was, in my own mind not taking with the guys, how good can we finish in the non-league portion of our season, what is our record going to be. We strive to be as good as we can possibly be, and this is one important game because of those reasons, but, most importantly, we want to be in really good shape going into the Big East season."
If DePaul continues to win and they come into Big East play undefeated, not only will the buzz continue to grow around the program — but the AP voters will have no choice but to rank the Blue Demons for the first time since 2000. For the time being, however, the team will allow their play on the court to do all the talking and they are confident that will lead them to being ranked in the near future. 
"[We] just got to continue working, continue to get better and eventually, we keep winning and doing what we are doing, I think eventually we will get into the Top 25," Moore said.