Column: As DePaul gets ready to begin conference play, it's time to start thinking big
Prior to the start of the 2019-2020 college basketball season, the Big East held its annual Media Day at Madison Square Garden with all 10 teams meeting to preview a new season – and at the end of the day, each team had some reason to feel good about their prospects. 
Seton Hall had just been picked to win the conference in the coaches' poll, Villanova was a close second, Myles Powell and Markus Howard were expected to take the entire country by storm and teams like Creighton, Providence and Georgetown were being pegged as NCAA Tournament teams. Even Butler and St. John's, who were picked eighth and ninth, respectively, had reasons to be excited about this season. 
And then there was DePaul. The perennial laughingstock of the conference for over a decade, who had finished last in the conference three-straight seasons, who once again was picked to finish last by the coaches. But within the program there was a feeling of hope, even though the outside world doubted them. 
Two months later, DePaul is no longer a laughingstock. The Blue Demons are 12-1 – their best start since the 1986-87 season – heading into their conference opener against Seton Hall on Monday, and have wins over Texas Tech, Northwestern, Iowa, Minnesota and Boston College.
A program that has been stuck in a cloud of darkness for the last 10 years can start to see the light as they enter a new decade. A program that came into the season feeling like they could do something special is starting to see that hope turn into reality as they head into conference play. The reality is now clear for DePaul and the rest of the Big East: A sleeping giant has awoken and is on the path to making the NCAA Tournament for the first time since 2004. 
In previous seasons, DePaul would enter Big East play with little to no hope of making the dance – but this season is different. The Blue Demons have had plenty of chances to revert back to the old DePaul squad, trailing 18 points at halftime to Central Michigan, down six to Texas Tech with three minutes to play, tied with Cleveland State in the second half, but in all those games someone from the Blue Demons' roster came up with big plays at the end to give DePaul the win. 
"Most important I think the thing with our team has shown an innate resiliency to be in a situation which may be close to trying to come from behind and have something about them, something about them, about the character and their spirit to be able to come back," head coach Dave Leitao said. "The Northwestern game, we scored 19 points in a little over four minutes, is just not natural. So, there's something about us, but at the same point of time we want to make sure that we put ourselves in a better position so those things don't have to happen."
In each instance where DePaul was pushed to the brink in the second half, someone stepped up for them to deliver another win. Against Texas Tech, it was senior guard Jalen Coleman-Lands, who hit two massive 3-pointers to send the game to overtime, and then hit another two shots from behind the arc to give the Blue Demons the win. Against Northwestern, junior forward Jaylen Butz scored a career-high 24 points to lift DePaul past the Wildcats. 
And as DePaul gets ready to enter conference play, which begins with Seton Hall on Monday, the Blue Demons can use those close wins to their advantage when they face those same scenarios in the Big East. 
"Obviously, it's hard," Butz said. "Not every team can come back and win games. So, I just feel like it gives us even more confidence in ourselves, as a team, just knowing that we could come back from being down. So, it's kind of a confidence builder – but we don't like to play from behind. But overall, it gives us even more confidence that we can be winning."
For DePaul, a program that hasn't had much to cheer about this decade, they have every right to be feeling confident heading into conference play. They boost one of the best players in college basketball – junior forward Paul Reed – they rank 36th in adjusted defensive efficiency and they have one of the better non-conference resumes in all of college basketball.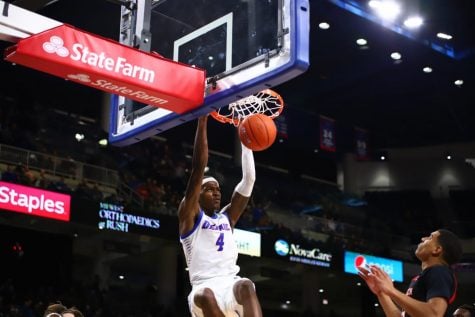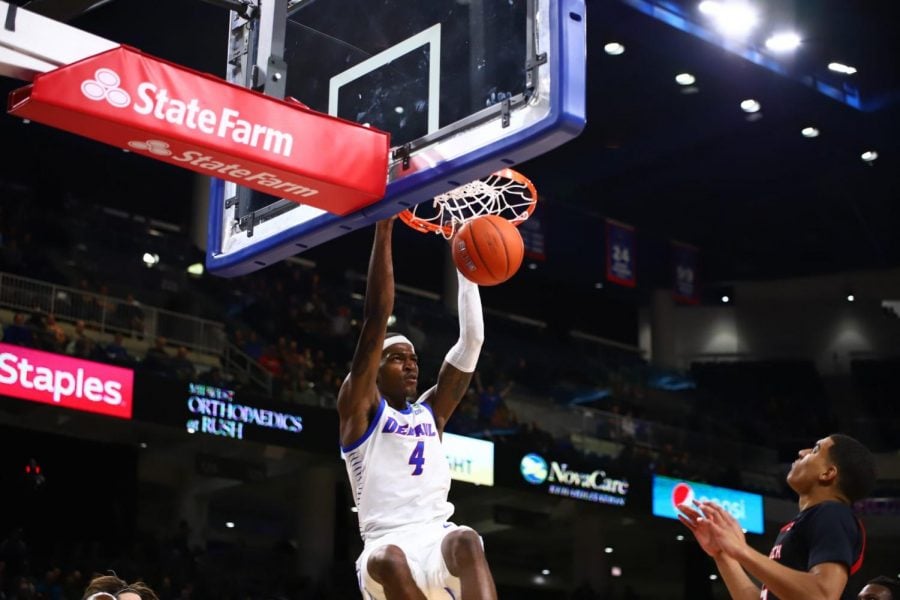 The Blue Demons enter Big East play 5-0 against Power 5 schools, with three of them coming on the road. There is a reason the excitement level about this team is through the roof. The potential is clear with this roster and it's time everyone thinks NCAA Tournament or bust for the Blue Demons.
Currently, DePaul is 38th in the NCAA's NET rankings, which helps determine which teams make the tournament. In the AP Top 25 Poll last week, DePaul came in at 29th with 54 votes. So, the national media is starting to notice DePaul's resurgence back to relevancy –  and it's no fluke. 
In prior seasons, the Blue Demons relied on one or two players to carry them through games, but that's different this season. Junior guard Charlie Moore, who transferred from Kansas to DePaul in May, is the engine that drives the Blue Demons on offense as he averages 16.5 points and 6.7 assists per game. The big men tandem of Reed and Butz helps protect the rim for DePaul while also pouring in a combined 27 points per game. Coleman-Lands provides stellar shooting and spacing on offense while also being a reliable force on defense. 
"[We need to] bring in our focus, being more mature now that we have more experienced games under our belt," Coleman-Lands said. "Knowing how important it is to start games, finish games for 40 minutes. So, that's essentially our biggest challenge, just to stay locked in for the whole game."
Like all college basketball teams, however, DePaul has a couple weak spots that reared their heads at the start of the season. For starters, the Blue Demons rank 328th out of 350 schools in free-throw shooting at 62.6 percent per game. While DePaul fails to take advantage of free points, they also struggle to hold onto the ball as they average 15 turnovers a game, which ranks 272th in the country. 
And still, as DePaul gets ready to open up conference play, they stand at 12-1 and have put themselves in a position to be thinking big. That's the beauty of college basketball, and that's what makes this DePaul team special. Even when they aren't playing well, they have found ways to pull out the win in the end. 
The Blue Demons and their fans have endured a frustrating decade of dreadful basketball, which only had one postseason tournament appearance. But as the world gets ready to enter a new decade on Wednesday, DePaul seems to be on the verge of breaking out of their slumber and getting back to a place that seemed so far away before the season started: the NCAA Tournament. All of sudden, that destination is now in DePaul's sight.