DePaul upsets No. 5 Butler 79-66 for first Big East win
It was 13 years since DePaul last beat a top-five team in the country. It was nearly six years since the last time DePaul knocked off Butler. 
All of that changed on Saturday when the No. 5 team in the country, the Butler Bulldogs, came to Wintrust Arena and got destroyed from start-to-finish. DePaul jumped out to an early double-digit lead, and never looked back to upset Butler 79-66. 
The fast start for the Blue Demons helped them settle down, and got the biggest crowd of the year into the game right away. The reported paid attendance after the game was at 8,967, which is 2,000 more than the previous high for this season. 
"Today our defense, which has been solid all year long, showed up in a big way," DePaul head coach Dave Leitao said. "Our offense was really good today, we talked about execution and have been talking about it for a long time and sharing the basketball."
After missing their first two shots of the game, DePaul started getting into a groove on offense. The Blue Demons made sure to play through their star junior forward Paul Reed in the early going, the Florida native scored eight of the team's first 10 points and helped his squad jump out to a 10-2 lead.
With DePaul's offense firing on all cylinders to begin the game, the Blue Demons' defense were keen on stopping Butler on the other end. It took the Bulldogs nearly two minutes to get on the board, but the Blue Demons were doing a solid job on defense — forcing the visitors into tough looks and making them shoot deep into the shot-clock.
Getting off to fast start has been a theme for DePaul in Big East play, against No. 14 Villanova on Jan. 14 the Blue Demons rushed out to a 21-8 lead inside the first 10 minutes. But the Wildcats would end up crawling back into the game and eventually took a 30-28 lead into the break, and then broke DePaul's heart in overtime with a 79-75 victory over the Blue Demons.
"We took it as one of our biggest learning games, especially being in that it got so close and with them being a great team," Coleman-Lands said. "It was really reassuring for us as a team to know that this is what we are capable of, and then going back to the drawing board and making those adjustments. And then getting the result we needed today, and then building off of that as a team. Knowing our standard and not just playing to who our opponents are."
DePaul made sure that wouldn't happen again, especially in front of a gigantic crowd at Wintrust Arena. The Blue Demons had their most complete game of the conference season and gave their fans something to cheer about, while the Butler fans went home with their team losing their second straight game.
"I was so desperate of getting a win after losing four, any team we would have played was only great so that was my main concern," senior guard Jalen Coleman-Lands said.
After Kamar Baldwin rallied off four straight points for Butler to make it a four-point game, 10-6, DePaul took their game to another level the next four minutes. Behind strong defense and smart offense, the Blue Demons tallied off 12 straight points to take a 22-6 lead with 10:56 to play in the first half. 
But unlike previous games where DePaul has taken their foot off the gas after building a double-digit lead, the Blue Demons stayed in control for the next couple of minutes. DePaul made it a concentrated effort to feed Reed in the first half, the junior would hit all five of his shots to lead all scorers with 18 points in the first half. 
After picking up two quick fouls, however, Reed was forced to go to the bench for the remainder of the first half, and that is when Butler went on their run. After DePaul took a 31-18 lead with just under seven minutes to play, the Blue Demons' offense went cold and the Bulldogs started to knock down shots behind Baldwin and Jordan Tucker. 
The two standouts for Butler scored 13 of the team's next 16 points, and by the two-minute mark they had the game back within four points, 35-31. But DePaul did not make the same mistakes as they have in previous games — losing momentum going into the break. After Butler got within four, the Blue Demons went on a 9-3 run to close the first half. During that stretch, Coleman-Lands hit three straight free-throws, junior guard Devin Gage and freshman forward Romeo Weems knocked down back-to-back 3-pointers to swing the momentum back DePaul's way. 
"I think it was huge, they had just hit a three," Weems said. "When Charlie passed it to me I was thinking I have to make this. They have been given me encouragement and keeping my head high, just telling me to play my game. So, I give my teammates the credit for that."
Weems finished the game with 11 points, but his three 3-pointers helped DePaul keep their momentum when Butler was just starting to claw their way back into the match. He also had the task of guarding Baldwin for much of the day, and limited the talented player to 16 points on 6-of-16 shooting.
For anyone who has watched DePaul this season or the last couple of years knows that DePaul struggles to close halves and has a tendency to come out slow to begin the second half. They made sure the former didn't happen on Saturday, and they didn't allow a 15-minute break to slow them down in the second half. 
Coming out of the break, Coleman-Lands and Weems hit two 3-pointers inside the first two minutes to give DePaul a 50-36 lead and keep their foot on the gas when Butler thought they could catch the Blue Demons sleeping. Following the two early makes to begin the second half, DePaul's offense went cold in the next seven minutes by only scoring two points during that stretch.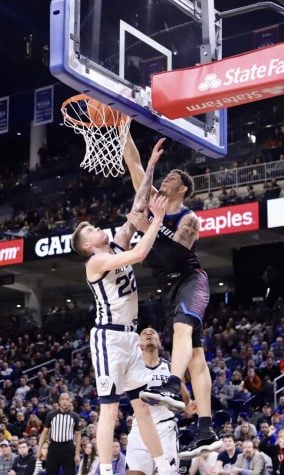 But the Blue Demons' defense stifled the Bulldogs in that stretch by forcing five turnovers and only allowing four points to keep a double-digit lead. With the game still hanging in the balance with 12 minutes to play, junior guard Charlie Moore broke the cold streak for DePaul with two free-throws. After only scoring two points in the first half, Moore poured in seven points for the Blue Demons in the second half. 
With Moore getting DePaul back on track on the offensive end, the Blue Demons used their strong defense to create good looks on the other side. DePaul was able to get out in transition throughout the game, and hit timely 3-pointers to offset any Butler runs. In a six-minute stretch, DePaul hit three 3-pointers and had one 3-point play to build a 21-point lead, 70-49, with only six minutes to play. But the exclamation point of that run and the entire game came with 9:27 to play when junior guard Jaylen Butz dunked on a Butler player.
While DePaul's defense did its job, forcing 17 turnovers and holding Butler to only 41 percent shooting, the offense stepped up when they had to. Two areas that DePaul has struggled this season, free-throw and 3-point shooting, helped the Blue Demons build their lead and then keep that sizable advantage in the second half. The Blue Demons shot 10-17 (58 percent) from the 3-point line and 25-32 (78 percent) from the free-throw line.
Reed finished the game with 23 points and nine rebounds, while Coleman-Lands finished with 20 points on 3-of-5 shooting from the 3-point line and going 9-of-11 from the free-throw line. 
"What we wanted to do, not specifically even for Butler because I think they are a tremendous defensive team, was to just change a little bit the course of how we run our offense," Leitao said. "And we haven't been playing to get the ball inside as much, so we wanted to get [Reed] more touches [and] Jaylen Butz more touches inside 15-feet, and then play out of it from there.
"Paul is a unique guy, but I didn't run a ton of things [for him]. I don't always run a lot for him and he finds his way, not just with the ball in is hands, but the ball going into the basket. He hit a three early, he hit a pick-and-pop short corner jumper early. I think it gave him confidence to do those things and he didn't miss a shot in the first half. He's a unique and phenomenal talent that way. And then even after his foul trouble he got his rebounds in the second half, and was able to contribute without going crazy and fitting into what we were doing."
After taking a 70-49 lead, DePaul made sure to close out the game by limiting any deep Butler run. With the win, the Blue Demons improve to 1-4 in conference play and 13-5 on the season. DePaul will get three days off before No. 25 Creighton comes to town on Wednesday.