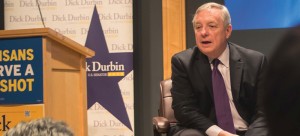 U.S. Senators Dick Durbin (D-Ill.) and Elizabeth Warren (D-Mass.) fired up Chicago college students in a joint appearance last week hoping to drive that constituency to the polls in November's elections about the issue of student loans.
The hour-long event on behalf of Durbin's re-election bid was hosted in a small theater in Harold Washington Library. Students from DePaul, University of Chicago, Loyola University Chicago and Northwestern University were among those in attendance.
Warren, a champion of progressive causes and a favorite of many liberals, spoke passionately about what she sees as a lack of investment compared to previous generations.
"We are not investing in your generation the way we invested in generations before," Warren said.  "We are not making those investments today. And the best place to see that is with student loans."
Student loans have become a hot issue over the past few years as Republicans and Democrats have fought on how to handle them. The GOP prefers to tie interest rates to the market, while Democrats typically prefer a fixed rate.
Last year, the parties came to a compromise that will lock in the interest rate for each loan for the life of it, but it will allow for the interest rate on new loans to fluctuate each year depending on the markets. Most predict that the rate will go up, though it is capped at 10 percent.
"After you account for the bad debts and the administrative costs, the loans from 2007 to 2012, are on target to produce $66 billion in profits for the United States government. That is obscene," Warren said.
"So the United States government instead of saying that we're going to invest in your generation is saying, 'Hey listen, if you're clever enough to be born to a rich family, you've got every opportunity," she said. "But if you're not, and you're somebody who's got to go out there and work for it, the cost of college is higher, you have to go out and a borrow a little money, and there's an extra tax put on you."
Warren began by speaking about her childhood, and about how government assistance, including low-interest loans, helped her and many others like her to make it. She said, however, that is not the case any more.
"They not only have figured out how much you're going to produce in profits, they built it right into the budget," she said. "So your money has already been spent."
Warren and Durbin have co-sponsored a bill that would lower interest rates to a point where the profits are miniscule. And in order to fill the hole in the budget that would be left, the bill calls for closing loopholes available to wealthy Americans. The measure, however, is stuck at 58 votes, two shy of the 60 needed to break a filibuster.
Durbin and Warren, who had to leave early to catch a train to Wisconsin to campaign on behalf of Democratic gubernatorial candidate Mary Burke, urged students to make their voices heard in the coming election. And it was a message that resonated.
"(It) was a great event for the DePaul Dems to attend," said Marcus Cirone, political director for the DePaul Democrats. "It gave a dozen of our members the opportunity to question Senator Durbin and Senator Warren, two leading national voices on college affordability, on what needs to be done to make college more affordable."
Durbin, who is up comfortably in the polls against perennial candidate Jim Oberweis (R-Sugar Grove), stayed a bit longer after Warren left to answer some questions from the audience. A student from Roosevelt University brought up Oberweis' remarks that the senator was a bully for pressuring big companies like Walgreens to stay in the United States, and thanked him for it.
"When I grew up in East
St. Louis, bullies picked on little kids. I just pick on big kids." Durbin said, getting laughter from the crowd. "The way I see it is if you don't stand up and fight on some of these things, these folks are going to roll over you.
"So whether it's fighting to keep companies in Illinois or fighting the groups that are exploiting us, I'm going to keep doing it," he said.