State's Attorney candidate Bill Conway talks wealth, corruption and his game plan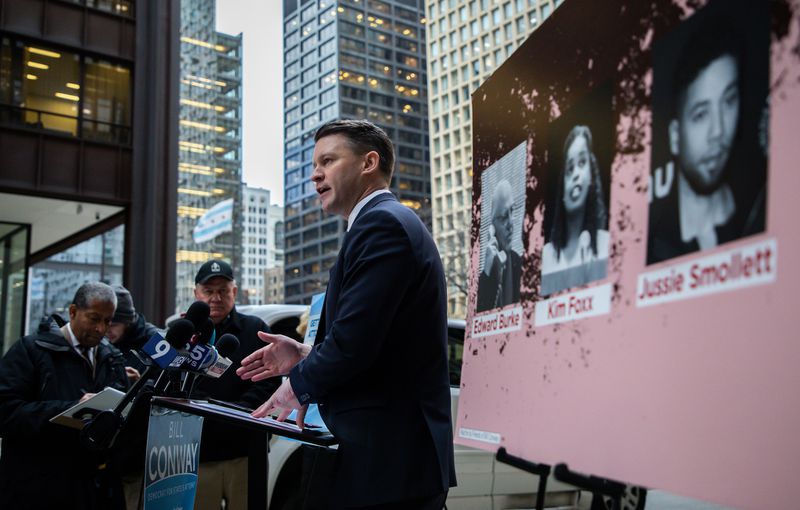 According to the Federal Election Commision, 91% of the time the better funded campaign wins their election for public office. It is this reality that makes political campaigns dependent upon donations from individuals, groups, and PACs to effectively get their message to voters.
Big money donors have exploited candidates' need for campaign funding by donating generously, with the underlying assumption of receiving political favors in return if said candidate is elected.
A few examples of this "pay to play" phenomenon include the NRA donating 1.2 million to Republican Senator Mitch McConell in return for inaction on any gun reform measures or when   Citigroup Bank bundled $755 thousand to Obama's 2008 campaign. The latter example, proven by a Wikileaks drop, shows the bank submitted a list to the Obama campaign of prefered cabinet appointees under an Obama administration. The list provided by Citigroup corresponds almost exactly to the eventual composition of Barack Obama's cabinet.
For those familiar with campaign financing, this corruptive system is nothing new. Yet, Bill Conway, Democratic candidate for Cook County state's attorney, argues his billionaire donor bankrolling his campaign is just a father helping out his son.
An adjunct professor of finance at DePaul's business school, Conway announced his run for Cook County State's Attorney on Aug. 8 — the first to announce a run against current State's Attorney Kim Foxx.
As a prosecutor, Conway made a name for himself by prosecuting high level corruption and financial crime cases, including the Chicago police officers who embezzled $1 million from the Chicago Sergeants Union in 2012.
Conway says his record as a prosecutor coupled with the financial backing of his billionaire father, makes him the only candidate who can enact what he calls a "public corruption reckoning."
"I am not going to owe anybody anything, other than the voters and people of Cook County. We are going to get after public corruption in this town like people have never seen," said Conway.
In my interview with Bill Conway, he reiterated that he would recuse himself from all matters relating to his billionaire father, William Conway, co-founder of The Carlyle Group, a private global investment firm with over $224 billion in assets.
While The Carlyle Group themselves do not manufacture weapons nor contract directly with the U.S Department of Defense, companies the investment firm owns have done billions of dollars of business with the Pentagon.
Despite Bill Conway's assurance to recuse himself from all matters relating to his father's firm, incumbent State's Attorney Kim Foxx sees the mere appearance of duplicity as unethical.   
"[Bill Conway] has taken at least $1.7 million (now $4.8 million) from his billionaire father's arms dealing empire that to this day is contributing to violence we're seeing around the world," Foxx told ABC Chicago.
In 2016, Kim Foxx campaigned as a reformist and following her election she delivered on her promise to expunge those convicted of nonviolent drug offenses. Yet, many Cook County residents were dismayed by her refusal to prosecute former Empire T.V star, Jussie Smollett, for filing a false police report claiming he was the victim of a hate crime that never happened.
Foxx is relying on support from Chicago Democratic insiders such as Cook County Board President Toni Preckwinkle's PAC and union groups like the SEIU. Foxx also has many wealthy individual donors of her own, including her largest donor Fred Eychaner, a prominent Chicago philanthropist and founder of Newsweb Corporation, who so far has contributed $1 million to Foxx's re-election campaign.
Kim Foxx's campaign did not respond to requests for comment by publication date.
The massive influx of money in this race is due in part to a campaign finance regulation which lifts the cap on donations if a candidate self-funds more than $100 thousand (self-funding includes donations from the candidates immediate family).
This rule is intended to level the playing field for non-wealthy candidates, who would otherwise be restricted to collecting a mere $5,600 from individual donors while their self-funded opponents could pour unlimited amounts into their own campaign.
While Conway argues his family's wealth makes him immune to the corrupting influence of money, Alisa Caplan, the Policy Director at Reform for Illinois, a nonprofit organization which addresses the role of money in politics, says it is not that simple.
Even a well intentioned self-financed candidate "can lead to a fundamentally problematic system for a lot of reasons, including that the interests and priorities of the wealthy can diverge from those of other segments of the public," Caplan said. "But because they have the loudest bullhorn, you'll still hear the most from them."
Jack Mulhern, a senior at DePaul studying political science, believes the self-financing loophole can be problematic simply from an optics perspective.
"Sometimes a candidate who is self-funded is genuine in their politics and does not want to rely on the donations of a few wealthy individuals or groups," Mulhern said. "There is some merit to this, but on the other hand it looks extremely antidemocratic and it allows for people to effectively buy an election."
With the Democratic primary election on March 17th, Cook County voters are tasked with differentiating between two self proclaimed anti-corruption candidates, both of whom are backrolled by wealthy donors. Kim Foxx by the Chicago establishment and Bill Conway by his billionaire father.
With the millions of dollars being spent on this race, voters who are looking for a serious grassroots challenger to lead the nation's second largest prosecutor's office will have to wait at least another four years.