Ion Apartments, formerly 1237 West, described by residents as less-than utopic experience
February 23, 2020
Craig Summers, a DePaul junior, moved into Ion Lincoln Park in 2018 after other housing plans fell through. 
While living there, one of his roommates went for a late-night snack run one evening, leaving the door to their apartment unlocked. The next morning, Summers woke up and found a man on his couch, bleeding from his forehead. 
This man was a stranger to everyone in the apartment.
Tenants at Ion, which was formerly known as 1237 West, were promised apartments with stunning floor-to-ceiling windows, quality amenities and a lifestyle that would make any casual Instagram user envious. 
The building has an obvious appeal: Located just a few blocks from DePaul's Lincoln Park campus and flaunting a trendy appearance, any luxury-seeking college student would bite.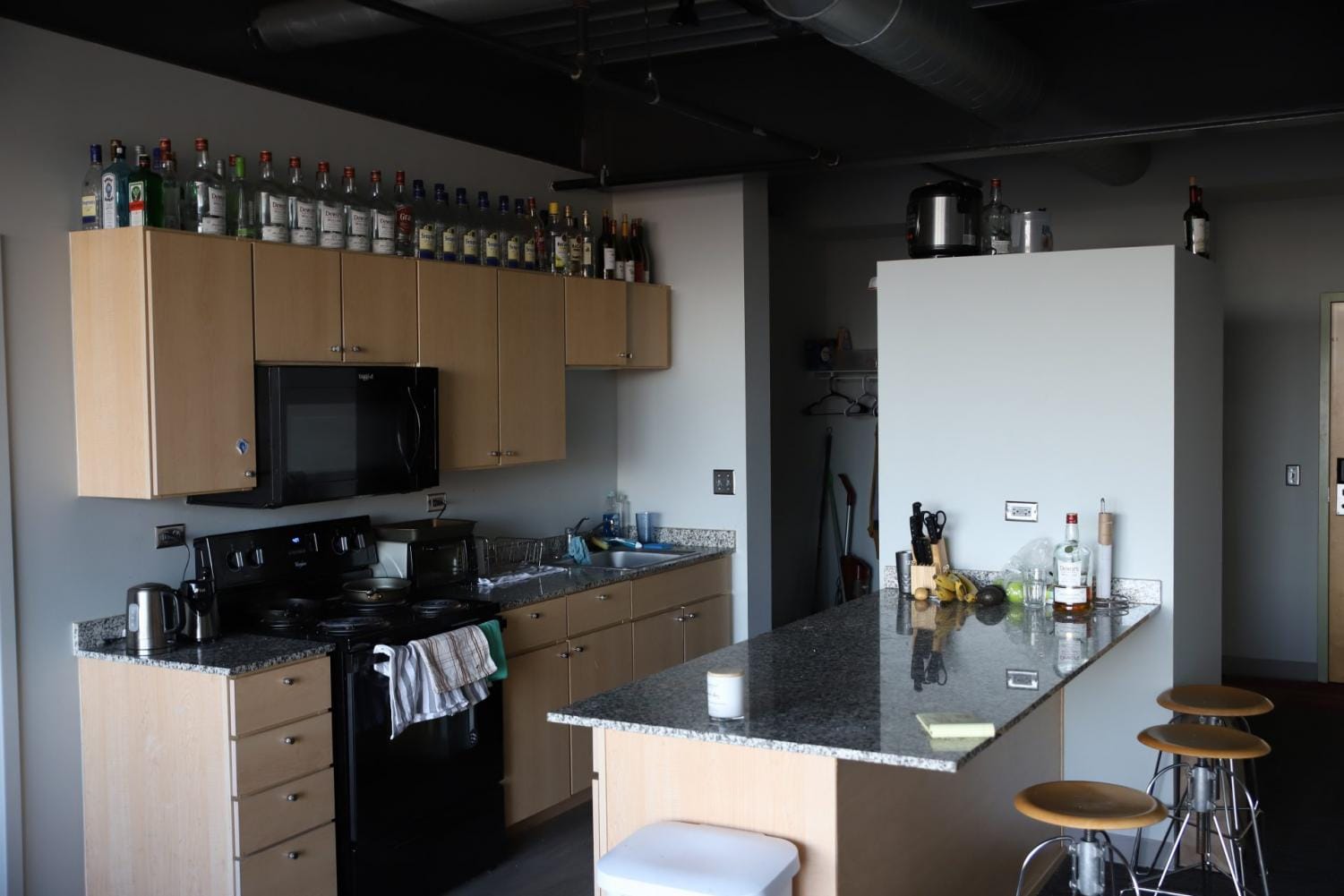 Once the leases were signed, though, the experience for some wasn't so picture-perfect. 
Inside, individual units are small and industrial — described by one resident as "prison-like" — and come with a steep price tag. When lease-breaking issues pertaining to the privacy and safety of residents arose, some claimed management brushed it off, leaving tenants to find a way to feel comfortable in their own homes by themselves.
The DePaulia's photo sliders to the left show our photos of the inside of some residents' apartments versus those provided by management on apartments.com.
Dangerous living
When Summers found a stranger in his apartment, he was shocked. But despite the building's front door security on call all day, he said it's not all that difficult to get into the building without the proper credentials. 
"It's just something where some people would like to wait around the lobby, and the second someone would tap their card to open the door, they would just follow them — even if they didn't live in the building," Summers said. 
There's no limit to the number of people a resident can check in at one time either, sometimes leading to groups of 20 or 30 people crowding the lobby, waiting for a friend to let them in, he added. 
Like unwanted guests, dangerous situations often find their way into the building. 
Despite the strict ban on drug use laid out in Ion's leases, the building's pervasive party culture is one of many residents' top complaints.
"I remember in particular there was one room above me — they would party every Thursday night," said Tyler Onstott, a former resident. "They would party, and they would party until 6:30 in the morning. That was very common [at Ion]."
Almost 20 calls were made from Ion to Chicago police regarding intoxication over the past three years, according to documents obtained by The DePaulia via a public records request. Many of the calls were made about underage drinking or drug usage — usually at a dangerous level. 
One emergency call from Ion detailed a potential alcohol overdose of a 19-year-old male. Another described a 21-year-old female's heart beating fast after smoking cannabis. She was struggling to breathe. Multiple other calls indicated underage parties involving illicit drugs.
Scion Group, who owns the building, maintains that underage drinking and illegal drug use are not permitted on the property, according to Jessica Graves, the group's regional vice president of operations.
"Our housing agreement states we do not permit the use of illegal substances," Graves said. "Such action is a direct breach of contract to our housing agreement and could be grounds for termination."
Onstott lived in Ion between October 2017 and May 2018 while attending graduate school at Loyola University. 
When the noise levels finally got to him, he started complaining to security — and was ignored each time. After several informal complaints, he took matters into his own hands and called Chicago Police; the building's security chided him for calling the officers and was "wasting their resources." 
Seeing no action taken after his many attempts, he filed a formal complaint.
In the complaint emailed to then-manager Patrycja Nyzaka, Onstott laid out the facts.
"Security had no proof that it was me who called the police and the one guy said 'I just assumed it was you since you also called down here,'" the complaint read. "Second, if the issue is not being taken care of, I have a right to call the proper authorities and should not fear retaliation."
Nyzaka declined requests for comment.
The culture in Ion may not seem all too different from a campus dorm or fraternity house. But like those locations, other dangers rose from the more mundane. 
Multiple reports of criminal sexual assault involving drugs and alcohol were made indicating 1237 W. Fullerton as the location of the crime, according to a public records request. Reports of domestic disturbance and battery were also made, the records show.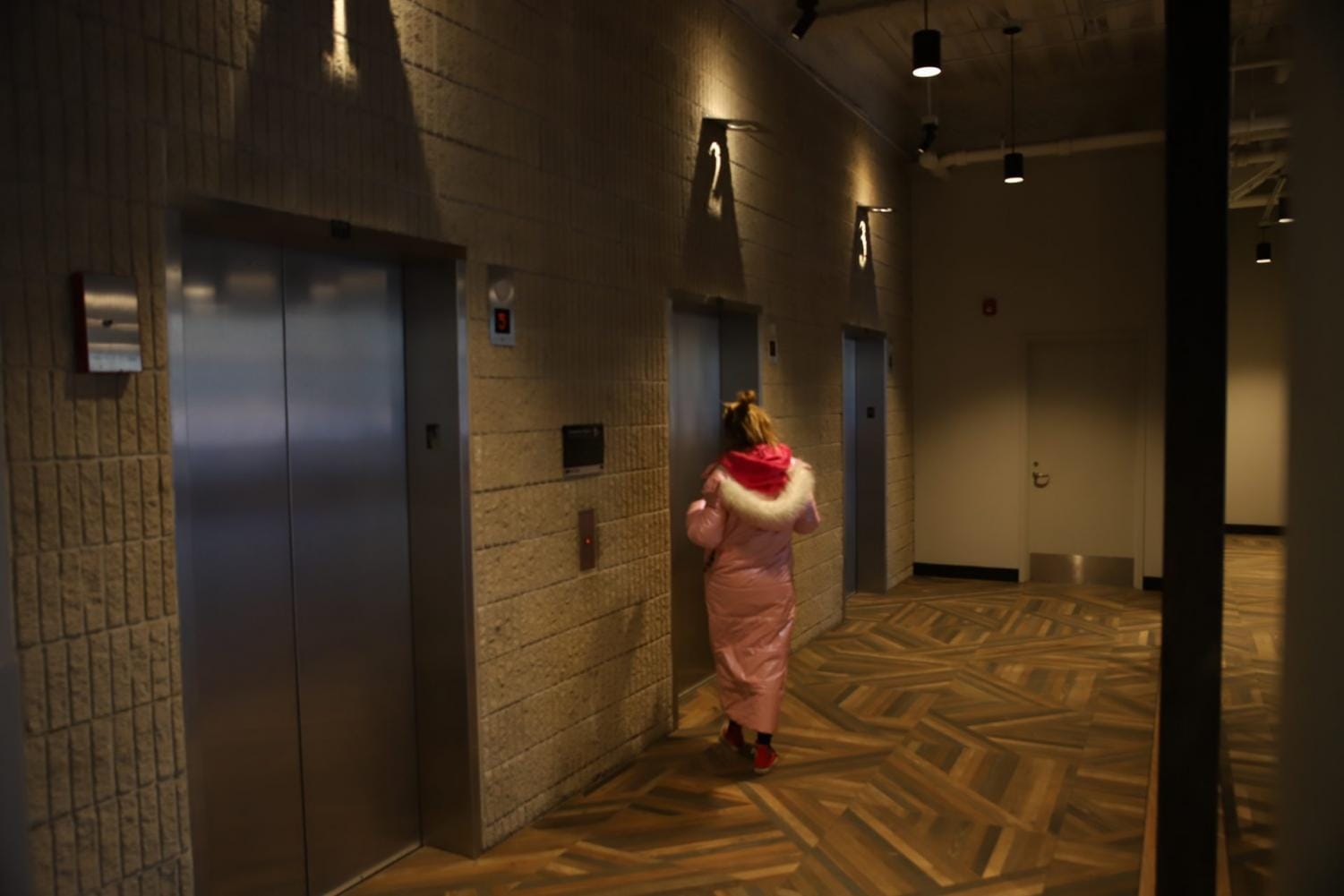 Although DePaul was engaged in a marketing agreement with Ion in 2017 to promote it as an affiliated housing option, it was never owned by the university. The building was built by a third-party non profit organization, according to university spokesperson Carol Hughes.
"We hope that your coverage can convey that the safety of DePaul students is our highest priority and students are encouraged to contact Public Safety or Student Housing should they ever have any concerns, even when living off campus," Hughes said in an email.
The university does not keep record of calls made to emergency services for campus housing, according to Hughes.
Management mishaps
The issues at Ion don't stop with security. Several residents complained to The DePaulia that the building's overall management is far from up to par.
Madelyn Funk enjoyed living at Ion — until her roommate's boyfriend all but moved in. 
"He would be there without her, which was against building policy," she said. "She would get in after an early morning shift at Starbucks, and I'd hear him greet her; I'd be like, 'Wait a minute. So he's been here — has he been here all night?'" 
When Funk signed her lease in 2018, the rules were clear: No more than one person could occupy a bedroom space, and overnight guests could not stay for more than three consecutive days or six nights per month. 
Any breaches in the agreement would result in a $50 fee per night past those allowed — or worse, Ion could declare the resident in violation of their lease.
After attempting — and failing — to address the issue with her roommate, Funk reached out to management. But management didn't take her complaints seriously. 
"I pointed out to them, 'You can see in section whatever of your own lease that it says if a person moves in another person and is violating guest policies, we are at liberty to terminate them immediately,'" Funk said. "I kind of figured out that it was all for show because obviously there was no termination ever happening."
Funk ended up terminating her own lease several months early to escape the situation, and Ion asked that she pay a price of "multiple thousands of dollars" to do it. She paid the price.
"That was pretty much, it felt like, my only option at that point if I wanted to feel actually comfortable in my living space," she said "And their management just kind of shrugged that off."
Elise Fong, a DePaul senior, ran into similar issues with management when problems arose between her and her roommates in 2017.
The issues between Fong and her roommates had been brewing since they moved in together, she said. When she left the apartment for winter break, she locked her room as a precaution. 
She suspects this drew the ire of her roommates, she said, because when she returned after break, all of her items in the living space were placed in a box outside the apartment.
A note was attached: "To be taken out to the trash." 
That was the breaking point for Fong, who described the experience as "incredibly intense." When she brought her concerns to management, they refused to help.
"[Management] was just very blasé about it, which was really frustrating for me as someone who had already paid my rent for three months out of the quarter," she said. "I was like, 'Look, I've given you my money and you're going to fix this.'"
Fong transferred rooms at the beginning of the next quarter. 
No bang for buck
Although Ion is advertised as a high-end living for young adults, the quality may not be as bourgeois as the price that residents are paying.
Stephanie Guthrie, who lived in the apartments between 2013 and 2014, said all Ion's apartments felt like dorms and were incredibly similar to what the building offers today.
"Those useless, baffling windows between those two rooms on either side, where if anyone is up too bad — the walls were paper-thin," Guthrie said. "You could hear absolutely everything all the time."
Many complaints from sources and the complex's Yelp page say the walls are thin, the furniture provided is of the lowest quality (residents cannot bring their own) and several rooms get no lighting at all. 
"I was paying a thousand dollars a month for what I would like to say is a concrete slab with no lighting," Onstott said. "[The unit] was literally the size — I wish I had the square footage — it was literally as big as a walk-in closet."
Each room comes with an extra large twin size bed frame and mattress, desk and wardrobe. Some rooms came with floor-to-wall windows while others have none at all.
Ion is a division of Chicago-based student housing organization Scion Group LLC. The group has three other divisions of living communities: Alight, Lark and Redpoint — each located near college campuses like the University of Alabama and Louisiana State University. 
The apartment complex offers three floorplans to residents, according to their website. A standard lease is 12 months long, and all rates are due per person.
2 bedroom, 2 bath for $1,359

3 bedroom, 2 bath for $1,199

4 bedroom, 2 bath for $979
An additional $99 amenities fee is required for all residents, which includes internet, heat and air conditioning, electricity, water/sewer, furnishings, on-site laundry and community amenities.
These prices do not include add-on rates for things like in-building parking, a higher floor and a city view. 
In Chicago, the minimum wage is $13 an hour. Before taxes, if someone works 25 hours a week for two weeks, that would be $650. That is $1,300 a month before taxes. In order to make rent every month, a resident would need to work a minimum of 25 hours a week and to afford Ion's lowest priced apartment.
Graves said the rent prices at Ion are "competitive to the market." 
"We feel individuals determine value based off of their experiences and lifestyle within the community they choose to live," said Graves in an email to The DePaulia.
But several scans of real estate prices in the area show that Ion is charging residents a little less than it would cost for them to live in an apartment with 4 bedrooms, 3 bathrooms and more square footage space.
"So we thought compared to all the other apartments around — I just thought maybe it's just because of that, but the more I actually started exploring Chicago, the more I actually realized this is actually kind of bogus," said current Ion resident Joshua Plaff. 
Compared to other DePaul affiliated apartments, residents at Ion still are paying more out of pocket per month.
In DePaul's apartments, students are able to get many of the same amenities as the Ion Lincoln Park residents, but the cost of living in those apartments are paid within their tuition bills, not a monthly rent payment as there is with Ion. 
"In terms of experience or how they handled living situations, I really feel like I was robbed of my money," Fong said. "You were signing on to get that experience [like] RA's that will hold your roommates accountable and when they didn't, it was really frustrating for me."
Renovation allocation
There have been renovations made to the complex, but not where residents say most of their complaints lie. 
A building permit obtained by The DePaulia says that work was done for "residential lobby areas and manager's offices on ground floor." The permit also states that alterations were made to the common area study lounges for residents for floors two through six. 
Graves said the renovations cost $1.5 million.
"We wanted to improve the common area spaces within the building because we found out from residents they wanted more accessible and functional space in order to meet their needs," she said in an email.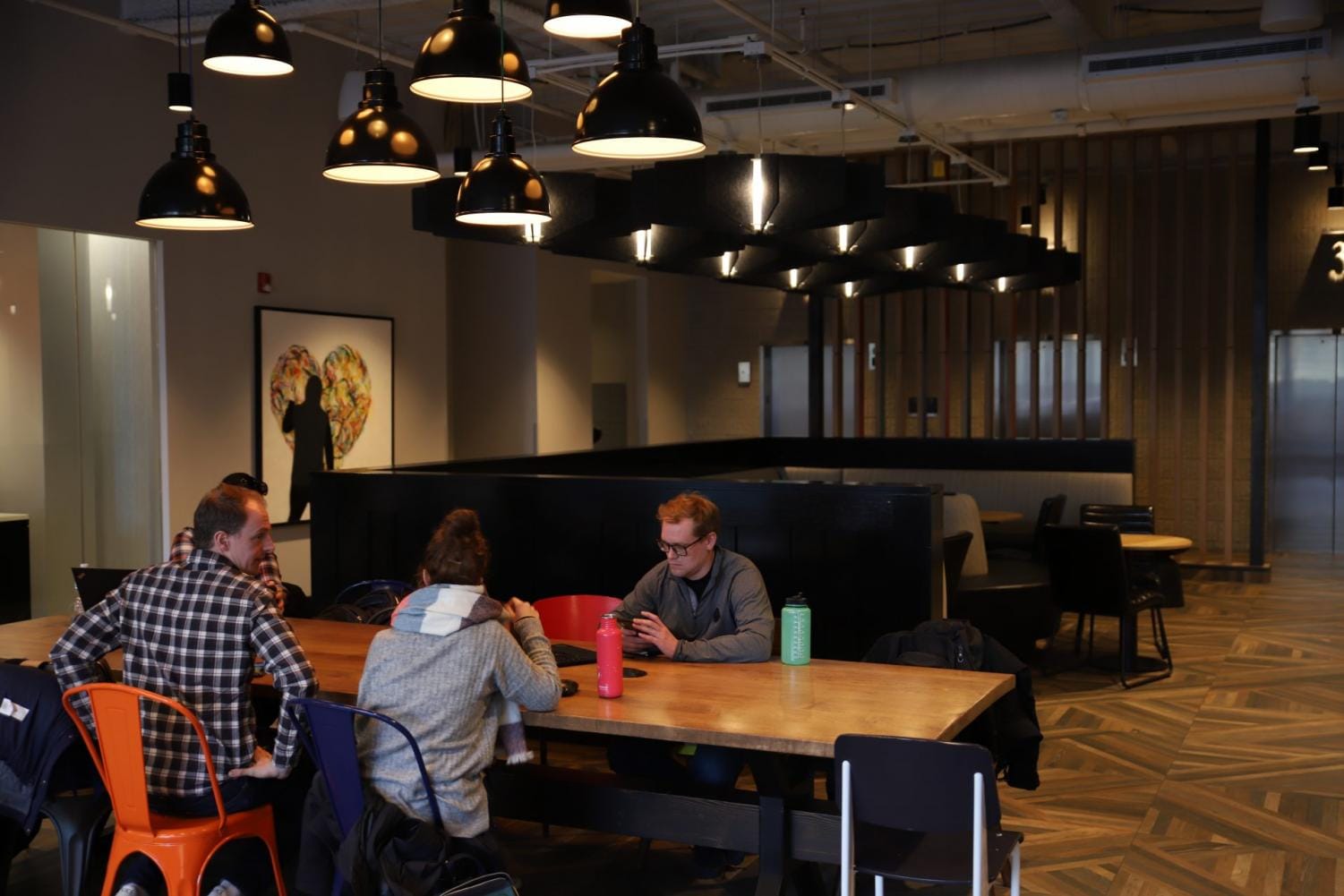 While residents can now enjoy an upgraded lobby that includes a Metric Coffee Bar and printing location, residents expressed frustration that the money was not used to fix the common issues residents have voiced complaints about within the apartments.
"It is a bunch of garbage that they renovated that and didn't update the rooms," Onstott said.
Despite the renovations, Ion has failed its last three annual inspections due to a "failure to maintain electric elevator equipment provided at premise at safe and sound working conditions," according to public records found on the City of Chicago's Building Permit and Inspection Records website. 
Graves declined to comment on the failures, but said that all of Scion's properties "comply with city and state regulations including any required inspections."
The reality for many living at Ion is that it's more like living on Barstool's Instagram feed than the luxury lifestyle showcased on Ion's Instagram.
"1237 seemed like it was the typical rose-colored glasses situation," Funk said.
Interactive graphics by Hannah Mitchell | The DePaulia.