DePaul men's basketball shifts to defensive attitude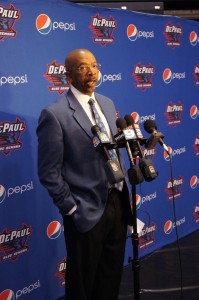 After a scrimmage between DePaul men's basketball team at McGrath-Phillips Arena Saturday, Aaron Simpson sat on the bleachers and reflected on his game. All things considered, Simpson had a successful day. He found his teammates, hit open jumpers and helped lead his squad to a victory.
But by the end of the scrimmage, Simpson focused on the area that head coach Oliver Purnell has been stressing all throughout practice — defense.
"Every day that's what we stress," Simpson said. "That's what we practice. Once we have defense, our offense will come. Our guys are just working on ball screens and being vocal. Basically, we're just getting there each day."
Simpson's mentality is what Purnell hopes the rest of the team buys into. Throughout his first four years as head coach, the Blue Demons have struggled on defense. Last season, the Blue Demons gave up 79 points per game and allowed opponents to shoot 50 percent from the field.
Purnell, however, said he still needs to see more from his team. He thought Saturday's scrimmage "was fine for now."
"We've got to make a big jump defensively for next week," Purnell said. "Our mentality isn't yet that of defense first."
This year DePaul's roster is comprised of more athletes, having four new transfers and two walk-ons. Purnell said that the additions should help with fitting his defensive scheme, which involves running the full court press and creating pressure to force turnovers.
"Having more athletes should help everything," Purnell said. "With Myke Henry, Aaron and Rashuan (Stimage) and Darrick (Wood), too, if we can get him healthy, they're all very athletic. They can all multiple positions and should make a difference."
In Saturday's scrimmage, all three transfer players who played impressed. While Wood was out with a knee injury, Simpson, Stimage and Henry all flashed their athleticism on Team Blue.
Team Blue — comprised of Simpson, Stimage, Henry, Greg Sequele, David Molinari and Jamie Crockett — earned a 49-34 victory against Team Black  — Billy Garrett,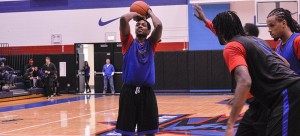 Tommy Hamilton, Forrest Robinson, Durrell McDonald, RJ Curington, Joe Hanel and Cory Dolins — in about 40 minutes of play. Stimage and Henry soared on fast breaks and consistently got to the basket.
"Rashaun is a energy, athletic guy who is a handful to keep off the glass," Purnell said. "He's got a level of toughness to him that we like as coaches. Myke is a fine athlete who's versatile. He can do a lot of things out there.
"But what we want out of both of those guys is that they have the ability to be really good defenders," Purnell said. "They to work their mindset of thinking that that's who they are and what they do. Then their offense will take care of itself.
Changing their mindset can prove to be challenging. Simpson, who is known more for his natural scoring ability, said the adjustment has been challenging.
"Guys look at me and see my height (5 feet, 11 inches) and think they can take advantage of me," Simpson said. "I use my heart as much as I can. Me playing defense out here, it will be good for our team. Once I bring that intensity, it will be good for our big guys as well."
As for the team's bigs, the Blue Demons will be smaller this year compared to last. Both sophomore Tommy Hamilton and senior Forrest Robinson are 6 feet, 11 inches, but are lanky players who can shoot from 3-point range.  The lack of size will force Purnell to use forwards such as Crockett and Henry at the four while Hamilton and Robinson slide over to the five.
In any case, Purnell hopes the team's better defense will translate into rebounding better. The Blue Demons gave up 34.2 rebounds per game last year.
"We didn't block out," Purnell said. "We had a lot of good offensive rebounding, but I think most of that was because guys were making an effort to, which is good. But we need that effort defensively, too."
Another area the Blue Demons struggled with was zone defense. At the scrimmage, Purnell experimented with defensive looks, having each team spend time in a zone defense.
"We just put it in to see how it works," he said. "We've worked on it for about two days. We'll work on it a lot next week along with pressure. We want to be well-versed in zones, so we can use them in a couple of situations."
DePaul's first game is 8 p.m. Nov. 6 at McGrath-Phillips Arena in an exhibition against Lewis University.