DePaul men's soccer goes fifth game without goal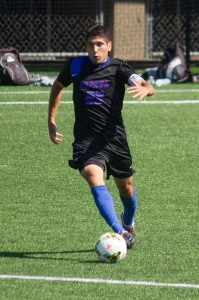 A chilly and damp afternoon at Wish Field was home to a very physical match between the Blue Demons and the Bulldogs of Butler University, resulting in a 0-0 draw.
Physicality and defense would be the theme of the day, as 41 total fouls were called over the course of regulation and both overtime periods with seven yellow cards issued.
DePaul's offense struggled again, making it the fifth game in a row where they've failed to score a goal and without a win.
"We are trying to do the little things better," DePaul head coach Craig Blazer said. "Defensively, they were OK," he said. "We created some space and made some progress in their territory. They've got talented forwards, but we were encouraged with the way we played defensively."
The Bulldogs (5-5-4, 1-3-1) controlled the ball well in the first half, but both teams would impose their will defensively as they combined for just two shots on goal in the first 15 minutes of action. While the Blue Demons (4-7-3, 1-3-1) struggled to find a rhythm offensively in the first half, their few early scoring chances were crisp and efficient.
Freshman Hans Wustling did his best to create in space and set up his teammates throughout the game, as his cross kick  would set up sophomore Kevin Beyer, who's shot would zip just past the left post of Butler's goal at the 15-minute mark.
Butler's defense, who has allowed seven goals in their last four matches, would bend but not break for a majority of the game. Bulldog goalkeeper freshman Eric Dick would prove to be extremely stingy, as he saved five shots in the contest.
The Blue Demons, who haven't scored since Sept. 27 in a victory over Seton Hall, would find more opportunities to score with efforts from sophomore Simon Megally, senior Art Garza, and sophomore Erik Rodriguez.
In the seventh minute of the second half, DePaul would squander another opportunity as Dick was caught out of position amid a scramble for the ball. Beyer would connect, but the Bulldogs recovered well during the skirmish, as Dick would eventually secure the ball.
The physical play and mental approach was there for DePaul, as nothing came easy for the Bulldogs, who managed to match DePaul's efforts with 18 shots on goal.
Goalkeeper Mack Robinson was fantastic   on the day with five saves, in addition to intercepting and deflecting countless crossing attempts from the Butler attack.
For the Bulldogs, David Goldsmith and Jeff Adkins were aggressive, physical and vocal throughout the match, even getting into several verbal altercations with Beyer and Garza, as well as junior defender Jalen Harvey.
"Kevin really set the tone for us, that emotional level you need to win Big East games — we had it," Blazer said.
A long contest, DePaul would only muster three total shots on goal in both overtime periods, compared to six good chances by the Bulldogs.
The physical nature of the match saw Garza banged up a few times. Wustling would also battle some bumps and bruises throughout the contest.
The team looks to build off the positives from their draw with Butler and will continue Big East play Oct. 25 as they head east to take on St. Johns, followed by Providence University  Oct. 29.