Aaron Simpson: A natural scorer ready for DePaul men's basketball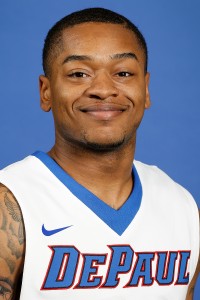 Aaron Simpson will join the DePaul depth chart as a guard this upcoming season, a position not particularly hurting for players.
The transfer junior, however, expects to be part of the team that contributes off the bench.
"I'm here to fill in, give them a couple of breathers, coming in to help the team," he said. "But if I have an open shot, I'm going to knock it down."
DePaul head coach Oliver Purnell recruited Simpson for his natural scoring ability. Simpson committed to DePaul in March, a day after recruit and Washington D.C. guard Jon Davis backed away from a verbal commitment by reclassfying to the class of 2015.
"Aaron is obviously going to be a big threat for us offensively," Purnell said. "He's a natural scorer."
For the first few weeks, he's been working with his fellow guards as he adjusts to Division I basketball.
"I'm working out with (Billy Garrett Jr.) and Durell (McDonald) since they've been here," he said.  "I'm just trying to fill in with these guys to see how it is, how the Big East is, what to work on and what to look for."
Simpson also said he already has a familarity with Garrett from his days in high shcool.
"Billy and I together is fantastic," Simpson said. "We've got ball movement and are creating offense for our team. He knows my game and I know his. We're just trying to evolve and get better every day."
Simpson comes from Lincoln College, a junior college in Lincoln, Illinois where he averaged 20.2 points per game in his two seasons with the Lynx. He had originally signed with Illinois State coming out of high school but did not qualify academically. He averaged 26.2 points per game in high school at North Chicago, which led the state. He finished third in the voting for Illinois' 2012 Mr. Basketball, behind Jabari Parker and Keith Carter.
From an in-game standpoint, Simpson looks to bring his prolific scoring ability, as well as some leadership and quickness to the team.
"I bring scoring, passing and quickness, which is a big deal here," he said. "I'm bringing defense too and trying to be a leader."
Simpson also compared his game to former Connecticut standout Kemba Walker, explaining how he is "a small guy who can still fill it up."
"I'm also here to keep the defense honest with my shooting abilities," he said.
But Simpson is still in the process of learning the offense. While he found his teammates in Saturday's Black-Blue scrimmage, Purnell said that Simpson still needs to master the playbook.
"I thought his ball movement was OK," Purnell said. "He was doing that more off of natural ability, which is good because that's why you recruit a guy."
Regarding the upcoming season, Simpson said the team is preaching defense in the practices leading up to the Nov. 6 exhibition opener against Lewis.
"We're looking real good right now," he said. "We have a good team, but if we can't get stops we won't win."