Bookshelves offer glimpses into others' lives during pandemic
June 2, 2020
A few weeks into the semester, DePaul students have settled into a new normal of remote education. While not ideal, the world cannot stop completely because of the pandemic, and both students and teachers have adapted a more flexible approach to classes. While there are advantages and disadvantages to this new reality, one thing is very apparent – we are seeing more of the inside of people's houses than we ever have before. 
Those snippets of your personal space say something about you as a person, whether it be to your work colleagues, teachers, or students. Zoom classes invite people into your improvised (or if you're fortunate, designated) home office, and your background is one of the very few forms of variety your Zoom partners are going to get. 
Plenty of people are going the fantastic or comedy route: downloading free Zoom backgrounds that put them in Hogwarts, Dunder Mifflin Paper Co. of "The Office" fame or various memes. 
These are great options for those that can afford to be a little less professional during a conference call, or for those that don't want to clean their room.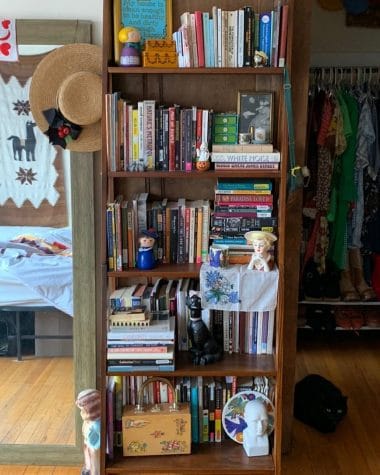 There are some free conference room Zoom backgrounds that can make you look good. They're clearly popular, as the majority of Zoom background discourse is where to find the best virtual background for the next conference call. 
However, for a more polished, three-dimensional feel, look no further than the humble bookshelf. It's an easy background to show your personality and your studious side.
Bookshelves come in all shapes, sizes and finishes. They can be used to store books, but also to display your prized collectables. In fact, for a more interesting visual arrangement, a mix of accessories and books on your shelves is encouraged. 
For example, Joanna Gaines, celebrity interior designer of HGTV's "Fixer Upper" , recommends placing books and accessories in a diagonal grid pattern. If there are books on the right side of one shelf, balance it out by having books on the left side of the next shelf. That way, your Zoom background is not only chic, but symmetrical. Gaines implements this tip to achieve an "effortless" look. 
Now, it's an effort to get out of pajamas. 
Using a bookshelf as a Zoom background is an opportunity to express your personality in a time where body language and even fashion is taking a backseat. 
Like fashion, bookshelves are a general reflection of who you are. Obviously, they show your taste in literature, but also your feel for decoration and your eye for organization. They can even be a status symbol. E-books and audiobooks are fine, but owning and displaying physical copies of books is a visual representation of your learning. It says you're well-read, have disposable income and choose to use it to buy books. It impresses upon others a smart, professional persona. 
Bookshelves can still look good for cheap, however. DePaul alumna Erin Roux buys most of her bookshelf contents second hand. She likes "being surrounded by other people's things," and her thriftiness affords her an eclectic collection. 
Roux is a strong believer in bookshelves as a reflection of the owner. 
"My shelf is a representation of who I was, who I am, and who I am going to be," she said. "It's a physical reminder of ideas I've had, classes I've taken, places I've been. It's also a reminder of all the books I still need to read."