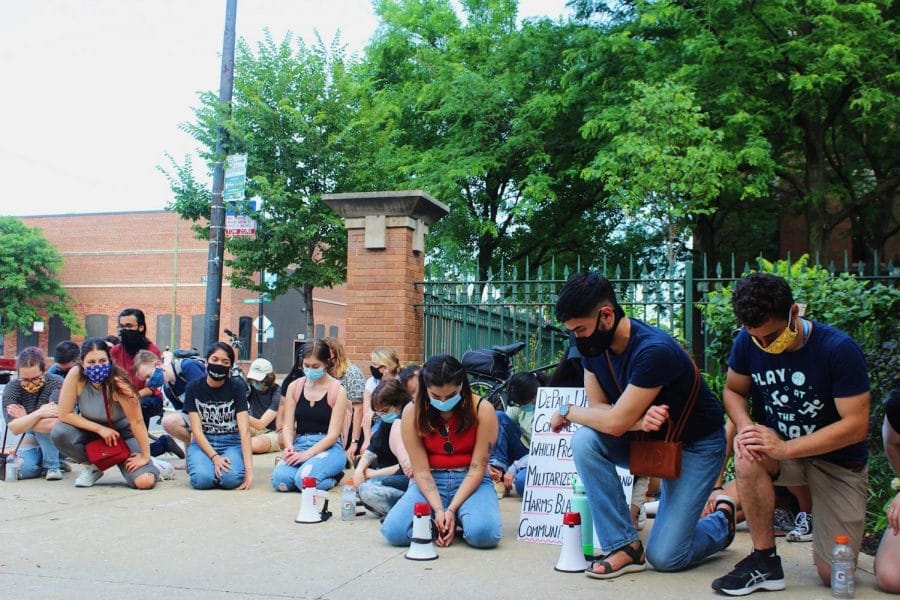 A summer of protests: Chicago rises up
September 6, 2020
After Minneapolis police killed George Floyd in May, protests quickly gripped the nation as calls for police reform rose to the forefront. 
Chicago continues to be a hotspot for protests despite the disadvantages of the COVID-19 pandemic. Residents have been fighting against inequality long before the summer protests, but they are using this time to push city demands — chief of which being to defund the police.  
BLM Chicago is one of the main protest organizations, working in conjunction with other community organizations such as Good Kids Mad City, Chi-Nations Youth Council and The Chicago Alliance against Racist and Political Repressions (CAARPR) to name a few. 
Ultimately, organizers' initiatives aim to uplift Black and BIPOC communities across the city. 
Chicago native Carlos Ballesteros, a reporter for Injustice Watch, notes that prioritizing Chicago's Black communities has always been an issue. 
"Since arriving en masse during the Great Migration more than a century ago, Black Chicagoans have been violently relegated to the margins, exploited at every turn and expected to do more with less," Ballesteros said in his article following the looting in Chicago after CPD shot Latrell Allen, a 20-year-old Black man, in Englewood. 
Ballesteros also referred to MLK's 1966 visit to Chicago, at the invitation of the Chicago Freedom movement, to fight discriminatory housing practices. King led a march in Marquette Park which quickly erupted in violence as protestors and police clashed — a theme still prevalent today. 
"I've been in many demonstrations all across the South, but I can say that I have never seen — even in Mississippi and Alabama — mobs as hostile and as hate-filled as I've seen here in Chicago," King said.
CPD remains a significant contributor to the city's legacy of systemic racism. Police brutality in  Chicago persists today as evident through video footage of police beating protestors — footage that is now commonly shared across social media.
Many local organizations condemn CPD and demand that the city reallocate police funding into other programs including mental health, social services and community outreach to prevent violence and reduce the need for policing. 
But, Mayor Lori Lightfoot refuses to meet demands. Although she has fulfilled some, such as removing the Christopher Columbus statue in Little Italy, which people have described as virtue signaling, she has yet to satisfy core initiatives including removing officers from Chicago public schools. 
In light of Lightfoot's inaction, protests persist city-wide, even in front of her house in Logan Square. Activists have circumvented Lightfoot's inaction with more protests and community outreach.
For instance, after Lightfoot announced budgeting $1.8 billion for CPD in 2020, abolitionist organizations across the city planned the #BreakThePiggyBankChicago protest, calling to reinvest CPD's budget into various community programs. 
"Unfortunately, it seems to me that Lightfoot is more interested in preserving the status quo than actually implementing these changes," DePaul junior Jillian Morrison said. "Kids don't need cops in school; especially Black and Brown kids who are more likely to be punished more severely than their white peers for minor infractions." 
Some activists are unable to protest on the ground and are working remotely to support city demands. DePaul alum Hannah Marquis, said she's unable to attend in-person protests due to the risks posed by COVID-19. Instead, she takes part by doing remote work such as calling and emailing the mayor and aldermen, donating money and most importantly, self-educating.
"I do not think that Lori or the city [have] met any protestor demands, she has further invested more money into CPD," Marquis said.
Marquis referred to a recent pilot program that provides free mental health care to CPD. Marquis also mentioned the tactics Lightfoot has used to discourage protestors including implementing curfews, raising the bridges and closing off access points. 
"I do not think that protests can lighten up, while it is upsetting to see how the police are inciting violence against protestors, I think that protesting will continue to put pressure on Lightfoot and other elected officials to make change," Marquis said.
Despite the mayor's lack of response, protests continue to intensify nearby, most recently in Kenosha, WI after police shot and paralyzed Jacob Blake. 
While protests continue across the city and nation, Chicago students call on their universities to cut ties with the police. 
The DePaul Socialists collaborated with other leftist organizations on campus to facilitate protests aimed at divesting the university's relationship with CPD. 
On June 10, the first protest was held in the quad. An additional protest held on June 27 was a continuation of student demands. The last protest held at DePaul thus far was a campus teach-in on July 27. 
DePaul joined other local institutions on Aug. 1 for theAbolish CPD protest held by Solidary Street, in reevaluating their relationships with CPD. Despite multiple protests, student demands have not been met. 
In fact, student-led protests have escalated. #CareNotCops is an organization at UChicago and as of Sept. 3, they are currently on their sixth day of protesting in front of the provost's home. 
Similarly, at Loyola, Our Streets LUC is on their 12th day of protesting as of Sept. 3. On Aug. 29, several Loyola students were arrested during an on-campus protest and the school has yet to acknowledge this. 
"We will keep protesting but in more creative ways, such as holding events on campus to bring light to BLM, chalking the campus, and Marching on the weekends," said Trey Johnson, a Loyola student who has been protesting on campus. 
Loyola has just started classes for the semester amid the pandemic, but the protests haven't relented. According to the Our Streets LUC Instagram, they will continue until all of their demands are met. 
"I also didn't expect to be helping out as much as I am with the Our Streets organizers," Johnson said. "The arrests have shaken me up and I have had issues focusing on my work."
As classes start this month and students return to both in-person and online classes, it is hard to imagine how they will navigate academics, a pandemic and the current political climate simultaneously.
"We must push everyone to educate themselves on what is happening in our society. A lot of the backlash stems from fear and ignorance," Johnson said.
Like many college students, Johnson didn't expect to take part in campus-wide protests that would ultimately lead to the arrest of his peers.
"After witnessing the arrests this past weekend, it is clear to see that police are not trained to deescalate high-stress interactions," he said. "They use excessive force on peaceful protestors and openly taunt protestors."  
Although the pandemic has thrown the future further into question, one thing is certain — students across the city are demanding their schools to defund the police. 
"If we are to keep law enforcement there needs to be significant changes in their training, funding, and behavior if we are to ever make change truly," Johnson said.