Farmers market across city implement guidelines to protect patrons and staff
The COVID-19 pandemic has caused financial hardships for many small businesses. At a time when people may feel uncomfortable going into busy shops, farmers markets have made an impact on local businesses.
"The sales [at Green City Market] helped us open our first shop," Paula Haney of Hoosier Mama Pie Company said. "It has been really important during COVID when we can't have as many people in our shops. We chose to only offer carryout and patio seating so the market gives us another opportunity to meet our customers."
"Green City Market on Saturday is my biggest and busiest market," Gayle Voss, owner of Gayle V's Best Ever Grilled Cheese, said. "I have been there for 10 years now and feel everyone knows about my grilled cheese. This year in particular it is helping to keep my restaurant open since I am located in the loop and there are not many people there."
Farmers only get 15 cents of every dollar that consumers spend on food at traditional food outlets, according to the Farmers Market Coalition. Making farmers markets helps these small businesses through the COVID-19 pandemic, as 100% of the dollars spent go directly to the farmer. 
"One of the big differences [between a small business and a corporation] is that a small business does not have the bank account, the access to capital," said Matthew Ragas, associate professor at DePaul University. "When you're a large corporation, it's generally easier to get loans and access to capital."
Green City Market is a farmers market with locations in Lincoln Park and West Loop. The Lincoln Park location is open on Saturdays from 7 a.m. to 1 p.m. This includes a 7 a.m. to 8 a.m. hour specifically for shoppers vulnerable to COVID-19. The West Loop location is also open on Saturday with hours from 8 a.m. to 1 p.m., with 8 a.m. to 9 a.m. intended for vulnerable customers.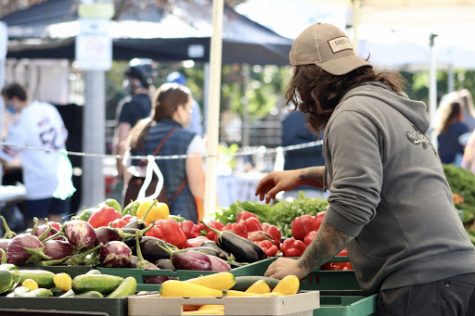 It is asked that one or two healthy members of one's household shop at the market, according to GCM's website. It is also required that shoppers have no symptoms of COVID-19 and wear a face mask at all times while maintaining six feet of distance as per markings on the ground. 
More regulations have been put in place for vendors compared to previous years. This includes vendors only being able to touch products and supply their own handwashing station.
"Green City Market is requiring all vendors and customers to wear masks, limiting the number of people allowed into the market at one time, and setting aside the first hour for more vulnerable shoppers," Haney said. "Each vendor also must bring a handwashing station. Customer traffic goes in one direction."
The Logan Square Farmers Market is another option to consider. The market is open on Saturdays from 10 a.m. to 3 p.m until Oct. 23. Individuals that are at risk for COVID-19 are able to shop from 9 a.m to 10 a.m. to reduce the risk.
A virtual marketplace is available on the Logan Square Farmers Market website for those that do not feel comfortable going to the market itself. The available methods for acquiring the products depend on the vendor, though most have delivery options.
A short Brown Line trip away from DePaul is the Low-Line Market at Southport. This market occurs on Thursday from 3:30 p.m. to 7:30 p.m. with the first and last thirty minutes of the market intended for at-risk customers. The Low-Line Market has a list of regulations regarding COVID-19 on their website. Credit card use is strongly encouraged and, if using cash, customers should not expect change. 
Green City Market has an extra process to make sure that their products are always fresh.
"It is the only market in the country that requires third-party certification for vendors to be able to sell there," Voss said. "If it isn't made [or] grown by the vendor, prepared food is to use vendor products also, then you can't sell it."
Correction (10/5/2020): A previous version of this story listed Matt Ragas as an assistant professor. The story has since been updated to reflect the correct title of associate professor.