Empresa de moda en Chicago usa sus diseños para 'empoderar a la mujer latina'
What started out as dressing their friends in the LGBTQ community for drag shows turned into a fashion business for two Latinos who empower women and Latino culture through their designs. 
David Moreno, 46, of La Villita and his partner Rafael Reyes, 37, are the faces behind Reyes Moreno Designs. Reyes Moreno Designs is a Chicago-based custom fashion company that offers exclusive designs for all occasions. Launching in 2015, the couple founded the business after family and friends began requesting dresses and certain styles. 
"I started dressing our friends from the LGBTQ community who do drag shows and then it went in a completely different direction," Moreno said. "We had a huge amount of people requesting dresses and certain styles. Advertising is how we got to where we are now. "
Reyes Moreno Designs aims to empower women of all backgrounds with its unique designs.
"Our goal is to dress women and to make them realize that women are beautiful, regardless of size or height," said Moreno, designer at Reyes Moreno Designs. 
Working with the Latino community, Moreno wants to help highlight the physicality of the Latina woman and her cultural characteristics. 
"Most Latina women are very aware of their body and their curves and when they come here they come for specific designs that hide those curves," Moreno said. "We try to get them to try something else and they end up realizing that their body is beautiful. We will end up making a dress that fits them and not the other way around. " 
Although Moreno did not attend school to design, draw and create it has always been his passion.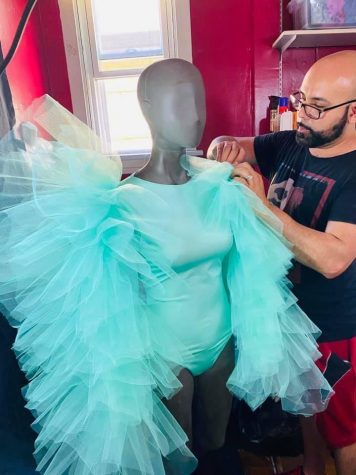 "When I was little I watched novels and paid little attention to the plot but I copied what the actresses were wearing at that time and gave it my little touch," Moreno said. "It was always my passion for what when I met Rafael and showed him my drawings I asked him if he would be willing to learn how to sow and he said yes. "  
Moreno and Reyes have been together for 11 years and have been married for nine. Moreno's mother, who is a seamstress, taught Reyes the sewing process and soon began to acquire the technique by looking. With Moreno's designs and Reyes' sewing skills, the Reyes Moreno Designs brand was born. 
"We just started this, but I never imagined that we would be where we are now," Moreno said. "I knew I wanted to have my own business but I knew it had to be little by little."
Five years later, the duo have designed custom apparel for clients such as musical artist Beatriz Solis and Telemundo Chicago journalist Hilda Gutiérrez. Reyes Moreno Design has not only appeared at big-name events like Latino Fashion Week, but also at authentic local Latino stores on Calle 26 de La Villita. 
"It is very important for us to establish our culture in every little design that we can, we are very proud of our heritage," said Moreno. At the end of the day, it is very important to realize where we come from and we are proud of our Latino heritage. "
By adding certain colors and patterns like an embroidered red rose or a mermaid style dress, Moreno and Reyes add the Latin flair.  
"Not only do we serve the Latino community, we have a wide variety of clients, but we always try to give them options and one of those options is giving that Latin touch to clothing," Moreno said. "We strive to make our women always feel like princesses and goddesses. It doesn't matter if they are Latina or not. "
Moreno and Reyes said that it is thanks to their clients, followers, family and friends that they have been able to expand their fashion brand. 
"Much of our business has grown thanks to our customers, we can't even imagine Thanksgiving because that's where we met."