Leftists struggle with voting 'blue' as Democrats court moderates, conservatives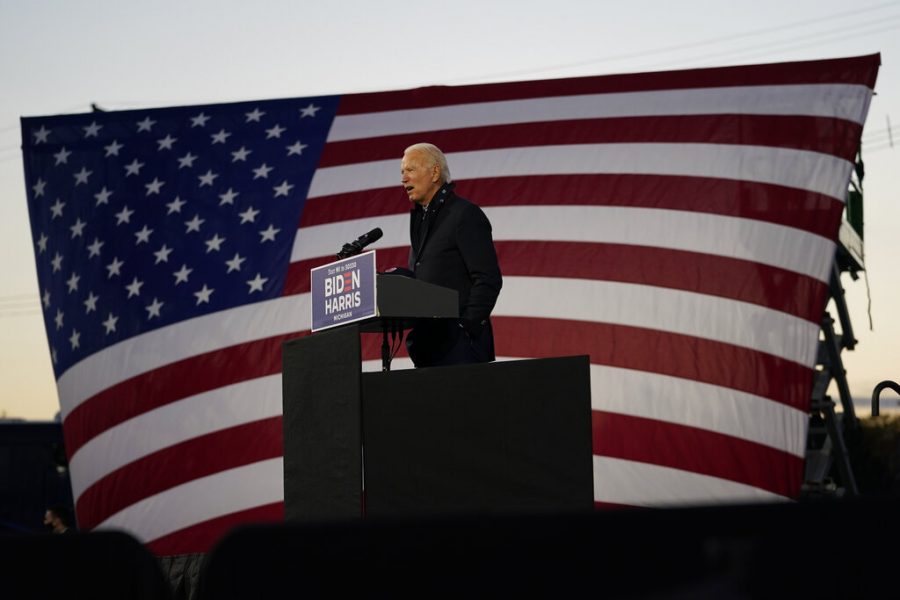 On Election Day, Ben Jaeger won't head to the polls. He's not voting early, and he hasn't requested a ballot by mail — nor does he intend to. Jaeger, a member of DePaul Socialists, is not voting in the 2020 Election. He's one of a number of leftists who believe neither party or candidate can fix the problems facing America today.
"When push comes to shove, the line that separates a Republican and Democrat becomes awfully blurry," he said. "The Democratic Party is more than willing to support anyone so long as they criticize [President Donald] Trump, whether it's John Kasich, who undermined abortion access in Ohio, or Mike Bloomberg, who governed New York City as a Republican and created the racist 'Stop and Frisk' program. They even welcomed the support of Colin Powell, one of the main architects of the Iraq War, the most flagrant act of American imperialism this century. This is a party without principle, one whose sole purpose is to maintain the status quo at all costs."
At this year's Democratic National Convention, held in August, the Democratic Party invited a number of conservatives to speak at the event, including Kasich and Powell. Many leftists felt it was an intentional snub of progressive views and an affirmation that the party has no intention of a substantive shift left. 
"It was infuriating to see conservatives speak at the DNC," said Lucy Grundhauser, a recent DePaul alumna. "It's infuriating to see the party repeat the same tactics they tried in 2016, which undeniably failed. It's insulting that the Democratic Party treats leftists with the same disregard that the Republicans do, which ultimately shows how committed Dems are to upholding the structures that endanger all of us."
"It only confirms that America is a one-party state with two faces, both representing the interests of the capitalist class," Jaeger said. 
Craig Sautter, an adjunct professor at DePaul who's produced political ads for candidates across the country, said that Democrats are banking on the left falling in line with Democratic presidential nominee Joe Biden on Election Day.
"As vice president Biden said in the last debate, 'I am the Democratic Party at this moment,'" he said. "And the people in the DNC are either professionals or Biden appointees. Their calculation is that the 'Left' will follow Sen. Sanders in his call to vote in large numbers against President Trump. Splinter politics most often fails, and ends up electing the opponent."
Biden wasn't Arad Boxenbaum's first pick in the primary election. The DePaul sophomore was a digital volunteer for former presidential candidate Pete Buttiegieg, and when the former South Bend mayor dropped out and endorsed Biden, Boxenbaum followed in suit, founding the campus group "DePaul for Biden." He said he suggests progressives who argue Biden's policies aren't progressive enough should do the same. 
"It's understandable to be disappointed that a nominee isn't 100 percent in line with your stances, [but] ideally the point of a primary is to create a dialogue on what the party's priorities should be, and it's clear that as the primary season has unfolded, the Biden campaign has moved left on a number of issues, since it's clear Democrat voters are more progressive than 2016," he said. 
That's the decision Grundhauser, who will be voting for Biden, ultimately made. 
"I feel obligated from a harm reduction standpoint," she said. "Revolutions don't happen overnight. Although I'm upset about who I am voting for, I'm not upset about having to vote. I'm excited to have influence on a local level."
Boxenbaum said he disagrees that leftists have been ignored by the Democratic Party.
"The reason why former and current Republicans are being featured prominently by the Biden campaign is that this election has gone beyond party allegiance and towards the survival of our democracy," he said.
But Jaeger said survival isn't enough.
"When capital is in crisis, like it is right now, the ruling class has only two solutions: social democracy, the likes of which Bernie is proposing, and fascism, to which Trump is allied," Jaeger said. "Simply returning to the status quo, like what Biden proposes, is foolish since it is a return to the policy that led to this crisis to begin with. This is why [Hillary] Clinton lost to Trump in 2016. A neoliberal White House and Congress can't stop the rising tide of fascism, it will merely delay it by four years at the most."
Sautter said he thinks that leftists will always be on the outside of the country's two parties, as both are ultimately centrist parties with different coalitions and rhetoric. 
"Neither is going to take radical action, and if they did, much of Congress would resist them, and the Supreme Court would overturn their laws," Sautter said. "The best way for progressives to win is to change the culture, and the laws will follow, as with Civil Rights, Women's rights, gay rights. Society changed, the legal system followed."
And that's the problem, both Grundhauser and Jaeger said. 
"Ultimately, no matter how much the Democratic Party is 'pushed' left, as long as we continue to uphold the dangerous two-party system, we continue to live in a dangerous society," Grundhauser said. "At this point, I am fairly disengaged from whatever 'progress' the Democratic Party makes, because I have my eyes set on a world they will never embrace."