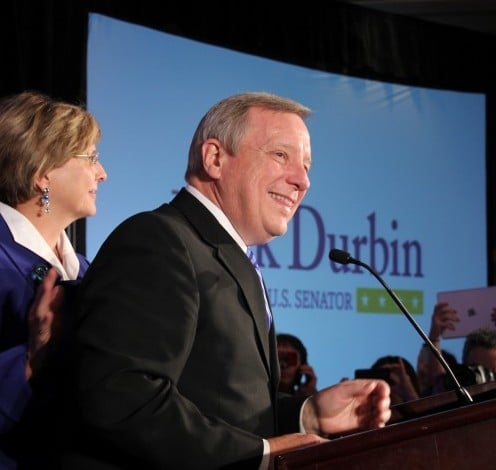 Sen. Dick Durbin was elected to his fourth term as U.S. senator for Illinois Tuesday night.
The election was called at 7:55 p.m.  and his supporters at campaign headquarters began celebrating earlier.
Durbin was predicted to win by a comfortable margin in polls leading up to the election, and most major media projected his win shortly after the polls closed tonight. The campaign headquarters were just beginning to fill up with supporters as the race was called, and the mood was congratulatory and vibrant, perhaps a bit wild.
The debates between Durbin and Oberweis focused primarily on job growth and social issues, namely raising the minimum wage, immigration, and gun control, to which Oberweis is opposed. A video shown just prior to his speech reiterated Durbin's issue positions, presented as values that most people share. The "common purpose" includes jobs, healthcare, education, veterans, immigration reform, and inner city children, and he assures his supporters that he is working for all of Illinois.
Speaking before Durbin was Andrea Simone, whose husband had been wounded in Afghanistan. Durbin sponsored legislation that requires the government to pay for at-home care for wounded veterans. Teary-eyed, she expressed gratitude to Durbin for his support of her family.
"He's doing what he's doing because he wants my family to succeed," she said.
Durbin addressed campaign funding issues, which he believes is necessary in order to maintain democratic principles and the faith of Americans in the workings of government. He cites the Citizen's United decision by the Supreme court as being historic, as we're seeing more money than ever before pouring into political campaigns. He says the millions being donated "discourages ordinary Americans from getting involved in politics."
"We have to reclaim the American political system," he said. "Cynics have always been cynics, but Congress is the American family." He championed immigration as making us a unique nation, and said labor unions give dignity to the workforce.
Durbin said this is "one of the toughest political wins I've ever faced. People want more." He said people want "the basics": a Congress that produces, peace of mind that they have health insurance, to send their kids to college without crushing debt and to earn a living wage.
"This campaign is about bringing us together," he said. "The future is bright for Illinois and for America."