Traditional parades and street festivals face challenges as pandemic persists
A staple of Chicago's summer season — outdoor celebrations — are facing hurdles despite rising Covid-19 vaccinations and warming temperatures. 
After the city's summer planning came to an abrupt halt when the pandemic hit in March 2020, parade and fair organizers are hoping that Chicagoans can take to the streets to celebrate after a long, hard year. However, many traditional outdoor celebrations are still facing challenges. 
The 57th Street Art Fair is one of the first big street fairs of the season. With no set precedent for how summer 2021 will take shape, the fair's organizers are carefully monitoring updates from the city's permit office. 
Lee Tomlinson, a committee member for the fair, said they're planning to host their regular in-person event, held June 5-6, but are also adapting their structure to offer an ongoing online component. 
"We're trying to make a very robust online fair," he said.
Despite uncertainty coming from the city's permit office, Tomlinson said they are going ahead with plans to host a scaled-down version of the fair.
"We want people to feel safe and be safe, so we're doing more than the state guidelines require," Tomlinson said. 
According to Illinois' Phase 4 guidelines, outdoor markets and festivals with multiple booths can currently operate at a maximum of 15 people per 1,000 square feet (about the size of a typical Lincoln Park two-bedroom apartment) in addition to following face mask and social distancing requirements.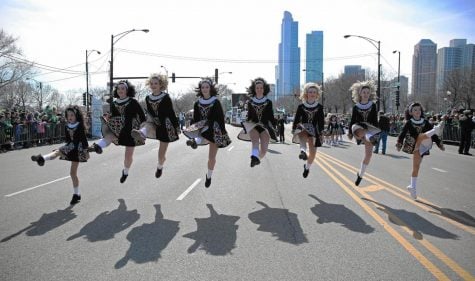 The fair is prioritizing safety in several ways: isolating itself from any other street activity, limiting the number of artists from the usual 200 or so to only 80 or 90 and directing one-way foot traffic. Tomlinson said the most difficult challenge lies in coordinating the lines of people waiting for entrance into artists' tents. 
As far as the online component goes, Tomlinson said that there are around 80 registrants, although he expects that number to go up. 
For other outdoor events that aren't being hosted this year, Chicago City Council recently revised the city code with an ordinance to protect traditional parades from schedule usurpers. 
The City Council passed the ordinance on April 21 to prevent infighting among parade organizers. It protects culturally significant dates by amending the requirements for "traditional parade" status.
The city code says that a "traditional parade" "has been conducted on or about a certain date, on a substantially similar route, and in connection with a specific holiday or consistent theme, for at least the prior five years." 
The ordinance excuses 2020 and 2021 cancellations.
Other kinds of celebrations will likely be exempt, said Nicholas Zettel, Alderman Daniel La Spata's (1st Ward) policy director.
"The ordinance amends a section of the Code that only references a 'traditional parade,' so I would not expect this ordinance to affect or include any other street festivals," Zettel said.
The ordinance won't just protect canceled parades, but likely also protect parades that reschedule or postpone to a different date. 
"I would expect the matter of scheduling to be assessed during the typical permitting process that is conducted by departments like the Department of Cultural Affairs and Special Events," Zettel said. "Since so many parades are scheduled based on traditionally significant dates, or actual holidays, I would expect the City to continue to honor those culturally significant dates."
This ordinance also works to protect parades like the Bud Billiken Parade, which postponed its annual parade last year and commemorated their traditional date, the second Saturday in August, with an all-virtual event in 2020. 
Outdoor celebrations are important to Chicago's culture: The Bud Billiken Parade celebrates the rich history of African Americans in the South Side and has "united African-Americans throughout the city of Chicago in music, dance, food, and laughter" for more than 90 years, according to its website.
The 57th Street Art Fair and others like it give people a way to break out of hibernation and mark the arrival of summer. They add to the camaraderie and character and spirit of a neighborhood, Tomlinson said. 
Other Chicago summer traditions, like Lollapalooza and Chicago Pride, draw people in from all over the city and country.
However, many underclassmen and transfer students at DePaul haven't had the chance to experience a true Chicago summer yet. 
"[Chicago parades] seem awesome," said DePaul transfer student Luis Verbera. "But so far, I've only seen them in the Ferris Bueller movie."