Chicago Amazon workers stages walkout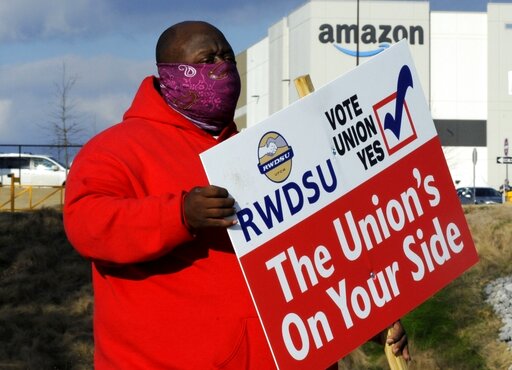 For Amazon workers, the beginning of April marked a turning point. In response to what has been described as grueling working conditions, "Amazonians" — as they are referred to by the company –– have begun unionizing efforts. 
Last month, in Alabama, a union tried to form at a Bessemer facility. But, it didn't pan out as they'd hoped, receiving only 16 percent of the necessary ballots.
Heather Knox, a spokeswoman for Amazon, said in a statement for CNBC that it was clear workers did not desire a union. The problem, it seems, is the top-down approach the Alabama union took. 
"The organizing that's happening in Chicago is built around getting really strong support from a plurality of workers rather than having a union vote from people who want it," said Peter Lyngso, a pro-labor media strategist for WorkFriendsMedia.  
He explained the problem is that the unionization in Alabama didn't begin with employees banding together and deciding for themselves that they needed it. 
Walk out at Amazon in Gage Park! https://t.co/KdEB1glvge

— Amazonians United Chicagoland (@AUchicagoland) April 7, 2021
Additionally, Lyngso fears history is repeating itself in terms of labor law protection. 
"Over the last 60 years, it's essentially been the small chipping away through different court battles and legal cases that more and more corporations have significantly more power to stop people from organizing," Lyngso said. "Stuff like union busters or using union busting firms is incredibly unfair." 
He said that the current times remind him of the labor rights struggles of the Great Depression, before President Franklin Delano Roosevelt passed the National Labor Relations Act in 1935. Before this, workers were forced into abysmal work conditions for non-liveable wages and unmanageable hours. The act gave way for things like minimum wage and laws on breaks or hours worked per day/week. 
Regardless, DePaul University business professor Robert Perkovich says the present acts are still protected by federal law. 
"The National Labor Relations Act gives employees [the opportunity] to engage in 'protected concerted activity' –– that is, activity that relates to workplace issues and activity that involves multiple people," Perkovich said. 
He adds that no employer can legally retaliate. 
"As for next steps, they can see if the employer responds to their concerns and if so, how it does so," Perkovich said. "If they are represented by a union they can file a grievance under their collective bargaining agreement and… If they believe they have been retaliated against, they can file a charge with the [National Labor Relations Board]."
Amazonians in Chicago have not faced direct retaliation, as managers have tried to meet complaints. As a corporation, however, Amazon has not addressed the Chicago strikes. 
"In response to the walkout, Amazon just told the media that there was no disruption and that it was only a few workers that walked out, when in reality, the great majority of workers walked out," said Zama, an Amazon worker who privately and professionally goes by this mononym.  Zama is one of the founders of Amazonians United Chicagoland and was formerly a worker of the city's DCH-1 location in McKinley Park. 
Zama said between 30-40 workers participated in the walkout in April –– with only six workers opting to stay behind. 
Workers began realizing the need for change in 2019, when their primary objective was making clean drinking water available for workers. This was something that had long since been promised by management but never came to light –– until Zama and his constituents presented a petition of 150 workers to their manager during a shift. The manager immediately went to a local grocery store to buy water bottles and soon after announced that they would be installing water lines in the facility. 
"They fixed it because we got organized and demanded that they fix it," Zama said. 
But after this particular manager took credit for fixing the water issue without mentioning the petition, Zama and his coworkers decided it was time to name their group. Thus, Amazonians United Chicagoland was born. 
The walkout in early April was not the first set of strikes from this group. Near the beginning of the pandemic, Amazon decided to dismantle the DCH-1 location, firing seasonal workers and placing remaining workers in new delivery stations around the city. The stations only had one shift: the "megacycle," which goes from 1:20 a.m. to 11:50 a.m. Additionally, there were safety complaints about what workers claimed were the company's lack of Covid-19 safety protocols. 
Previously, the latest shift was from 8:15 p.m. to 4:45 a.m., according to Zama. While working overnight wasn't the best, he said, it at least allowed parents, caretakers and individuals with two jobs the opportunity to do multiple things. The megacycle makes things extremely difficult for them. 
Among their demands have been "megacycle accommodations" that would allow these individuals to leave early if necessary. 
"We have to show Amazon who's really running the show here and not let them disrespect us," Zama said. 
Amazon has come under heavy fire during the course of the pandemic, from not adhering to safety protocols to not standing by their staff's needs — like maternity accommodations.  
The corporation has not addressed these issues or ones posed by union members, making continued strikes and other union demonstrations likely.