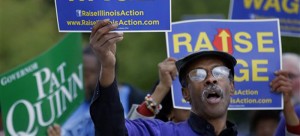 For Chicago college students like Venice Adams, raising the minimum wage in Illinois is the only way to continue pursuing a college degree.
Adams, a senior at Columbia College Chicago, works two minimum-wage jobs at $8.25 per hour to afford her tuition and student loans all on top of taking five classes this semester.
"If the minimum wage was raised to $10 an hour, I'll probably only get one job that could fund me through school. Plus, I'll be more confident that I can find a better opportunity once I graduate," she said. "The stress alone from juggling jobs keeps me less focused on school."
Adams is one of many Chicago college students and citizens throughout Illinois in support of raising the minimum wage.
On Nov. 4, voters statewide voted 2-to-1 in favor of a non-binding advisory ballot initiative to raise the minimum wage to $10 per hour. The $10 wage is also favored by many legislators in the state General Assembly. However, governo-elect Bruce Rauner has taken conflicting positions on the issue, at times in his campaign voicing opposition to an increase, and in debates stating he supports an increase.
Minimum wage has also become an emerging national issue. President Barack Obama proposed that Congress raise the minimum wage to $10 per hour in his 2014 State of the Union address.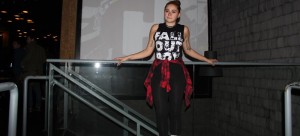 In May 2014, Chicago Mayor Rahm Emanuel established the Minimum Wage Working Group to construct a proposal to raise the minimum wage in the city. The mayor introduced an ordinance which would raise the minimum wage in Chicago to $13 by 2018. This proposal has been stalled as the February mayoral election approaches.
The mayor's proposal noted that a minimum wage increase was necessary because rising inflation is outgrowing the current minimum wage.
Federal statistics comparing the national minimum wage from 1938 to 2013 indicated that the value of minimum wage has declined more than 20 percent since the 1960s.
In addition, the $8.25 minimum wage is failing to keep up with the cost of living in cities such as Chicago  where the percentage of rent expense has increased to 31 percent from its usual 21 percent, according to the federal statistics.
The mayor's research found that about 31 percent of Chicago workers make less than $13 per hour, a demographic consisting mostly of women and minorities under age 25. Records from the Bureau of Labor
Statistics also indicated more than half of the people making minimum wage in the United States in 2013 were under 25.
The Social Impact Research Center released data in October that examined the effects that raising the minimum wage to $10 could have on minimum wage-dominated industries throughout the state. The data showed that more than 1.1 million workers, or one-fifth of the Illinois work force, would be directly affected by the wage increase.
The service industry would receive the most benefit from the wage raise with 36.4 percent of the workers affected having service-related jobs in the for-profit sector, according to the study.
That's crucial for the many Chicago college students working for minimum wage jobs.
DePaul student Izzy Vielma, 19, attends class full time and works part time as a hostess. She said an increase to $10 per hour would provide her with crucial financial stability.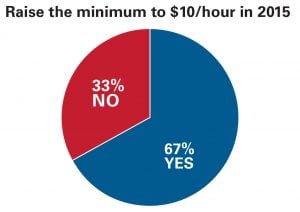 "Living off of $8.25 is really hard," Vielma said. "Ten dollars would make a big difference. I wouldn't have to struggle making it week to week."
Carla Ramirez, a junior at the University of Chicago, works part time at Wendy's and attends school full time. Although she values her education, Ramirez finds it difficult to balance her work and school life.
"My boss is pretty understanding about my school schedule, so they're flexible with time," she said. "But there have been plenty of times where I've put off homework because had to work extra hours to pay my rent."
Ramirez said a higher minimum wage would certainly help her find a job she enjoys doing, allowing her to work stable hours while focus on her school work.
DePaul senior finance major Sullivan Donahue views the wage increase to $10 as the opportunity for economic growth throughout the state.
"Any time you can increase the purchasing power means higher spending," Donahue said. "Direct cash flows into the economy."
However, Donahue is more hesitant toward Emanuel's $13 proposal for fears of inflation in the Chicago economy.
"If the minimum wage is at $8.25 an hour and they want to increase it to $13 (an hour) within a matter of years, I think that is too soon," Donahue said. "We have the funds, it's just the timing. We want to keep a balanced increase over time because if prices and wages become too volatile, we won't get any spenders."
Nevertheless, some disagree that an increase to a $10 minimum wage would actually help the economy.
DePaul economics professor Michael Miller said raising the minimum wage could do more harm than good as it assumes the false reality that government knows the right price of labor based on individual need.
Furthermore, most people under age 22 who are earning the minimum wage are receiving a fair price for simple job duties that do not require much talent.
Miller said that raising the minimum wage would also raise expectations for those same job duties, and in turn create an employment competition that could hurt the people it's targeting to help.
"The government is giving away money based on need, but they can't base wages upon an individual's need. You can only base it upon what the worker does," he said.
When it comes to the needs of college students, Miller said students should keep minimum wage jobs that get them through school because with a degree, there's a higher likelihood that they will make more money in the future.
However, for college students like Adams, a higher minimum wage is probably the only way she will obtain her desired degree.
"I eventually want to go to graduate school and get my master's in social work, but I'll have to stop school after my bachelor's and work for a while to even save up enough money to afford a degree," she said.