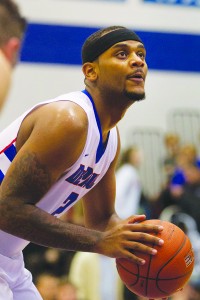 Sacrifice.
That's the word a noticeably slimmer Tommy Hamilton used to describe his journey in losing more than 30 pounds over the course of six months.  The 6-foot-10 forward was 285 pounds at the end of last season in March.
Hamilton now weighs 253 pounds.
"I had to sacrifice a lot of things I would normally do," Hamilton said. "I just couldn't do it. I was just working out really hard and eating better. I just wanted to get better.
Hamilton's new weight is his lowest since his junior year of high school, as well as his lowest before a knee injury derailed his junior season. It's been a long process for Hamilton to get back into peak shape, but it has also required an adjustment.
Hamilton said he's trying to get used to being that light again. He's learning to be more efficient.
"I can do more now and can go longer," Hamilton said. "I just want to get on the glass more offensively and defensively. I want to try and alter some shots at the rim since I can jump a little bit now."
In his first season as a Blue Demon, Hamilton averaged 7.7 points per game and 4.2 rebounds per game. Hamilton showed flashes of brilliance at times and he was rewarded for it. Hamilton was named to the All-Big East freshman team at the end of the season.
Yet, Hamilton went through a series of ups and downs. He struggled on the defensive end, and there were moments where he was relegated to the bench. Hamilton started 26 of 32 games.
But Hamilton said he has more confidence now.
"I've got a year under my belt," he said. "I know what to expect. I've played in the Big East. This year, I'm going to be more confident and be a leader to my teammates. I'm going to try and lead by example."
Head coach Oliver Purnell said he gave Hamilton credit for making up his mind to shed the weight.
"It's one thing to say it. It's another thing to put the time in," Purnell said. "He's matured a lot. He's got a ways to go, but it's a mental test for him. If last year he wasn't in it, that'd be it for him.
"But he's showed that he's just much more mature than he was last year," Purnell said. "He has to keep moving forward."
There's also a support staff of those around Hamilton to help encourage him. Purnell and Hamilton both said that Hamilton's parents were a factor in pushing Hamilton to keep up his diet.
John Wagle, who was promoted as DePaul's strength and conditioning coach in June, played a large role in supporting Hamilton as well.
"From a coaching standpoint, we're all there to encourage him," Purnell said. "(Wagle and Hamilton) have connected, which I think is real good."
"I had some good friends that motivated me the whole summer," Hamilton said. "I've seen (Wagle) two or three times a week after practice depending on how hard we go. John's been trying to tone me up and I'm trying to get to 250 before the season begins. "
But ultimately, the work ethic came back to Hamilton.
"I think this upcoming year will be good for us," Hamilton said. "I just wanted to come back and give my teammates my all. I think I owed them that."