City of light, city of blight: Many in Chicago struggle with poverty and homelessness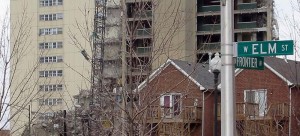 Anyone who regularly passes by Clark Street and Belden Avenue in Lincoln Park knows Jackie Robinson, or would at least recognize him. 
He is one of thousands in Chicago who after a combination of bad experiences and bad luck ended up living on the street.
Most cold nights, Robinson is able to afford a low-cost room, thanks to donations from passers-by. When it's warm enough, he usually sleeps in the park. 
As he stood at Clark Street and Belden Avenue talking with a reporter for about an hour in the cold on a recent weekday, only two out of maybe 40 people who passed him stopped to help.
Even then, the couple who stopped to give him a few quarters offer some unsolicited advice that sounded condescending, whether they intended it or not.
"These are valuable, you know —I have to do laundry." 
Most people don't acknowledge him at all. He is confident though, that there are plenty of compassionate people in the neighborhood, and he always gets by somehow.
Robinson became homeless after the housing program that had been providing him a place to live lost funding and closed. In the meantime, he fought for three years to get disability support for physical problems and depression.
Robinson is emblematic of a complicated persistent problem plaguing Chicago's streets even in affluent neighborhoods such as Lincoln Park: The mixture of homelessness, mental illness, and correctional and mental health systems ill-equipped and under-budgeted to deal with the resulting problems.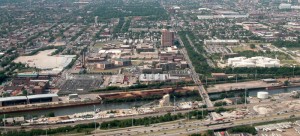 In last week's midterm election, 86 percent of Cook County voters supported an advisory ballot initiative for additional state funding for mental health services for Illinois residents. Yet public policy has not reflected that support with actual funding to help address the issue.
From 2009 to 2012, Illinois cut 31.7 percent of its overall general fund budget for mental health services, according to a report by the National Alliance on Mental Illness. And in 2012, Chicago closed six of its 12 community mental health centers, while Illinois closed two large state institutions.
"We can't wait for the government," Robinson said. "Individuals who can do it should try to help one person every month."
Chicago's and Illinois' actions are indicative of how mental health care has changed dramatically over the last half-century and led to a broader population of homeless who suffer from mental illness.
De-institutionalization began in the 1950s in response to deplorable conditions at large psychiatric institutions, and in part because of lack of funding. At the time, it was thought that smaller clinics and community organizations could better serve patients, and would be an improvement over the old asylum model.
As the World Health Organization has reported, research shows that the closure of mental health facilities not accompanied by the development of community services leaves a service vacuum.
And unfortunately, that's exactly what has happened in Chicago.
The Mental Health Systems Act, passed in 1980 and signed into law by President Jimmy Carter, was designed to provide federal support for community mental health programs in response to growing need generated by de-institutionalization. The Reagan administration repealed the act in 1981 in an effort to reduce spending, ending federal funding and leaving states responsible for mental health care with individual grants.
As a result, astounding numbers of people suffering from mental illness became homeless during the 1980s, as other social and economic factors pushed those living on the edge of poverty out into the streets.
Mental illness often brings about other challenges that hinder people's abilities to find and maintain employment and housing. 
According to the National Resource and Training Center on Homelessness and Mental Illness, about 20 percent to 25 percent of the single-adult homeless population suffers from some form of severe and persistent mental illness.
People suffering from mental illness have a greater likelihood of becoming homeless and also a far greater chance of ending up in jail or prison, often as repeat offenders.
Cook County Sheriff Tom Dart is outspoken about the problem of mental illness at the Cook County Jail, which he referred to as the largest mental institution in the United States.
With more than 9,000 inmates on any given day, Dart estimateed between 25 percent to 35 percent have some form of mental illness.
Every few days posted at the top of the Cook County Sheriff's website is the percentage of arrestees who self-identified as mentally ill at intake that day. For Nov. 7, it was 36 percent.
In an interview with National Public Radio, Dart said many of the mentally ill inmates have nowhere else to go. They are usually charged with minor crimes, which are often committed in an effort to have a place to stay and be ensured access to medication.
The scene as described inside—rows of severely ill people behind bars, leather restraints and a room with only a drain and bloody, scratched padded walls—sounds much like the asylums of old.
Dart insisted that in addition to the humane concerns involved, it costs far more money to maintain incarceration of the mentally ill in this fashion than it does to fund community mental health centers.
Robinson, a Chicago native, followed that same general path to homelessness.
He was kicked out of his house at age 13. In order to survive, he joined a gang and began selling drugs. He was in and out of jail, serving prison sentences for several charges, including homicide.
He said that a lot of people in similar situations are in jail because they can't get help.
"In jail, they get food, showers, medications and a bed," he said.
However, years later, Robinson earned his high school diploma, and despite difficulties keeping steady work, he said he would rather spend a night in the cold than go back to jail.
Robinson takes life one day at a time, and never stops smiling. He said he's been clean for the last 19 years.
"Plenty of millionaires are miserable," he said. "Being down won't get you anywhere. The Lord can't bless you if you're full of anger."
View Comments (1)