Leer y Correr Chicago organiza su primer evento bilingüe en Cicero
Allison Yates estaba sentada en el sofá de su madre leyendo "La Batalla de Lincoln Park" cuando su interés por la historia, su deseo de explorar la ciudad y su mente curiosa se unieron para tener la idea de fundar Leer y Correr Chicago hace más de un año 
Esta organización planifica eventos con rutas inspiradas en libros situados en Chicago y ha atraído a corredores desde el 2021. Su primer evento bilingüe se llevó a cabo en Cicero y generó conversaciones entre los corredores sobre algunas de las luchas que crecen dentro de la comunidad Latinx. Las discusiones de la carrera se basaron en el libro de Erika L. Sanchez "Yo no soy tu hija mexicana perfecta".
Magaly Acosta, un futuro terapeuta y actual líder de carrera, hizo a los corredores esta pregunta cuando llegaron a su primer destino en Los Mangos Neveria y Fruteria: "¿Existe la hija mexicana perfecta?"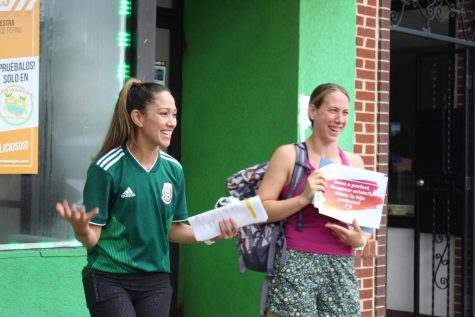 Acosta explicó el dilema que muchas mujeres jóvenes mexicano-estadounidenses enfrentan; están divididas entre dos mundos — la expectativa de satisfacer los deseos tradicionales de sus padres, como aprender a cocinar, ir a la universidad cerca de casa, ir a la iglesia, o vivir una vida propia. 
La expectativa puesta sobre las jóvenes latinas por sus padres fue el primero de muchos temas que Acosta desglosó. A lo largo de las diversas paradas de la carrera, Acosta no se rehuyó hablar sobre identidad, salud mental y religión. 
Aunque Acosta se basó en la educación de su familia mexicana personal, dijo: "Hay algo con lo que todos pueden conectarse", incluso si no son latinos. 
Los participantes corrieron a varios lugares, incluyendo la Biblioteca Pública de Cicero, donde Acosta les preguntó qué lugares les inspiran a "soñar en grande". Así, ella iba conectando con la forma en que el personaje principal, Julia, usaba los libros como su vía para soñar con convertirse en escritora y escapar de las dificultades de su vida.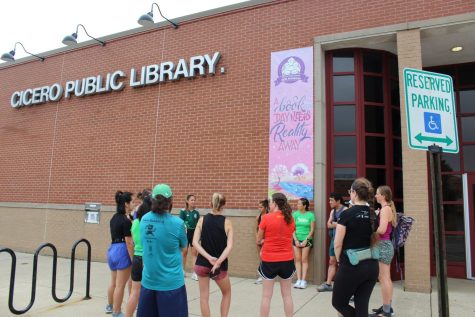 El maestro y corredor John Foley dijo que su lugar de inspiración fue el jardín de la Escuela Primaria Tarkington, donde él enseña. 
"Parte de esto es esa rutina de meter las manos en la tierra…" dijo Foley. "Puedo permitirme descansar y pensar, eso es parte de lo que estoy aprendiendo, es reducir la velocidad y simplemente estar en ese lugar". 
El lugar de Acosta para soñar en la escuela secundaria era el centro de carreras. Allí su asesor la guio en sus planes posteriores a la graduación como estudiante universitaria de primera generación. 
Según un estudio de la universidad Eastern Washington en el 2018, algunas de las barreras más prominentes que enfrentan los latinos en su viaje para obtener un título universitario han sido la falta de preparación, la pobreza, la falta de recursos en la universidad y la escuela secundaria, y el sentido de no pertenecer a la educación superior.  
"Mi mamá siempre quiso que yo fuera a la universidad, pero no sabía cómo llevarme allí", dijo Acosta. En cambio, dijo que dependía del apoyo de sus maestros y asesores. 
Otro destino en la ruta fue la Iglesia Católica Mary Queen of Heaven, donde las experiencias con la religión y la salud mental se convirtieron en un punto de discusión. 
La entrenadora del Road Runners Club of America, Antoinette Perea, dijo que ella y su hijo visitan  a un terapeuta regularmente a pesar de sentir el estigma que rodea a las enfermedades mentales mientras crecían. 
"Antes era como, hablemos de eso con la familia pero no le digas a nadie más porque tienes que guardar las apariencias," Perea dijo. "No dejes que nadie piense que estás loco o que la familia está rota".
Acosta dijo que la tendencia de las familias latinas a desestimar los problemas de salud mental ha dificultado que las personas identifiquen síntomas de depresión o ansiedad. En el libro, la familia de Julia relaciona el dolor psicológico que sienten con el dolor físico. 
"Dicen, 'Me duele el corazón" o en lugar de decir tengo ansiedad dicen 'Sufro de los nervios', dijo Acosta. 
Varios estudios de la Asociación Estadounidense de Psiquiatría encontraron que las personas latinas tienen un 10  por ciento más de probabilidades de buscar ayuda de salud mental a travez de un proveedor de atención primaria en comparación con solo un cinco por ciento de probabilidades de buscar a un especialista. La falta de profesionales de salud mental que hablen español y el miedo a la deportación también son barreras comunes para el acceso agregó Acosta. 
El evento de Leer y Correr también consistió en viajes a Los Comanches Tortilleria Shop para comer unas toritllas, Karla Novia Y Ceremonias para ver vestidos de quinceañera y Torres Fresh Market para comprar bocadillos. Los corredores mostraron un sentido de camaradería mientras pasaban la comida que cada uno compró como buñuelos, churros, chicharrones y dulces, mientras estaban parados en un círculo.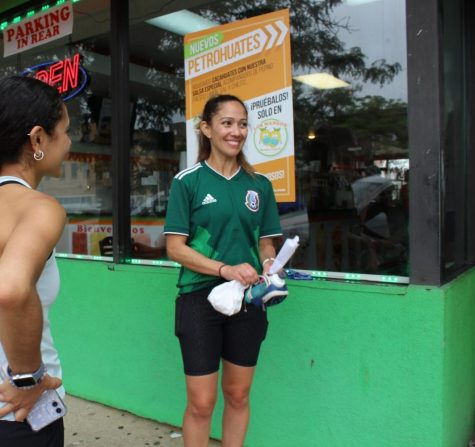 Para Yates, su primer evento bilingüe de Leer y Correr fue más que hablar de un libro;  era sino una postura política. 
"Es realmente importante para mí que sigamos hablando sobre el hecho de que el inglés no es el único idioma que se habla en este país y hay muchas personas que hablan varios idiomas", dijo Yates. 
Según Forbes, los Estados Unidos será el segundo país con más hispanohablantes en 2060. De los 2.7 millones de personas que viven en Chicago, alrededor de 18 por ciento hablan español. 
Yates planea organizar más eventos de carreras bilingües y organizar eventos exclusivamente en español.
 "Poder comunicarnos y conectar a más personas que son diferentes, es una vía tan hermosa que nos brinda el idioma", dijo Yates.