West Side residents hold People's Fest in opposition to Riot Fest amid ongoing efforts to remove mega festival from Douglass Park
West Side residents hosted the People's Music Fest at the corner of Cermak and Marshall Blvd. as a part of their ongoing efforts to remove Riot Fest and other mega festivals from Douglass Park.
Residents have voiced their concerns throughout the years, including at a Chicago Park District open forum in August where many stated the mega festivals lead to heightened traffic congestion, trauma hospital disruption, lack of access to the park, public safety worries and the displacement of local soccer leagues. 
At the People's Fest, community members listened to live music, ate snacks and painted while mingling near lawn signs that read "NO MEGA FESTS IN DOUGLASS PARK!"
Riot Fest is an annual Chicago punk rock festival with headliners such as My Chemical Romance and the Original Misfits who performed this year. 
Emily, a community resident who did not wish to disclose her last name, said she attended the People's Fest because "we're here to fight for our community and our youth."
North Lawndale and Little Village resident's opposition to Riot Fest began in 2015 when it was relocated from Humboldt Park without community input. 
Douglass Park holds two additional festivals in the summer, Heatwave and Lyrical Lemonade's Summer Smash, making the park inaccessible for 47 days out of the summer each year, according to residents.
Brianna Tong, one of the musicians who performed at the People's Fest, said her punk song lyrics expose governmental officials' lack of care of community members. 
"The money [Riot Fest] raised goes back to the aldermen" she said.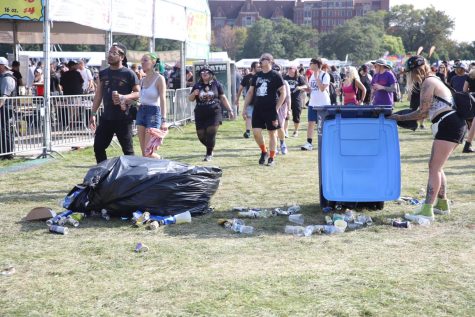 The Chicago Reader reported that Riot Fest gave tens of thousands of dollars to political action committees tied to alderpeople whose wards include Douglass Park, such as Ald. George Cardenas (12th) and former Ald. Michael Scott Jr. (24th). Since 2019, Cardenas has accepted $18,000 in political donations from music festival companies.
Beyond the acceptance of political donations by local alderpeople, Chicago Park District records shows that Riot Fest only paid $233,508 out of $2.35 million in permit fee dues in 2015. The park district applied a roughly 90% discount,  according to a Freedom of Information Act (FOIA) obtained by The Reader. 
The Chicago Park District did not respond to questions about the reduction of permit fees in time for publishing. 
Ana Solano, member of Unete La Villita, a West Side organization which disapproves of mega festivals, said the large discounts the park district gave Riot Fest is money not being put back into the community. 
"Who are these festivals really for?" she said. "They are not for us."
Juan Otalora, a Riot Fest staff member said he supports the mega festivals because it provides him with job opportunities.
"The pay is great, but the networking opportunities are even better," he said. Of the multiple festival events he works throughout the year, "it's my favorite event to work," he said. 
Riot Fest provides jobs to local residents for the duration of the three-day festival each year. 
Edith Tovar, a member of Little Village Environmental Justice Organization (LVEJO) said despite the jobs Riot Fest offers, the community continues to be disinvested.
"To have concert promoters dangle temporary jobs is a joke," she said. "That's not economic improvement. That's not going to help our community and our neighbors get out of poverty," she said. 
Nicole Delgadillo, another supporter who attended Riot Fest and resident of Brighton Park, said she has attended the festival four times and has never had a bad experience. 
"It's one of those festivals that doesn't get out of hand, it's a nice environment" she said. 
Riot Fest brings in around 45,000 people daily and donates tickets every year to the community. 
Emily said her frustration within the community goes beyond the disruption mega fests are causing. 
"We are consistently fighting for clean air, community resources, healthcare, housing and safety," she said. 
Amid increasing pushback from the community, park district leaders announced on Sept. 14 during a board meeting they will be changing their code, making it so the mandate board must sign off on events with more than 10,000 daily attendees, according to the Chicago Tribune. 
"Riot Fest needs to understand that they are not welcome here, they were never invited by the people and our people can do without big festivals coming in here," Emily said. 
Riot Fest is the last mega festival held in Douglass Park this summer. 
Connect with Jacqueline Cardenas: @jackiecardenas_ | [email protected]
View Comments (1)