Energetic start, Gibson's 'Curry-like' career-high lead DePaul to Big East win over G'Town
December 31, 2022
DePaul snapped its second three-game losing streak of the season and picked up their first Big East win of the year after defeating Georgetown 83-76 at Wintrust Arena Thursday night. The Blue Demons were led by graduate guard Umoja Gibson's career-high 31-points.
The Blue Demons came out hot to start the game, finding themselves up 10 points within the first six minutes of the contest. Stubblefield and his team hit the court with energy and emotion, something that the fan base hasn't seen since early in the season.
"We need to have a sense of urgency about ourselves," said head coach Tony Stubblefield. "We must have it from the start. You can't dig yourself holes in these types of games and you must be ready to go when the ball is tipped. That starts with me at practices and shoot-arounds. I thought our guys responded well to it."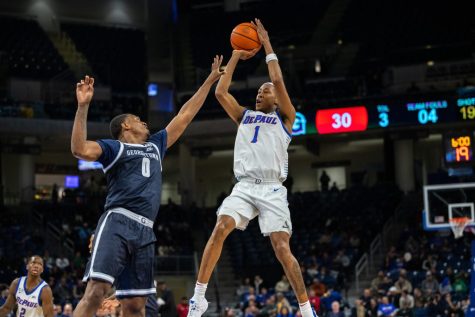 The star duo of Javan Johnson and Gibson shined, as they combined for 35 first-half points and 52 combined overall. Halfway through the season, DePaul's dynamic duo has been nearly unstoppable, leading the team through tough stretches.
"Javan [Johnson] and Mo [Gibson] have been providing great leadership," Stubblefield said. "They've stuck with it and people have been asking if our guys' spirits have been down. No, they have not, these guys have come in and have been very resilient. They've been working hard every day, getting to the gym in the morning, and putting that extra work in. It's really paid off." 
DePaul headed into halftime with a 47-40 lead after a 30+ foot jump shot by Gibson, who pulled up with his feet still on the half-court Blue Demon logo. It was maybe the most complete 20 minutes the team has yet to put together so far this season. 
The Blue Demons were out-rebounded by the Hoyas 20-13, but unlike other recent games, the team offset their poor rebounding-margin by forcing 11 Georgetown turnovers.
DePaul shot 60% from beyond the arc, led by Gibson and Johnson finishing the first half shooting 9-of-11 from deep.
Still, Georgetown hung around until the very end, thanks to the performance of sophomore guard Brandon Murray. Murray finished the game scoring 29 points and recorded four rebounds, while shooting 5-for-5 from beyond the arc.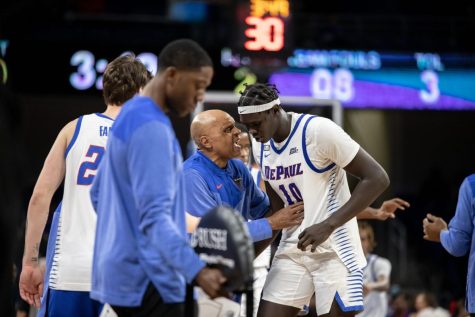 "That's a very good basketball team," Stubblefield said. "They made some tough shots and some challenging shots off the dribble, so it was a tough challenging game for us. I thought our guys were really spirited today and they were locked in."
The Blue Demons' defense held Murray to only two points in the final 12 minutes of the game.
"I did not want to let one guy beat us," Stubblefield said on his second-half defensive adjustments to curtail Murray. "We started trapping the ball screens and trying to get the ball out of [Murray's] hands. Our guys did a great job of adjusting to that on the fly." 
Gibson's poised play in the second half was the key-reason DePaul picked up the victory on Thursday night. The veteran guard converted on all six of his second half free-throw attempts during crunch time, and then the Hoyas with another three-point dagger at the logo with 2:37 remaining.
"He did a great job of getting open," said Georgetown head coach Patrick Ewing. "Some of those threes he took were Steph Curry-like. They were deep. I tip my hat to him because of the great game he played."
Despite the adversity DePaul has faced this season compared to past, the team has stuck with each other. Gibson has been a key leader for the squad this year and the glue that holds the team together during their disappointing performances through the first half of the season.
"I liked the way we've stayed together through our adversity," Gibson said. "As a senior, a leader, a captain on the team, I tried willing the guys, by group texts and messages, saying we have to stick together. When times get hard, you must go harder… You have to keep pushing."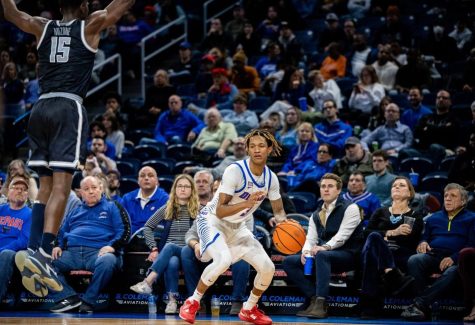 Junior Jalen Terry contributed more than usual on Thursday night, hitting shots and even landing a dunk off a steal vs the Hoyas. Terry finished the game scoring 14 points, dished out five assists and lead the team in rebounds with five. 
Once again, DePaul had three players not dress due to injury, which included Nick Ongenda (hand), Mo Sall (wrist) and Caleb Murphy (wrist). Ongenda is still unlikely to play again this season and there's no update on Sall's injury or his return to the court. 
Graduate student center Yor Anei saw an increase in minutes in his second game back. The Blue Demons are 4-0 on the season when Anei is in the starting lineup.
Stubbfield said that Murphy is expected to return to the court this season, and it's a matter of when, not if, at this point for the South Florida transfer.
"He's close," Stubblefield said. "That's one thing I can tell you. Caleb [Murphy] has had to bounce back from a couple of injuries, but he's very close."
DePaul (7-7, 1-2) will host Providence (11-3, 3-0) on Sunday afternoon with tip-off scheduled at Wintrust Arena for 1:30 p.m. CST. The game will be broadcast on FS1.
Gallery: Georgetown at Northwestern 12/29/2022