DePaul Chief of Staff attends SGA meeting, promises improvement
Arbin Smith, DePaul alum and current Chief of Staff, attended Thursday's Student Government Association (SGA) meeting to answer the representatives' questions about DePaul President Robert L. Manuel's plan for the future of the university.
SGA Vice President Magoli Garcia said that she and Kevin Holechko, SGA president, are focusing on giving the SGA senators and general student body the opportunity to match "a name to a face" this quarter.
"We do plan on having several deans of colleges come and visit, and use that as an opportunity especially like our senators have, like different colleges to meet with their direct link to the administration," Garcia said. "So I think we're really excited to see President Rob coming in within the next few weeks."
"It's really just so we could have a more effective and positive working relationship with the school administration, but also, I think it does, like it kind of humanizes the administration," Holechko said.
Smith said at the beginning of the meeting that he never intended to get into higher education. He said he originally came in to meet with Manuel to discuss strategies of how to improve the university from a business perspective. After their meeting, Manuel asked Smith to be his Chief of Staff.
When describing his role as Chief of Staff, Smith said "two days are never the same" when it comes to planning how to better the university.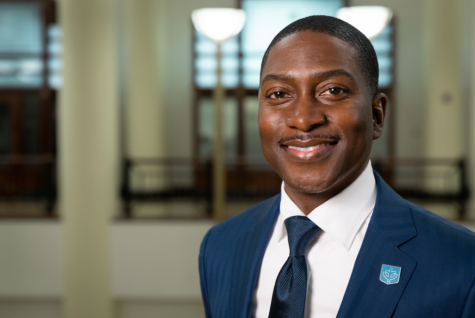 Smith said a large part of Manuel's goals come down to a couple of things: diversity, equity and inclusion, retention and "making DePaul the standard of higher education."
"[We need to ask] what does the university need to look like for more people to want to be students here, the enrollment we need to have to be a magnet for faculty and students," Smith said. "The cornerstone of what Rob will be building is around interdisciplinary studies, the studies have to be really strong." 
Smith said Manuel's cabinet is looking to create student leaders who are flexible and agile "so when it comes to critical thinking, they get a competitive edge." 
But along with creating that "competitive edge" comes a need to make the enrollment process slightly more rigorous, which is a difficult task, especially with an upcoming population decrease. 
Nathan Grawe, an economist at Carleton College in Minnesota, told The Hechinger Report that he predicts that the college-going population will drop by 15% between 2025 and 2029 and will continue to decline by a couple more percentage points following that timeframe. This population decrease is a large result of the 2008 recession which caused many people to stray from having children, Grawe said. 
But, even with this percentage drop, the top 100 elite universities are looking to continue having high demand according to The Hechinger Report. This is a large reason why many universities are pushing to increase in competitiveness over the next couple of years.
Manuel, as a result of the top 100 universities not being affected by the upcoming college population decrease, is aiming to make DePaul more competitive and challenging so it can accomplish the title of being in the top 100 universities.
"That cliff is real, there will be winners and losers in that process…you are going to have more seats than there are people," Smith said. "We need to have a compelling reason for [prospective students] to come. There are a lot of success stories that come out of DePaul and we have to do better at communicating those."
Smith said another aspect of making DePaul appealing to prospective students is having people in the administration who understand the needs of students.
"We need to have a person in the chair who understands the need and is responsive to the need," Smith said. 
But to promise leadership that is present and willing to respond to the needs of students feels too good to be true for a lot of students, especially because DePaul leadership was absent for much of the pandemic.
Garcia said even though it has been a couple of rocky years for the student-administration connection, she thinks that improvement will happen especially since there is more of an approach change rather than simply a leadership change. 
"One thing I can really appreciate about President Rob's approach is his approach to improve things based off of the connection he has with people," Garcia said.
She said she appreciates how Manuel meets people with an emphasis on relationship building as opposed to looking only at the numbers or financials.
"Although [those are] important in running a school, President Rob, he takes the time and he takes the commitment," Garcia said. "[He forms] relationships with people and remembers small things about people. Lord knows how he remembers, considering how many people he meets a day, like, gosh. But out of all the interactions that I've had myself with him…[I've] just been met with grace and humanity."
Holechko is firm in his belief that Manuel will stick true to his word.
"I have no reason to believe that this President will not stick to his word and give it his all," Holechko said. "I think he's demonstrated in the short time he has been the president of this institution that he is more than willing to go out of his way to advocate not only for students, but for staff, faculty, and really just for DePaul, in general."
Garcia said she is excited to be around for the beginning process of the university improvements. 
"I want to be able to leave the university and be proud of my alma mater," Garcia said. "And, you know, knocking on wood, fingers crossed, and maybe whether it be in five or 20 years, I'll be able to look back and say 'Wow, I graduated from that university.'"
Garcia and Holechko said there are going to be more university administration personnel coming to SGA meetings throughout the quarter. For students that are interested in connecting with administration, Garcia said that anyone in the student body is welcome to attend the meetings and participate in the sessions. SGA meets on Thursdays at 6 p.m. in McGowan South 105.