Year of the rabbit: Lunar New Year makes a comeback in a big way
January 29, 2023
A sea of red filled the largest space that DePaul has to offer as hundreds of people came together to celebrate DePaul's 15th annual Lunar New Year Gala. Conversation filled the crowded room with strangers, friends and family all here in celebration of the Year of the Rabbit. 
Lunar New Year marks the beginning of the new year on the lunisolar calendar. This year, it falls on Jan. 22. It is an important holiday in China and many other East and Southeast Asian countries. The official dates and celebrations vary by culture but everyone celebrating considers it the time of year to come together with family and friends. 
"Different Asian communities celebrate the Lunar Year differently." said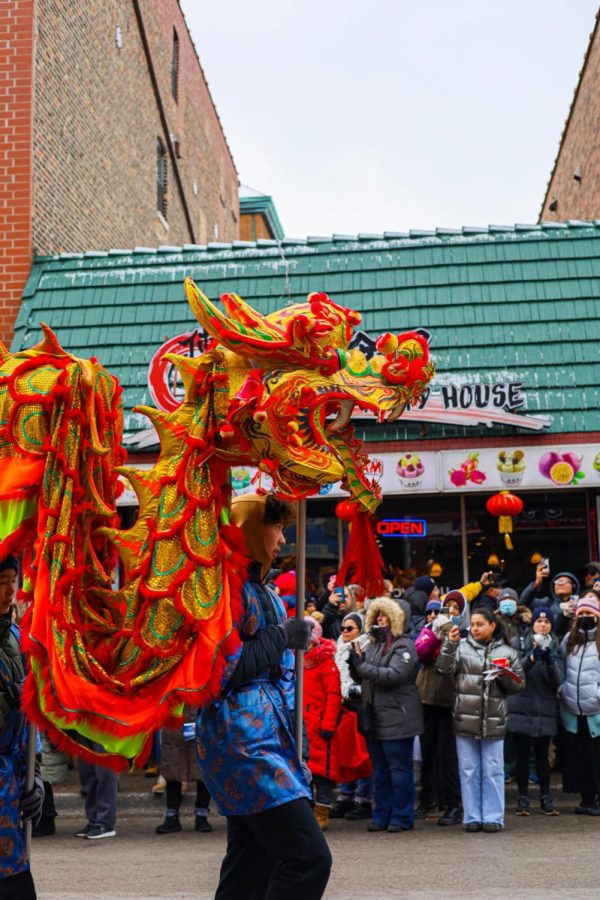 Li Jin, Chinese Studies program director. "For instance, the Chinese and the Korean are celebrating the Year of the Rabbit, but the Vietnamese are celebrating the Year of the Cat this year." 
"As I am of Chinese descent, we usually eat dumplings on the first day of the 15-day Lunar New Year celebration, and glutinous rice ball soup on the last day of the celebration," Jin said . "(The) color red is a symbol of good luck. It can bring in good luck and fortune and scares away bad luck in Chinese culture."
Every Lunar New Year signifies the changing of one of 12 Chinese zodiac signs that the Lunar New Year is based on. This year, it is the Year of the Rabbit. The rabbit is known to be the luckiest of all the animals in the zodiac. 
Some famous people born under the Year of the Rabbit are Lionel Messi, Drew Barrymore, Albert Einstein and Michael Jordan. 
"According to Chinese astrology, rabbits represent peaceful and patient energy,"  Ji Lin said. "In a year of the rabbit, people are expected to approach challenges and opportunities calmly and rationally."
DePaul's annual Lunar New Year Gala is organized by the DePaul Chinese Studies Program, Chinese Studies Association and Chinese Students and Scholars Association while also being co-sponsored by many other academic and administrative groups. A combination of volunteers, faculty and community members help keep the event free to the public so all can celebrate the Lunar New Year. 
However, due to the pandemic, the last couple of galas have been much different than this one. 
"We had our 2021 gala virtually and the 2022 one was a small-scale celebration. Finally, we resumed the full-scale in-person gathering this year,"  Lin said. "Getting together physically is important during the lunar new year season as it helps forge our connectedness and sense of community. It is especially meaningful amidst ongoing anti-Asian discrimination and racism in the US."   
The gala opened with one of the most important Lunar New Year traditions, the lion dance, performed by two dancers in a lion costume, much like a pantomime horse. The dance is meant to bring good fortune and chase away evil spirits. 
One of the lions was a stunning gold color with accents of green and red and the other a snowy white with accents of many different colors. The lions made their way through the whole room of hundreds of people, making sure everyone got their chance to be up close and see them.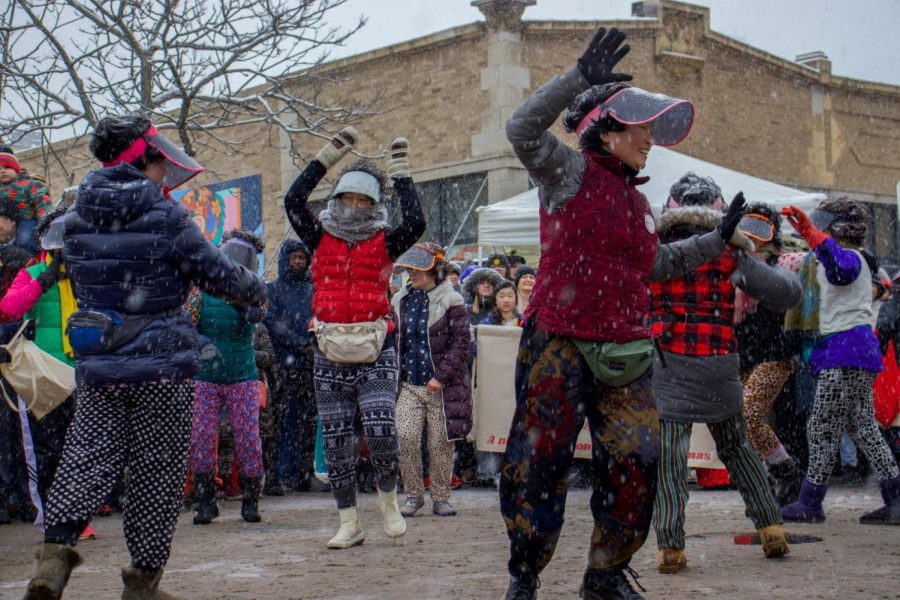 Then, they made their way on stage to show their skills by hopping on to a small platform to make the lion much taller and bigger right in front of the crowd of people while keeping balance.
Once the lion dance was over. DePaul President Robert L. Manuel came on stage to give a short speech. 
"I want to thank Dr. Ji Lin, the DePaul Chinese Studies Program and the Chinese Students and Scholars Program, all of these people put together this event and keep us connected to the traditions of the Lunar New Year," Manuel said. "I am again so grateful that you are all here to celebrate, it's a true honor to have you here, I am looking forward to the event, activities and all the great food. Thanks for being here." 
Performance by local K-pop dance group, Helixx,  performed featuring a couple of DePaul students. 
"I take a Chinese class here, and my professor knew I was in a K-pop dance group, so she asked me if we could perform here and we were so excited," said Helixx member Riley Mays. "(Lunar New Year) is all about appreciating other cultures for sure. It was inspiring to see the other dance performances from other cultures and learn from them." 
The Chicago Chinese Culture & Art Society performed a traditional Yimeng Mountain Folk Dance. Five dancers in embroidered blue traditional outfits danced flowingly with the hand fans they were holding. The hand fans had additional cloth attached to them in order to make the movements bigger and more awe-inspiring. The dancers twisted and turned as the crowd focused on their flowing, graceful dance.
"I'm here to experience the culture, this is my first Lunar New Year, it's a new experience for me," Lincoln Park resident Martin Pandola said. "The performances were fantastic, loved 'em. The lion dance and all the performances were so cool."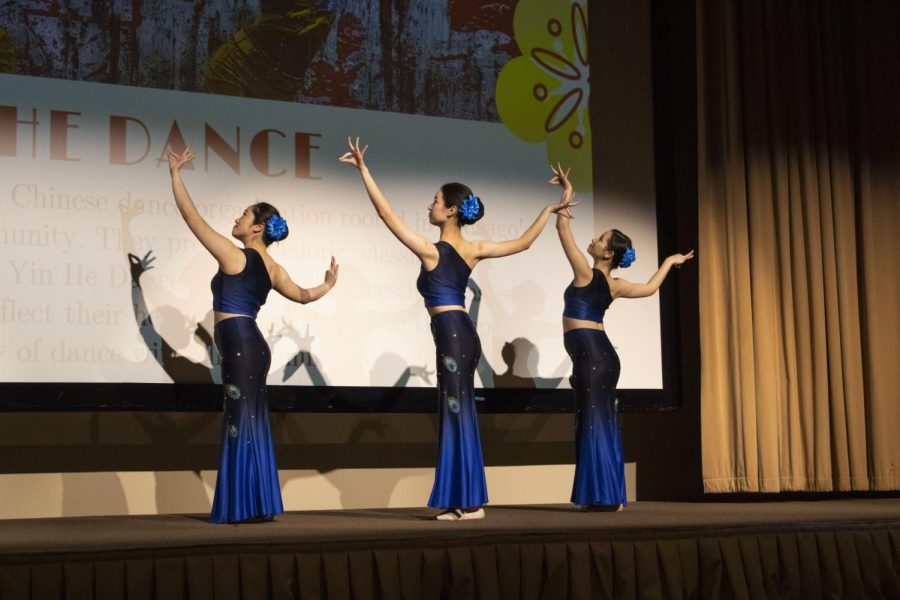 After the dance, the emcees had to set up a piano on stage quickly for the next performance. Skylar Harts, social media manager of the Chinese Student Association came on stage to sing a classic Chinese love song accompanied by one of the emcees on the piano. Through this performance you could tell this wasn't her first time singing for an audience. 
"I've performed in Chinese singing competitions before, so Dr. Jin Li asked me to perform," Harts said. "(Lunar New Year) To me is like if we combined New Year's and Christmas. It's all about community and family." 
Second to last, a group from the Beidou Kung Fu Academy came on stage to give a martial arts demonstration. From flashy mid-air kicks to quick slashes and thrusts with stage weapons, these five martial artists did it all.
Dr. Sharon Guan, a professor that teaches Chinese language classes, confidently walked on stage with a music video on pause projected behind her and then urged the audience to come on stage and simply dance with her and everyone else to this song. 
And everyone did. 
After the dancing and singing, everyone got in line to feast on staple Lunar New Year foods such as dumplings and long noodles for a long life as well as many other Chinese dishes. People made their way back to their tables and shared a Lunar New Year meal with their family and friends, new or old. 
For Lunar New Year, red is the new blue at DePaul.