Talent and team: How Mark Plotkin is selling a team-first culture to a higher tier of players
January 30, 2023
Across the L tracks at Fullerton, overlooking his team's home pitch at Wish Field, a whiteboard hangs on the wall of DePaul men's soccer head coach Mark Plotkin's office. On it is a list of names. Not far below, a photo is tacked to the coach's desk.
The board lists the incoming players who will join Plotkin's team next season. Below it hangs the photo of Plotkin and his groomsmen taken on his wedding day seven years ago. 
The group of smiling young men posing in matching tuxedos is mostly made up of the head coach's teammates or classmates from his playing days at DePaul from 2006-2009.
It's a symbol for an idea that Plotkin believes is the root of success, that fortune favors a close-knit team.
"Every team that I've ever been around that's been successful, maybe there's been one guy that's gone on to play professionally," Plotkin said. "It's always just been about guys who really care about each other and bought in to doing the things that nobody in the stands really notices." 
The last time DePaul made it to the NCAA tournament was in 2008 when Plotkin was a starter in the team's midfield. Through experiences as a player and coach, he understands what a close-knit group can achieve. 
After finishing his fifth season as a head coach in one of the toughest conferences in college soccer, Plotkin knew in order for the program to advance, it was time to combine his team's brotherhood mentality with a new ingredient: a higher threshold of talent.
Many coaches would say that tying talent with team culture is a primary focus in leading any team. For Plotkin and his staff, this focus has intensified of late, as the program has spread its reach in acquiring talent. To reach new heights, the head coach says it was time to raise the bar.
"We've made a conscious effort … to be a little bit pickier," Plotkin said. "Let's not just take a guy from Chicago because it's easy. Let's take our time and be diligent about it and find the right fit for us."
Last season, 18 of the team's 28 players were from Illinois. Instead of settling on local talent passed over by Midwest powerhouses like Indiana and Notre Dame, Plotkin's staff went elsewhere during the past recruiting cycle. Of the six incoming freshmen to DePaul's 2023 roster, Plotkin said only one is from Illinois. 
"We put a talent threshold in," Plotkin said. "If they're not this quality, then we don't want them."
The head coach said DePaul will always be in the conversation with every young player in the Chicago area, but the recent shift to nationwide talent searches has added key pieces that satisfy the squad's new talent threshold.
As of publishing, DePaul has signed Keagan Pace, Izaiah Coleman and Liam Mullins to its newest class, all of whom are soccer academy products and will come to Lincoln Park from outside of Illinois. The rest of the class is expected to be announced by DePaul in coming weeks.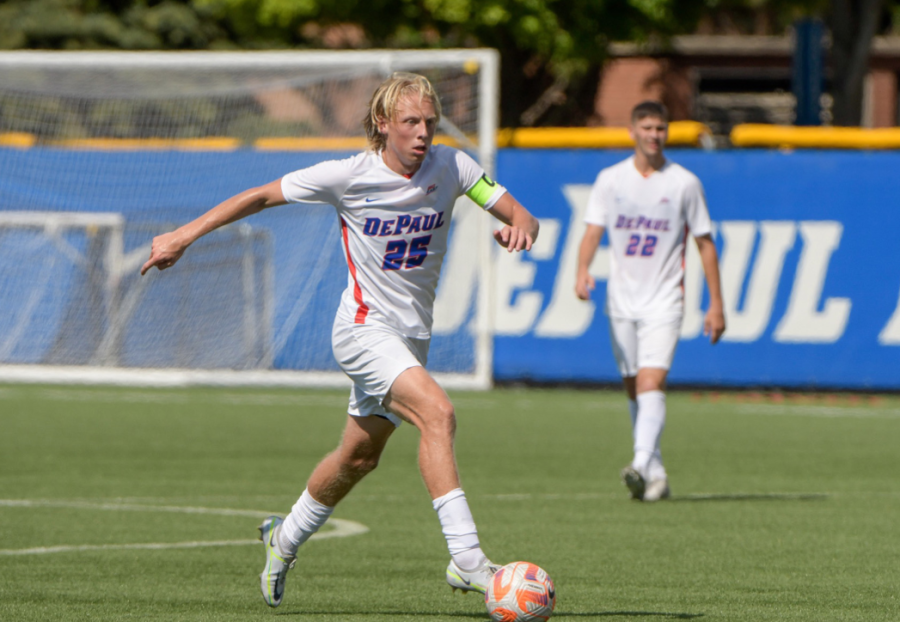 DePaul coaches see Pace, who has spent time at Carolina Elite Soccer Academy in Greenville, S.C., as a target for crosses at the striker spot. Plotkin said Pace has "one of the best leaping abilities I've seen in a number nine" position.
Coleman comes from Shattuck St. Mary's in Fairbault, Minn. and adds size and speed — two points of emphasis for DePaul in the recruiting cycle — to the team's back four as an outside back. Mullins, a product of Phoenix Rising soccer academy in Arizona, also adds size at 6-foot tall and is likely to play as winger/forward at DePaul. 
To some, DePaul's middling Big East finish last season, with an overall record of 4-6-7, doesn't look any different than other recent campaigns, but Plotkin and his staff say otherwise.
Though he'd be the first to tell you of the bitter taste that the end of the 2022 season left in his team's mouth, he'll also tell you the season is an indicator of the process moving forward. To him and his staff, a move into the next tier of Big East programs is more in reach than ever before.
"We're not far off," Plotkin said. "We had a meeting at the end of the season, and you could just see just how disappointed all of us were because we knew we were right there."
Throughout last season, a theme emerged of DePaul not being able to sustain control for 90 minutes after landing the first blow in matchups with some of the best teams on its schedule. 
An early lead resulted in draws against No. 13 Xavier, No. 20 Butler, No. 22 Notre Dame and Georgetown. The Hoyas, who played in the final four in 2021, finished 2022 with a second-round exit in the NCAA Tournament.
"I think it was just a big learning experience for our guys of dealing with that kind of pressure of having a lead and being able to manage it for the rest of the game in order to get those three points," Plotkin said.
In draws against top-level opponents last season, DePaul showed they can go toe-to-toe with teams on the schedule that, historically, have had superior talent. The head coach says there's a reason for it.
Before the team's recent nationwide recruiting shift, DePaul recently acquired young talent with higher ceilings than years prior. Diego Benitez, Felipe Corral, Ethan Gordon and Sam Moore all saw significant minutes as freshman last season, with Corral and Gordon cementing themselves as integral pieces of DePaul's lineups.
Gordon started in all 11 games he played at center back during the Blue Demons' last campaign. Corral, who Plotkin called an "absolute animal," tallied a goal against UIC early in the season and proved to be a problem against the league's best defenders during Big East play. 
The challenge now is marrying next season's underclass talent to DePaul's team culture. To get the most out of the team's newcomers, the team's on-field leadership must show them the way.
Throughout four seasons, Michael Anderson secured himself as an integral leader in DePaul's starting 11. Entering his fifth and final year, the Big East tournament is at the forefront of the central midfielder's mind after seeing his departing teammates fall short last season.
"Whatever it takes to win, I want to do," Anderson said. "It was really sad to see those guys graduate without having ever experienced [a tournament game]. I don't want that to be the same case for me."
In doing "whatever it takes," Anderson will need to help teach the team-first culture to his young teammates to get the most out of his new teammates.
With the development of last year's freshmen and the addition of incoming talent, he believes his squad now has the tools to turn those draws from last season's schedule into wins.
"Being in this high-level of a conference and being able to compete with all those teams [last year] shows how good of a squad we are," Anderson said. "Next year … we'll be a team to look out for in the Big East."
Anderson attributes his own development into a veteran leader on DePaul's squad to his head coach's guidance. Plotkin speaks to his players steadily and with composure. He doesn't keep his players at an arm's length. Instead, Anderson says his coach embraces relationships with his players individually.
"I think the best way to describe him would be as a player-manager," Anderson said. "He's very good at handling each and every person on the team, and what their needs are … that really helps our team evolve, because it helps everyone grow as an individual."
Player leadership and talent are both vital for DePaul to get to where it wants to be, but nothing is more important than Plotkin's coaching acumen. Though none of the teams he's coached at DePaul have reached an NCAA tournament, Plotkin's boss says his ability to do more with less shows that those goals could be right around the corner.
"His budget is last in the Big East," said DePaul athletic director DeWayne Peevy. "This past year, with about a week to go in the season, we had a chance to make the Big East tournament … when you really think about it in those terms, he's doing an amazing job."
While he might be overachieving relative to the resources at his disposal, Plotkin likely doesn't care. He and his players are here to win. His embrace of team-first culture and camaraderie is because he thinks it's the best formula for winning. 
"I want to compete for championships, and I want DePaul to be consistently in the NCAA tournament," Plotkin said. "That's what we're working towards."
As he works towards these championship goals with arriving talent, they'll be introduced to an identity and culture of grit and selflessness that Plotkin's teams have shown.
Perhaps no better example was the gutsy, yet heart-breaking finale in which Plotkin's veterans gave so much effort, only to surrender a draw. It was a game that ended in teary-eyed embraces from senior teammates like Jake Fuderer, Matthew Brickman and Jack Richards who knew it was the last time they'd play together in a DePaul kit.
When any recruit or an incoming player steps into Plotkin's office and sits down for a meeting with Wish Field seen displayed behind the head coach's back, Plotkin doesn't start by offering prospective playing time or star status to wide-eyed rookies with big dreams.
No — instead, he offers something else.
He offers something he sees as the only route to navigate DePaul soccer to new heights. He offers an idea behind the tears in his players' eyes in their final game last season. He offers the same idea that's led him to coaching at his alma mater. 
He points to the photograph from his wedding day, and he offers brotherhood.
"Every kid that sits in here, I always point towards that picture," Plotkin said. "[I tell them] that's the experience I want you to have here."