Down to the dean: College of Communication search continues, to announce in spring
The College of Communication has not had a permanent dean for over three and a half years.
From July 2019 to June 2021, Alexandra Murphy served as acting dean to fill the space Salma Ghanem left after being appointed interim provost. Since July 2021, Murphy has served as interim dean. But now, with the College of Communication undergoing a dean search, the question of if she will remain the dean of the college lingers.
Konner Gross, a graduate student in the Public Relations and Advertising (PRAD) program who completed his bachelor's degree at DePaul, said Murphy has been the dean of the College of Communication for most of his college career. Gross said he does not want that to change, even when the search is over.
"I think there's just something to be said for being there for four or five years," Gross said. "Calling a spade a spade, if Lexa was able to lead the college through Covid, social unrest [and] declining enrollment … I think that she can really put on her thinking cap and work with the connections she has built [and] get some shit done."
Murphy told The DePaulia she is honored to be a finalist for the dean of the College of Communication. But, out of respect for the process and the other candidates, she said would prefer not to comment beyond that.
The search process
The search process began in June 2022 and will soon come to a close. 
Over the last two weeks, the college brought in four candidates, including Murphy, as finalists. Starting on Jan. 23, candidates presented every Monday and Wednesday until Feb. 1.
Each candidate prepared a 15-minute presentation on what they see for the future for the field of communication. Following the presentation, the college invited students, faculty and staff to ask questions during the open Q&A.
"Somebody asked about degree program restructuring," Gross said. He said restructuring could let more students take program-specific classes without needing all the prerequisite classes under their belts. "[The prerequisites are] kind of building these walls between programs that don't necessarily need to be there, especially as communication as an industry is becoming more like one big bubble rather than all these separate bubbles."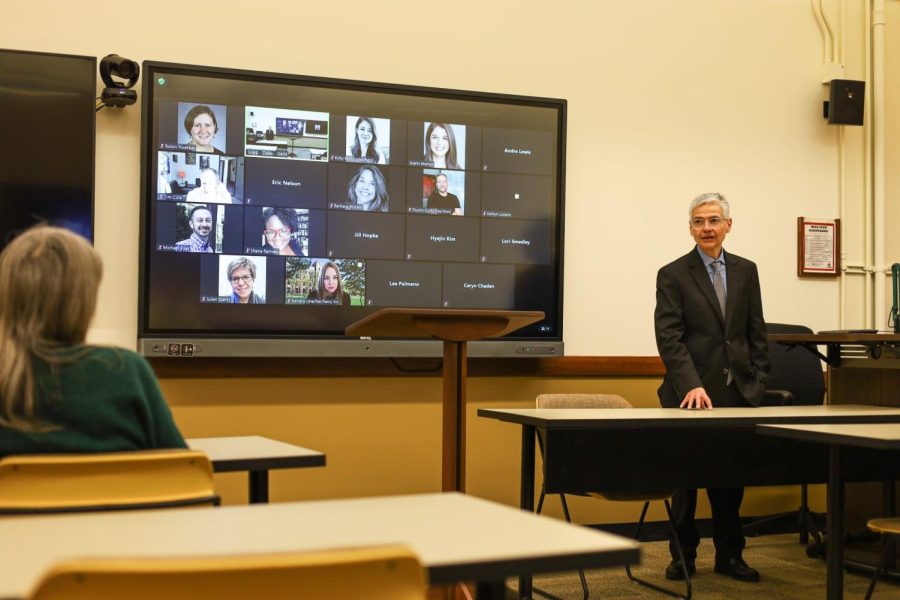 When it comes to the college's student body — which is around 1,056 students annually, according to DePaul's most recent Institutional Research and Market Analytics report — Gross said many of the students do not interact with students in programs other than their own. He said he would like for the next dean to help break down those barriers so students can crossover more frequently.
Jorge Villegas, a finalist for the dean search and current Associate Dean of the College of Business and Management at the University of Illinois Springfield (UIS), said issues like these from students are ones that he would use a beginner's mindset with, if he is selected for the role.
"A leader should not come up with ideas before they understand what's going on," Villegas said. "[If] you look at the website [and] you talk to people for five days, you cannot get a sense of what DePaul is. You need to spend time talking to people and then come up with: Okay, these are areas of interest for us. Let's see what we can change? What can we reinforce? What should we stop doing?"
Realities of the future
Villegas said enrollment is at the forefront of everyone's minds in higher education, regardless of the institution. 
The enrollment cliff, a term many in higher education are using for this issue, refers to the population decrease of 18 to 21-year-olds from around 2025 to 2028 as a result of the 2008 recession. 
This cliff comes with the reality that as enrollment decreases, so will university revenues, meaning schools like DePaul will need to make budget cuts where they can. President Robert L. Manuel said in his Design DePaul speech that faculty and staff layoffs and salary cuts will be made if nothing changes in the financial region of the university. 
Gross said out of all the things to happen to the university, faculty cuts would cause a detrimental amount of damage, especially to the College of Communication. Gross said one of the best parts about DePaul faculty is that they are hired, usually, with more experience than education. 
"Some of my most valuable professors have been adjuncts," Gross said. "[They] had a career in PR or advertising or what have you. And they're either doing this on the side or they had a career for 30 years, and now decided to teach it."
Gross said aside from the issue of enrollment, diversity throughout all levels of the college needs to be focused on.
"As much as I love the faculty, they often tend to look the same," Gross said. "Of course, I don't know how the College of Communication compares to some of the other colleges, but I think we can always strive to do better."
Within the College of Communication, there are around 95 white faculty and staff, around 25 faculty and staff of color, and around 15 unknown, according to DePaul's website.
These big ticket items need to be addressed and solved by the College of Communication. While hopes are high for problems within the college being solved, candidates cannot make empty promises. 
Villegas, advocating for himself, said his main interest is to use his managerial leadership style to help address the concerns people in the community are raising.
"I'm here to serve," Villegas said. "I am not interested in the ego trip. It just happens that I'm interested in the position. I'm not attached to the 'power' or the position or anything like that, I just want to serve." 
What's next?
With the conclusion of the candidate presentations, emails have been sent out to the College of Communication community, as they have been sent throughout the entirety of the search, asking members to complete a survey on the candidates. 
Each candidate's survey form is located under their name on the SharePoint website. The forms are available until 5 p.m. on Monday, Feb. 6.
"Then the committee's charge is to submit a report to the provost presenting the finalists in alphabetical order and listing each one's strengths and weaknesses," Caryn Chaden, chair of the College of Communication Dean Search Committee, said via email. "The provost then consults with the president, who makes the final decision." 
Chaden said though she cannot be certain, she anticipates there will be an announcement of the dean appointment early in spring quarter. 
Until then, Chaden said the best thing students, faculty and staff can do is complete the surveys, "be patient and let the process play out."
For other colleges at DePaul, the College of Education, the Jarvis College of Computing and Digital Media and the School of Music remain dean-less.