'The stories we tell about the past matter': Dartmouth professor seeks out the forgotten experience Black WWII Veterans
Following the bombing of Pearl Harbor, 26-year-old James Thompson wrote a letter to the Pittsburgh Courier asking why he, alongside other African Americans, should sacrifice their lives for a country that viewed them as "half-American." 
Nearly eight decades later, Thompson's question inspired Dartmouth professor and historian Matthew Delmont to uncover the omitted history of Black WWII Veterans in his latest book, "Half American," released last October. 
"That phrase stuck with me the time I was working on this book, should I sacrifice my life to live Half American? I think those words are as important and profound today as they were some eight decades ago," Delmont said. "One of the great ironies of WWII was that you had the world's greatest democracy in the U.S. fighting the world's worst racist with a segregated army." 
Chronicling Black involvement during the Spanish Civil War, WWII and the fight for Civil Rights, "Half American" details the forgotten narrative of the over 1 million Black soldiers who fought on foreign and native soil. 
However, Black veterans were not always Delmont's focus. 
"My last book project was called 'Black Quotidian: Everyday History in Black Newspapers,'" Delmont said. "I would go back and find one historical article from a Black newspaper and write a short blog post about it. In the course of my research I kept coming across snapshots, photos and stories about Black men and women who volunteered and were drafted into the military in WWII." 
Soon, the handful of war acknowledgments became hundreds, piquing Delmont's curiosity. Despite teaching WWII for over a decade, the history professor had not encountered commonplace accounts of Black service outside of the Civil War. 
Seven years later, "Half American" was completed.
"It really was a two-front battle," Delmont said. "Black Americans were committed to helping win the military battle in the war, but that wasn't entirely WWII. They wanted to also win the battle in the homefront against racism." 
Until 1948, the military remained segregated, supplying most enlisted Black men to noncombat units and supervised service duties such as mess attendants, truck drivers and cargo loaders. 
"One of the things I hope I make clear is that by focusing on the experience of the Black Americans in WWII, it's not just additive," Delmont said. "It's not just saying, let's also pay attention to what happened with Black Americans. It changes the chronology; it changes what the war was actually about."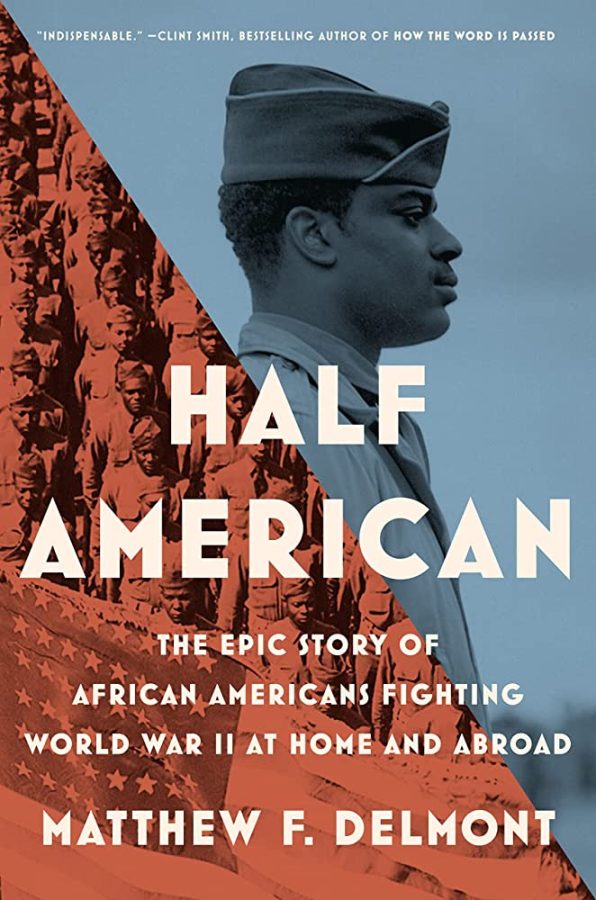 DePaul Department of History Chair Warren Schultz explained the significance of the university hosting outside speakers such as Delmont.
"One of our motivations in reestablishing this as a physical face-to-face event was to give the opportunity to get the word out there and to a wider audience," Schultz said. "It's exciting to hear people who know a lot and are enthused about a topic to bring their passion to you." 
Nominated by the history department faculty, Delmont's presentation marked the annual Howard O. Lindsey Black History Month lecture series, honoring the former DePaul professor. 
"Howard O. Lindsey was a colleague in the history department who retired in 2014," Schultz said. "At some point after his retirement, the department voted to establish any Black History Month lecture as part of the Howard O. Lindsey series. We sensed [Delmont] would be a great speaker because he is a trained and talented historian, but he's written a book for a wider audience." 
For DePaul junior Krystal Morgan, whose mother-in-law's grandfather and great-grandfather fought in both WWI and WWII, Delmont's presentation hit close to home. 
"This book gave me a little more detail into what he [grandfather-in-law] experienced as a soldier and why he didn't want to talk about it," Morgan said. "They were so disrespected and demeaned and made to feel like less of a man and less of a person." 
Yet, for Morgan, the most horrific discovery in Delmont's presentation was the treatment of Black soldiers compared to war hostages. 
"I could not believe that prisoners of war were treated better on American soil than actual Black people who fought in the war," Morgan said. 
According to TIME, it was not uncommon for Black soldiers to observe Nazi prisoners of wars receiving more respect and better care. From spacious railway cars on the train to uncontested access to restaurants, the country's undisputed favoritism only furthered Black soldiers' beliefs that they were fighting for a country that would oppress them every chance it got.
For Delmont, it is why he continues to preserve the past.
"The stories we tell about the past matter," Delmont said. "If we tell the right stories about the war, we can finally honor the sacrifices of the black veterans, defense industry workers, and citizens who fought on foreign battlefields and their own cities and towns so that no one would ever be treated as half-American."