HELIXX dance crew spins together community, passion
Practicing choreography and filming audition videos in her dorm room the first week of the school year, freshman Riley Mays began her college career by finding an outlet for her passions of dance and K-pop. 
She found moving to Chicago offered more than just academic opportunities as she researched nearby K-pop dance crews, hoping to merge her dual interests into one activity. Eventually, Mays stumbled upon HELIXX, a Chicago-based K-pop dance crew, and after auditioning and being accepted to the dance crew, she found a support system and source of joy she can rely on every week.  
"I was so excited, and I just remember jumping up and down and crying when I got in," Mays said. "Everyone looked really close on the team, and I realized I wanted to do something like that. We've done so much since I joined in September and it really has been such a joyous experience." 
HELIXX was founded by Leya Buena and entered the dance scene in December 2017. Focused on bringing the entertainment and style of K-pop dancing and music to the community, the crew mainly performs at events, like grand openings of local businesses and celebrations in Chinatown, and post cover videos to its social media pages.
"We celebrate K-pop culture, like Korean pop music and idols," said Gianna Cabrera, a dance member of HELIXX and sophomore at Triton College. "We watch those idols' performances and try to incorporate their strength and power into live experiences. We're expressing that to not only support the idol, but appreciate the work and art they've created."
HELIXX has 16 dancers, but its influence continues to grow on-campus as DePaul students make their way through the dance crew's ranks. Anna Nagode, a member of HELIXX and DePaul freshman, believes the crew impacts her DePaul community. She attributes this to the small population of students involved in any type of dance on-campus, creating an interconnected community based on the common interest.
"The dance community in Chicago is small," Nagode said. "If you know one person, they know another person that knows a person that you know. That's really how HELIXX connected me to DePaul more."
Mays believes HELIXX helped her build a support system for herself in both dance and at school, even if a majority of the dance crew's members may not go to DePaul. She has brought aspects of HELIXX to her job at The Ray by teaching the K-pop dances she learned with the crew. 
"I've felt this overwhelming amount of joy and community from just being a part of this team and being able to incorporate that into my life here at DePaul too," Mays said. "[Nagode] and I have even practiced together at The Ray. There's definitely a connection between the two worlds in the sense that they're so close."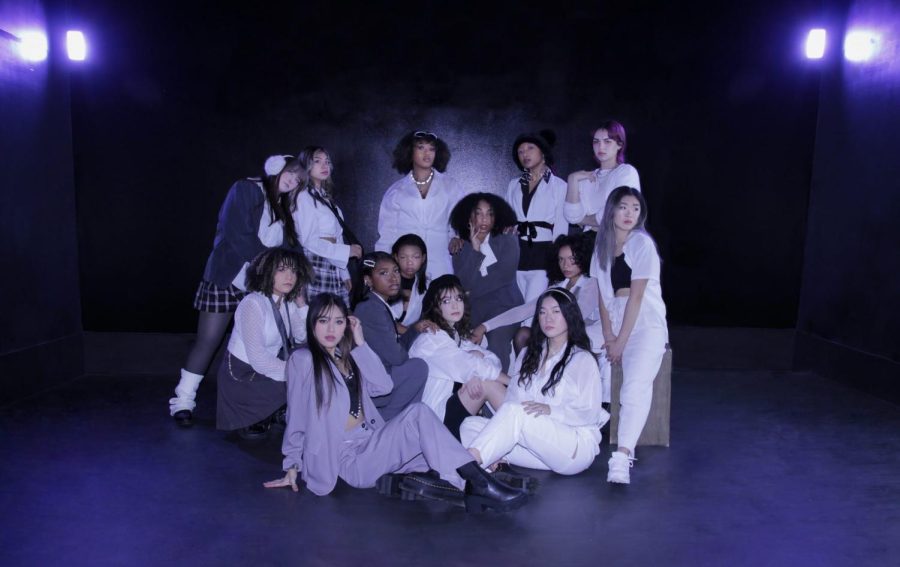 HELIXX performed at DePaul's Lunar New Year Gala in late January and is currently practicing for a new cover video. The crew rehearses regularly at the Puzzle Box Dance Studio in Avondale where constant hard work and events have transformed the members from a crew into a community. 
"It's not just about dancing for me," Nagode said. "I wanted to experience new things with other people and create really close bonds through those. That's something I really get with HELIXX and even though I'm a part of two other dance groups, I don't really get that same experience with them."
Members of the crew hold a mixed amount of dance experience, with many teaching themselves rather than going through professional training. For Cabrera, her experience came during years in musical theater and is largely self-taught.
"When we all come together and dance, we just mesh," Cabrera said. "There suddenly is no difference in our abilities because you can't see it. For me, I appreciate how much I've grown as a dancer through HELIXX because I didn't have a lot of experience beforehand."
The dance team holds biannual in-person auditions in November and May around school breaks to ensure applicants have the free time necessary to practice their dances and schedule an interview. For those interested in joining the team in between season auditions, online applications and video auditions are accepted year-round.
"The HELIXX I see people auditioning for now is definitely not the same as it was back then," said Cindy Choe, management director of HELIXX and freshman at the University of Illinois at Urbana-Champaign. "Especially when I joined [five years ago] and how we made it into what it is today, it's become my safe space."
Through dance and a unified appreciation for K-pop, Choe believes the team is able to represent its sense of community to larger audiences, creating a supportive atmosphere for viewers and dancers alike.
"It's amazing what that sense of a whole community can do for dance and performing," Choe said. "Whenever I perform on a stage, I just feel so powerful. The thing is though, this isn't just a dance crew, it's a family."